Casticin treatment inhibits squamous cell carcinoma cell proliferation and arrests cell cycle in S phase
Keywords:
Casticin, Squamous cell carcinoma, Cell cycle, S phase
Abstract
The present study demonstrates the effect of casticin on esophageal squamous cell carcinoma cell lines, TE-1 and TE-15. The cells were treated with various concentrations (10-50 ?M) of casticin for different time periods. The results revealed that casticin treatment significantly inhibited the rate of cell proliferation in both TE-1 and TE-15 cell lines after 48 hours. Casticin treatment induced cell cycle arrest in S phase, enhanced the expression of proapoptotic gene, Bax and activation of caspase-3. Moreover, the morphological features of the cells were altered resulting in apoptosis. Casticin also inhibited the migration potential of TE-1 cells. Thus, casticin exhibits inhibitory effect on the esophageal squamous cell carcinoma cell lines by inhibiting cell proliferation, arresting cell cycle, inducing apoptosis and inhibiting migration. Therefore, casticin can be of therapeutic importance for the treatment of esophageal squamous cell carcinoma.
Downloads
Download data is not yet available.
Abstract
12772
Download
774 Read
335
References
Blazeby JM, Farndon JR, Donovan J, Alderson D. A prospective longitudinal study examining the quality of life of patients with esophageal carcinoma. Cancer 2000; 88: 1781-87.
Blazeby JM, Williams MH, Brookes ST. Quality of life measurement in patients with oesophageal cancer. Gut 1995; 37: 505-08.
Chu G. Cellular responses to cisplatin. The roles of DNA-binding proteins and DNA repair. J Biol Chem. 1994; 269: 787-90.
Cook MB, Chow WH, Devesa SS. Oesophageal cancer incidence in the United States by race, sex, and histologic type, 1977?2005. Br J Cancer. 2009; 101: 855?59.
Feng X, Zhou Q, Liu C, Tao ML. Drug screening study using glioma stem-like cells. Mol Med Rep. 2012; 6: 1117?20.
Gaur P, Kim MP, Dunkin BJ. Esophageal cancer: Recent advances in screening, targeted therapy, and management. J Carcinog. 2014; 13: 11.
Jemal A, Bray F, Center MM. Global cancer statistics. CA Cancer J Clin. 2011; 61: 69?90.
Kastan MB, Bartek J. Cell-cycle checkpoints and cancer. Nature 2004; 432: 316-23.
Kim T, Grobmyer SR, Smith R, et al., Esophageal cancer: The five year survivors. J Surg Oncol. 2011; 103: 179?83.
Luo X, Budihardjo I, Zou H. Bid, a Bcl2 interacting protein, mediates cytochrome c release from mitochondria in response to activation of cell surface death receptors. Cell 1998; 94: 481-90.
Li P, Nijhawan D, Wang X. Mitochondrial activation of apoptosis. Cell 2004; 116: S57?S59.
Napier KJ, Scheerer M, Misra S. Esophageal cancer: A review of epidemiology, pathogenesis, staging workup and treatment modalities. World J Gastrointest Oncol. 2014; 6: 112-20.
Nurse P. A long twentieth century of the cell cycle and beyond. Cell 2000; 100: 71-78.
Nurse P, Masui Y, Hartwell L. Understanding the cell cycle. Nat Med. 1998; 4: 1103-06.
Porter AG, Jänicke RU. Emerging roles of caspase-3 in apoptosis. Cell Death Differ. 1999; 6: 99-104.
Pharmacopoeia Commission of People's Republic of China: Pharmacopoeia of the Peoples Republic of China. Vol 1. Beijing, China Chemical Industry Press, 2010 (in Chinese).
Rubenstein JH, Chen JW. Epidemiology of gastroesophageal reflux disease. Gastroenterol Clin North Am. 2014; 43: 1?14.
Szumi?o J. Epidemiology and risk factors of the esophageal squamous cell carcinoma. Pol Merkur Lekarski. 2009; 26: 82?85.
Smith TJ, Ryan LM, Douglass HO Jr. Combined chemora­diotherapy vs. radiotherapy alone for early stage squamous cell carcinoma of the esophagus: A study of the Eastern Cooperative Oncology Group. Int J Radiat Oncol Biol Phys. 1998; 42: 269-76.
Shen JK, Du HP, Yang M, Wang YG, Jin J. Casticin induces leukemic cell death through apoptosis and mitotic catastrophe. Ann Hematol. 2009; 88: 743?52.
Tepper J, Krasna MJ, Niedzwiecki D. Phase III trial of trimodality therapy with cisplatin, fluorouracil, radiotherapy, and surgery compared with surgery alone for esophageal cancer: CALGB 9781. J Clin Oncol. 2008; 26: 1086-92.
Warner TF. Apoptosis. Lancet 1972; 2: 1252.
Wyllie AH. The biology of cell death in tumours. Anticancer Res. 1985; 5: 131-36.
Ye Q, Zhang QY, Zheng CJ, Wang Y, Qin LP. Casticin, a flavonoid isolated from Vitex rotundifolia, inhibits prolactin release in vivo and in vitro. Acta Pharmacol Sin. 2010; 31: 1564?68.
Yang J, Yang Y, Tian L, Sheng XF, Liu F, Cao JG. Casticin-induced apoptosis involves death receptor 5 up-regulation in hepatocellular carcinoma cells. World J Gastroenterol. 2011; 17: 4298?307.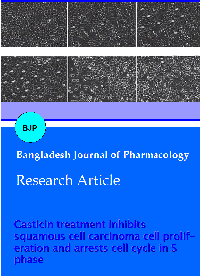 How to Cite
Song, Y.-B., S.-H. Zhou, H.-S. Cui, H.-N. Liu, and L.-J. Liu. "Casticin Treatment Inhibits Squamous Cell Carcinoma Cell Proliferation and Arrests Cell Cycle in S Phase". Bangladesh Journal of Pharmacology, vol. 11, no. 1, Jan. 2016, pp. 206-11, doi:10.3329/bjp.v11i1.24578.
Section
Research Articles
License
Authors who publish with this journal agree to the following terms:
Authors retain copyright and grant the journal right of first publication with the work simultaneously licensed under a

Creative Commons Attribution License

that allows others to share the work with an acknowledgement of the work's authorship and initial publication in this journal.
Authors are able to enter into separate, additional contractual arrangements for the non-exclusive distribution of the journal's published version of the work (e.g., post it to an institutional repository or publish it in a book), with an acknowledgement of its initial publication in this journal.
Authors are permitted and encouraged to post their work online (e.g., in institutional repositories or on their website) prior to and during the submission process, as it can lead to productive exchanges, as well as earlier and greater citation of published work (See

The Effect of Open Access

).