Anti-diabetic and anti-oxidant status of Loranthus pulverulentus obtained from two different hosts
Keywords:
Anti-diabetic, Anti-oxidant, Dalbergia sissoo, Loranthus pulverulentus, Populus nigra
Abstract
Leaves of Loranthus pulverulentus have been used ethnically in Pakistan for controlling blood glucose levels. The present study was designed to investigate the anti-diabetic and anti-oxidant potential of the methanolic extracted fractions of L. pulverulentus obtained from two different hosts viz. Dalbergia sissoo and Populus nigra. The acute study demonstrated that L. pulverulentus (D. sissoo) leaves possess significant blood glucose lowering effect whereas L. pulverulentus (P. nigra) was didnt significantly decreased blood glucose levels. The n-butanol fraction of L. pulverulentus (D. sissoo) also significantly increased in vivo total anti-oxidant activity on eighth day after treatment and blood glucose levels were significantly reduced (%46.7) when compared to the control diabetic group (%?198.1) and metformin treated group (%?25.9). Leaves of L. pulverulentus (D. sissoo) have good margin of safety as therapeutic index is 3.5. This study provides scientific evidence that leaves of L. pulverulentus (D. sissoo) possess potential anti-diabetic activity whereas L. pulverulentus (P. nigra) was not found effective in diabetic illness.
Downloads
Download data is not yet available.
Abstract
1304
Download
1028 Read
836
References
Adesina SK, llloh HC, Johnny ll, Jacobs lE. African mistletoes (Loranthaceae), ethnopharmacology, chemistry, medicinal values: An update. Afr J Tradit Complement Altern Med, 2013; 10: 161-70.
Ajaib M, Khan Z, Khan M, Wahab M. Ethnobotanical studies on useful shrubs of district Kotli, Azad Jammu & Kashmir, Pakistan. Pakistan J Bot. 2010; 42: 1407-15.
Evans WC. Trease and Evans pharmacognosy. Elsevier Health Sciences, 2009.
Gee J, Johnson I. Interactions between hemolytic saponins, bile salts and small intestinal mucosa in the rat. J Nutr. 1988; 118: 1391-97.
GöktürkBaydar N, Özkan G, Ya?ar S. Evaluation of antiradical and anti-oxidant potential of grape extracts. Food Control. 2007; 18: 1131-36.
Ishtiaq S, Ahmad M, Hanif U, Akbar S, Kamran SH. Phytochemical and in vitro anti-oxidant evaluation of different fractions of Amaranthus graezians subsp. Silvestris (Vill.) Brenan. Asian Pac J Trop Med. 2014; 7: S342-47
Koracevic D, Koracevic G, Djordjevic V, Andrejevic S, Cosic V. Method for measurement of antioxidant activity in human fluids. J Clin Pathol. 2001; 54: 356-61.
Lenzen S. The mechanism of alloxan- and streptozocin-induced diabetes. Diabetologica 2008; 51: 216-26.
Lorke D. A new approach to practical acute toxicity testing. Arch Toxicol. 1983; 54: 275-87.
OECD. 420: Acute oral toxicity-fixed dose procedure. OECD guidelines for testing of chemicals, 2001, pp 1-14.
ÖnayUçar E, Karagöz A, Arda N. Anti-oxidant activity of Viscum album ssp. Album. Fitoterapia 2006; 77: 556-60.
Raza MA, Kausar R, Rana FA, Danish M, Shahwar D, Anwar F. Lorathus pulveulentus: A potent source of natural anti-oxidants and alternative medicine. J Chem. 2013; 2013.
Sabu M, Kuttan R. Anti-diabetic activity of medicinal plants and its relationship with their anti-oxidant property. J Ethnopharmacol. 2002; 81: 95-102.
Singleton VL, Orthofer R, Lameula-Raventos RM. Analysis of total phenols and other oxidation substrates and anti-oxidants by means of Folin-Ciocalteu reagent. Methods Enzymol. 1999; 299: 152-78.
Stahl E. Thin-layer chromatography. A laboratory handbook. 2nd ed. Heidelberg, Springer-Verlag Berlin, 1967, pp 855-904.
Subhan F, Abbas M, Rauf K, Baseer A. Anti-GIT motility, toxicological and phytochemical studies on Bacopa monnieri. Pharmacology Online. 2010; 3: 937-95.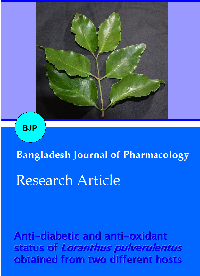 Additional Files
How to Cite
Kamran, S. H., M. Ahmad, D. Shahwar, and M. Ajaib. "Anti-Diabetic and Anti-Oxidant Status of Loranthus Pulverulentus Obtained from Two Different Hosts". Bangladesh Journal of Pharmacology, vol. 11, no. 1, Jan. 2016, pp. 181-9, doi:10.3329/bjp.v11i1.24056.
Section
Research Articles
License
Authors who publish with this journal agree to the following terms:
Authors retain copyright and grant the journal right of first publication with the work simultaneously licensed under a

Creative Commons Attribution License

that allows others to share the work with an acknowledgement of the work's authorship and initial publication in this journal.
Authors are able to enter into separate, additional contractual arrangements for the non-exclusive distribution of the journal's published version of the work (e.g., post it to an institutional repository or publish it in a book), with an acknowledgement of its initial publication in this journal.
Authors are permitted and encouraged to post their work online (e.g., in institutional repositories or on their website) prior to and during the submission process, as it can lead to productive exchanges, as well as earlier and greater citation of published work (See

The Effect of Open Access

).