Combined effect of UV-radiation and triflumuron on the progeny of <i>Alphitobius diaperinus</i> (Panzer)(Coleoptera: Tenebrionidae) at different storage period
Mahmuda Begum

Institute of Biological Sciences, Rajshahi University, Rajshahi-6205, Bangladesh

Selina Parween

Department of Zoology, Rajshahi University, Rajshahi ? 6205, Bangladesh

Saiful Islam Faruki

Department of Zoology, Rajshahi University, Rajshahi ? 6205, Bangladesh
Keywords:
Mealworm, UV-rays, IGR, progeny production
Abstract
Eggs of the lesser mealworm, Alphitobius diaperinus (Panzer) were exposed to UV-rays of 254nm wavelength for different durations viz. 1, 2, 4 and 8 minutes. After seven days of hatching, larvae of each exposure were reared separately on triflumuron (1 x 10-3 mg/kg) treated food and observed the population of various developmental stages e.g., egg, larval, pupal and adult at storage periods of 3-, 6- and 9-months. UVrays and triflumuron treatments deleteriously reduced the populations of all the developmental stages of A. diaperinus. Egg and pupal populations of the beetle were adversely influenced by the storage periods also. Complete reduction of A. diaperinus populations was achieved from 6-9 months storage periods, when eggs were exposed to UV-rays for 8 minutes. Key words: Mealworm, UV-rays, IGR, progeny production Univ. j. zool. Rajshahi Univ. Vol. 26, 2007. pp. 45-48
Downloads
Download data is not yet available.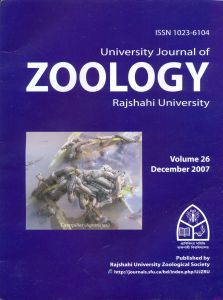 How to Cite
Begum, M., Parween, S., & Faruki, S. (1). Combined effect of UV-radiation and triflumuron on the progeny of <i>Alphitobius diaperinus</i&gt; (Panzer)(Coleoptera: Tenebrionidae) at different storage period. University Journal of Zoology, Rajshahi University, 26, 45-48. https://doi.org/10.3329/ujzru.v26i0.697