Physico-chemical variables and their effect on the growth performance of some major carps in some ponds of a matsaya gram (Fish village) in Natore
Keywords:
Impact, pollutants, pond fisheries, matsaya gram
Abstract
An experiment was carried out to asses the physico-chemical characteristics, water quality and fish growth suffered by pollution hazards created by unethical use of agrochemical in few ponds in a matsaya gram (fish fillage) in northern part of Bangladesh. The range of free CO2, DO, HCO3, CO3 and pH were 2-30mg/l, 3.14-11.86 mg/l, 86.31-143.84mg/l, 0 -50mg/l and 8.5-9.5 respectively. The BOD of the studied ponds found quite less than optimum level. The study of relationship between fish growth and the soil characters showed negative impact. It revealed that due to minimum rainfall the ponds were not washed out that could decrease the rate of pollution created from the nearest house and residual chemicals, those used in upland crop field beside it. But the ponds are still suitable for fish culture and should keep them at least in present position for good crop.
DOI: http://dx.doi.org/10.3329/ujzru.v31i0.15401
Univ. j. zool. Rajshahi Univ. Vol. 31, 2012 pp. 55-58
Downloads
Download data is not yet available.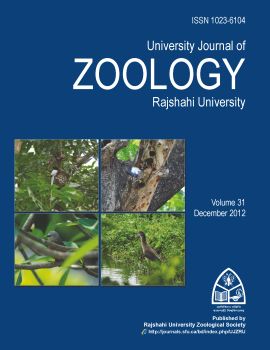 Downloads
How to Cite
Hossain, M. S., & Haque, M. M. (2013). Physico-chemical variables and their effect on the growth performance of some major carps in some ponds of a matsaya gram (Fish village) in Natore. University Journal of Zoology, Rajshahi University, 31, 55–58. https://doi.org/10.3329/ujzru.v31i0.15401