Embryonic development of the estuarine crab Neosarmatium indicum (Crustacea: Brachyura: Sesarmidae) from the mangroves of the Okinawa Island, Japan
Keywords:
Neosarmatium indicum, zoea, development, fertilization, mangrove
Abstract
The complete embryonic development of the mangrove sesarmid crab Neosarmatium indicum (A. Milne Edwards, 1868) was described based on internal and external morphological changes in live fertilized eggs reared in the laboratory. Several pairs of N. indicum were collected from the Nuha River mangrove swamp of the southern Okinawa Island, Japan, which is consisted mainly with the mangrove Kandelia candel, and densely populated by the genus Perisesarma and Neosarmatium indicum . The fertilized eggs were macrolecithal, centrolecithal and spherical in shape, filled with uniform dark olive colour, without evidence of any development. The diameter of fertilized egg was 0.36 mm, which increased to 0.47 mm before hatching. Embryo development from fertilized eggs to hatching (first zoea stage) lasted average of 16 days at 25°C and salinity at 80. Sixteen stages of embryonic development were categorized by following continuous observation using an optical DIC microscope equipped with digital camera, video camera and printer. After 24 hours of incubation, fertilized eggs became 32-celled stage of development. Before hatching, many chromatophores (mostly black) were evident in the abdominal segments and the telson of embryos. At the end of 16 days incubation, the zoea larvae were successfully hatched out, which were reared in the laboratory conditions for further development.
DOI: http://dx.doi.org/10.3329/ujzru.v31i0.15400
Univ. j. zool. Rajshahi Univ. Vol. 31, 2012 pp. 49-54
Downloads
Download data is not yet available.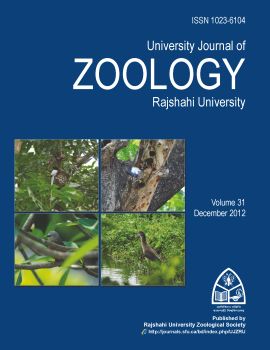 Downloads
How to Cite
Sarker, M. M., Islam, S., & Uehara, T. (2013). Embryonic development of the estuarine crab Neosarmatium indicum (Crustacea: Brachyura: Sesarmidae) from the mangroves of the Okinawa Island, Japan. University Journal of Zoology, Rajshahi University, 31, 49–54. https://doi.org/10.3329/ujzru.v31i0.15400