High hatching success of saltwater crocodile (Crocodylus porosus) in a commercial Crocodile Farm of Bangladesh
Keywords:
Clutch size, incubation, hatching, captive breeding, saltwater crocodile
Abstract
An extensive study was conducted from March 2007 to February 2012 on hatching success of saltwater crocodile (Crocodylus porosus) in the Reptiles Farm Ltd. (RFL) located at Hatiber village of Uthura union under Bhaluka upazila in Mymensingh. The study was mainly based on direct field observation and some previous data collected by farms technicians. A special type of incubator having 98-100% moisture and 31-330C temperature was maintained to improve the hatching success. Yearly hatching success in captivity was 95.8%, 95.15%, 97.44%, 96.03% and 94.53% in 2007 through 2011, respectively. The average rate of hatching success in RFL was 95.8 ± 1.09%. Hundred percent hatching success was found in 29 out of 56 clutches. Clutch size varied from 19 to 68 eggs. Unhatched eggs were 4.19%, of which most of the embryos died before hatching. The average time required for incubation was 79 ± 3, 79.5 ± 4.5, 80 ± 4, 80.5 ± 4.5 and 78.5 ± 3.5 days in the above mentioned period. Compared to the wild habitat, captive environment in controlled weather and predation might improve hatching rates. This study suggests that conservation of this endangered species is possible by captive breeding and reintroduction program.
DOI: http://dx.doi.org/10.3329/ujzru.v31i0.15398
Univ. j. zool. Rajshahi Univ. Vol. 31, 2012 pp. 35-38
Downloads
Download data is not yet available.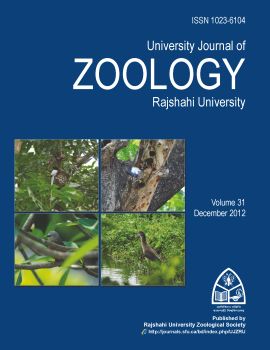 Downloads
How to Cite
Hossain, M. S., Jaman, M. F., Ahmed, M., Rahman, M. M., & Rahman, M. S. (2013). High hatching success of saltwater crocodile (Crocodylus porosus) in a commercial Crocodile Farm of Bangladesh. University Journal of Zoology, Rajshahi University, 31, 35–38. https://doi.org/10.3329/ujzru.v31i0.15398