Breeding biology of coppersmith barbet, Megalaima haemacephala (Müller, 1776)
Keywords:
Ecology, breeding, nesting, frugivore, Coppersmith barbet
Abstract
Breeding biology of the Coppersmith barbet, Megalaima haemacephala (Müller, 1776) was carried out between February, 2006 and January, 2007 at Sharawardy Uddyan, Ramna Park, Curzon Hall and National Botanical Garden. The breeding season started from December and ended in June. In total 20 nests were observed, of which 10 nests were studied in details in four study areas. The coppersmith barbet mostly preferred to make holes on the branches of koroi (Albizzia procera) for nesting. Egg laying started on 15th February in the study areas. Average height of nests from the ground was 9.7m and average depth and diameter of the holes was 29.20cm and 4.46cm respectively. New holes were constructed yearly or the old one was reused. Both the sexes took part in incubation of eggs, brooding and feeding to the nestlings. A total of 30 eggs were laid in 10 nests. Clutch size varied from 2 4 eggs (average: 3 eggs). Among them, 20 (66.67%) eggs were hatched and the rest 10 (33.33%) were unhatched and lost. Average incubation period was 14 days. The male and the female incubated the eggs for an average of 27.44 minutes/ hours and 32.56 minutes/ hours, respectively. Average number of nestlings (brood size) per nest was 2. Out of 20 nestlings, 16 left their nests successively. The breeding success was 53.33% in relation to the number of eggs laid and 80% in relation to nestlings hatched. The average weight of eggs and nestlings was 3.59g and 9.33g, respectively. The main causes of loss of the eggs and nestlings were human interference, predation and ectoparasitic infections. Insects and fruits were fed to the nestlings by their parents.
DOI: http://dx.doi.org/10.3329/ujzru.v31i0.15397
Univ. j. zool. Rajshahi Univ. Vol. 31, 2012 pp. 31-34
Downloads
Download data is not yet available.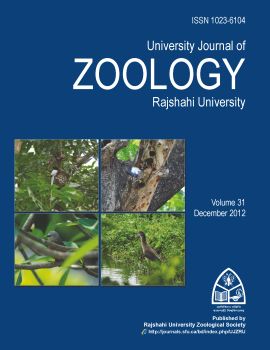 Downloads
How to Cite
Sarker, N. J., Jaman, M. F., Mustafa, S., & Rahman, M. S. (2013). Breeding biology of coppersmith barbet, Megalaima haemacephala (Müller, 1776). University Journal of Zoology, Rajshahi University, 31, 31–34. https://doi.org/10.3329/ujzru.v31i0.15397