Production of small and big fishes of selected ponds
Keywords:
SIS, production
Abstract
To study the big and Small Indigenous Species (SIS) of fish production, 15 ponds of Rajshahi University campus were selected. The pond production was ranged from 326.16 to 2187.40 kg/ha. The ratio of SIS and big fish production was calculated maximum as 1 : 0.10 (by number) and 1 : 7.46 (by weight). Majority of these SIS fish are Self Recruiting Species (SRS), because they were not stocked in the studied ponds. The F/C ratio was obtained as 4.583 in average
DOI: http://dx.doi.org/10.3329/ujzru.v31i0.15378
Univ. j. zool. Rajshahi Univ. Vol. 31, 2012 pp. 27-30
Downloads
Download data is not yet available.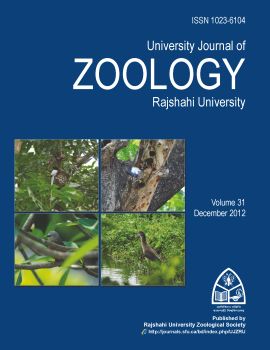 Downloads
How to Cite
Sultana, S. (2013). Production of small and big fishes of selected ponds. University Journal of Zoology, Rajshahi University, 31, 27–30. https://doi.org/10.3329/ujzru.v31i0.15378