Biochemical analysis of Five Dried Fish species of Bangladesh
Keywords:
Dried fish, moisture, crude protein, lipid and ash
Abstract
To assess the proximate composition, five dried fish samples of Mystus vittatus, Channa punctatus, Chanda nama, Corica soborna and Trichuirus haumela were selected. The moisture content ranged from 14.06% to 24.58%, protein varied between 44.08% to 65.65% (moisture basis) and 53.45% to 76.39% (dry matter basis), lipid content of the selected dried fishes ranged from 1.91% to 17.76% (moisture basis) and 2.31% to 21.54% (dry matter basis). Ash content varied from 9.63% to 22.73% (moisture basis) and 11.21% to 28.15% (dry matter basis). The experiment was replicated three times and conducted from February, 2009 to August, 2009. Samples were collected from Sayedpur Upazaila, Nilphamari District, the north-west region of Bangladesh.
DOI: http://dx.doi.org/10.3329/ujzru.v31i0.15373
Univ. j. zool. Rajshahi Univ. Vol. 31, 2012 pp. 09-11
Downloads
Download data is not yet available.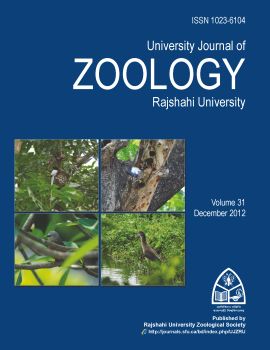 Downloads
How to Cite
Flowra, F. A., Nahar, D. G., Tumpa, A. S., & Islam, M. T. (2013). Biochemical analysis of Five Dried Fish species of Bangladesh. University Journal of Zoology, Rajshahi University, 31, 09–11. https://doi.org/10.3329/ujzru.v31i0.15373