Protozoan parasites in a wastewater treatment plant of Bangladesh
Keywords:
Protozoan parasites, Wastewater treatment plant, Dhaka
Abstract
Parasitic infection is a global health problem especially in developing countries. Municipal wastewaters always contain cysts of parasitic protozoans at some level. The present study was conducted to detect protozoan parasites in different stages of the treatment plant to check its efficacy. Wastewaters were collected from 3 points of the Pagla Sewage Treatent Plant (PSTP) of Dhaka, Bangladesh, throughout the year, 2007-08 at fortnight intervals. Giardia spp., Entamoeba spp., Entamoeba coli, Endolimax nana, Idoamoeba butschlii and Balantidium coli were detected at different times in different stages of the treatment plant. Among these Giardia and Entamoeba spp. were found most frequently than others. Both the prevalence and dominance of protozoan parasites were reduced gradually with the sampling point of the treatment plant which means that the treatment plant was effective in reducing protozoan parasites but not too effective to eliminate them completely.
DOI: http://dx.doi.org/10.3329/ujzru.v31i0.15372
Univ. j. zool. Rajshahi Univ. Vol. 31, 2012 pp. 05-08
Downloads
Download data is not yet available.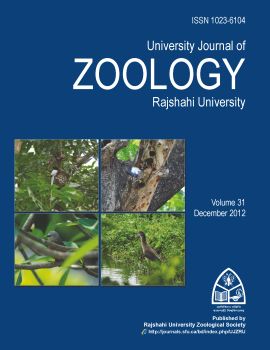 Downloads
How to Cite
Khanum, H., Khanam, S. S., Sultana, M., Uddin, M. H., Dhar, R. C., & Islam, M. S. (2013). Protozoan parasites in a wastewater treatment plant of Bangladesh. University Journal of Zoology, Rajshahi University, 31, 05–08. https://doi.org/10.3329/ujzru.v31i0.15372