Isolation and quantification of bacterial isolates from citrus fruits and determination of their anti-bacterial activity against selected pathogens
Keywords:
Citrus fruits, Pathogenic bacteria, fungi, Anti-bacterial activity
Abstract
The present study was undertaken with the aim of investigating the isolation and quantification of microorganisms from the citrus fruit samples collected from different areas of Dhaka city. Out of ten samples studied, the range of total viable bacterial proliferation was approximately 102 to 107 cfu/g. Among the specific bacterial pathogens, prevalence of Klebsiella spp. was found in five samples, Listeria spp., Staphylococcus spp. and Pseudomonas spp. in four samples and Vibrio spp. in three samples only. The presumptive identification of these isolates was done by the conventional cultural, microscopic and biochemical tests. Fungal growth was also observed in four samples within the range of 1.2×103 to 3.6×103 cfu/g. Interestingly, Prunus mume/domestica (plum) showed the anti-bacterial activity against all the laboratory bacterial isolates tested. Among other samples, Tanarindus bacilus (tamarind) was found to exhibit activity against Escherichia coli, Pseudomonas spp., Salmonella spp., Vibrio spp., and Listeria spp. On the other hand, Monifera indica (mango) showed anti-bacterial efficacy against E. coli, Staphylococcus spp. and Listeria spp. and Citrus limon (lemon) only against Pseudomonas spp. and Listeria spp.
DOI: http://dx.doi.org/10.3329/sjm.v3i1.22750
Stamford Journal of Microbiology, Vol.3(1) 2013: 30-33
Downloads
Download data is not yet available.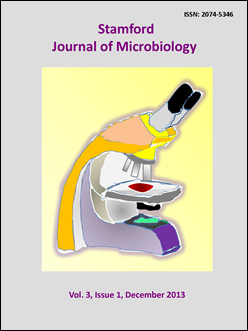 Downloads
How to Cite
Akter, R., Tanu, N. I., & Uddin, M. A. (2015). Isolation and quantification of bacterial isolates from citrus fruits and determination of their anti-bacterial activity against selected pathogens. Stamford Journal of Microbiology, 3(1), 30–33. https://doi.org/10.3329/sjm.v3i1.22750
Section
Original Articles