Antibiotic resistance patterns of pathogenic Gram negative bacteria isolated from UTI patients in Sirajganj district
Keywords:
UTI, Antibiotic resistance, Pathogens, Gram negative bacteria
Abstract
Urinary tract infection (UTI) is a common cause of illness in people of all age groups. The increasing trend of antibiotic resistance is now a concern worldwide. The present study was conducted to determine the antibiotic resistance pattern of Gram negative pathogenic isolated from UTI cases in Sirajganj district. A total of 297 uropathogens were included in this study of which 66 (22.2%) were isolated from male patients and 231 (77.8%) from female patients. Escherichia coli (52.9%) was found to be the predominant pathogen followed by Klebsiella spp. (22.9%), Proteus spp. (4.7%), Psudomonas spp. (4.4%), Enterobacter spp. (2.4%), Citrobacter spp. (3%) and Morganella spp. (5.7%). Most of the uropathogens were resistant against Ampicillin (AMP). Meropenem was the most effective antibiotic with resistance between 0 and 15.1% of the tested isolates. However, the trend of antibiotic resistance can vary with the change in the environmental and socioeconomic conditions. Accurate diagnosis of UTI and determination of antibiotic sensitivity pattern is important for selection of appropriate drug for effective treatment.
DOI: http://dx.doi.org/10.3329/sjm.v3i1.22746
Stamford Journal of Microbiology, Vol.3(1) 2013: 17-20
Downloads
Download data is not yet available.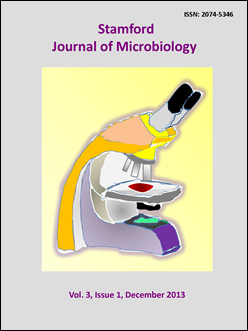 Downloads
How to Cite
Chowdhury, F. F. K., Ahsan, S., & Kabir, M. S. (2015). Antibiotic resistance patterns of pathogenic Gram negative bacteria isolated from UTI patients in Sirajganj district. Stamford Journal of Microbiology, 3(1), 17–20. https://doi.org/10.3329/sjm.v3i1.22746
Section
Original Articles