Linear plasmids and their replication
Keywords:
Linear plasmids, Borrelia spp., Streptomyces spp.
Abstract
It is still a common belief that plasmids are circular. However, linear plasmids have been reported to exist more than a decade ago. Two types of linear plasmids are known. One type contains covalently closed ends and are commonly found in Borrelia, the causative agent of tick fever. The other type is characterized by the covalent attachment of proteins at the 5' ends and exists in a number of bacterial genera including Streptomyces, Rhodococcus, Mycobacterium and Planobispora. Recently, a linear plasmid in Salmonella enterica serovar Typhi of the Enterobacteriaceae family have been reported for the first time. This paper reviews various postulated mechanisms of replication of linear plasmids and focuses on the components of the replication machinery of linear plasmids studied to date.
DOI: http://dx.doi.org/10.3329/sjm.v2i1.15200
Stamford Journal of Microbiology, Vol.2(1) 2012: 1-5
Downloads
Download data is not yet available.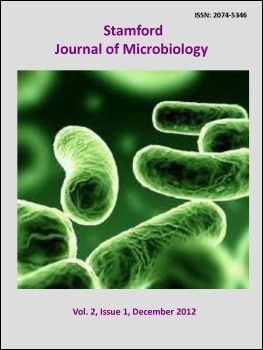 Downloads
How to Cite
Ahsan, S., & Kabir, M. S. (2013). Linear plasmids and their replication. Stamford Journal of Microbiology, 2(1), 1–5. https://doi.org/10.3329/sjm.v2i1.15200