Cultural Imperialism in English Medium Schools: A Critical Insight
Keywords:
Cultural Imperialism, English Medium, Critical, Insight
Abstract
English medium schools in Bangladesh, particularly in Dhaka are providing an alternative form of private education at the primary, secondary and higher secondary levels. However, it cannot be denied that such schools are generally unregulated by any national education boards or monitoring bodies in terms of their syllabus, recruitment policy, admission procedures or their tuition fee structure. Consequently, they enjoy a kind of autonomy like no other education system in Bangladesh. English medium schools on the one hand may be contributing towards the rise of English and the standard of English medium education; on the other hand, they seem to be gradually fostering western culture that undermines Bangladeshi culture and tradition. It seems that cultural imperialism is still continuing in this country through such institutions (see Haque, 2009). Students of English medium schools tend to learn about western tradition, literature, geography, history, socio-political background, and lifestyle, without emphasizing Bangladeshi way of life. The overexposure to western culture could have repercussions in the long run (see Al-Quaderi, 2010).
DOI: http://dx.doi.org/10.3329/sje.v7i0.14468
Stamford Journal of English; Volume 7; Page 98-128
Downloads
Download data is not yet available.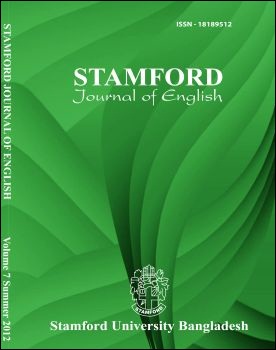 Downloads
How to Cite
Haque, M. S., & Akter, T. (2013). Cultural Imperialism in English Medium Schools: A Critical Insight. Stamford Journal of English, 7, 98–128. https://doi.org/10.3329/sje.v7i0.14468