Subcutaneous Emphysema: A Rare Postoperative Complication after Tonsillectomy
Keywords:
Subcutaneous Emphysema, Surgical Emphysema, Tonsillectomy
Abstract
Tonsillectomy is considered as a relatively safe procedure. This report aimed at describing an uncommon complication of this surgical procedure - subcutaneous emphysema. A 12 years old girl admitted for tonsillectomy operation. After routine preoperative assessment her operation was performed under general anesthesia. Surgery was uneventful. 7-8 hours after surgery, during follow-up in postoperative room progressing subcutaneous emphysema was noticed which initially involved the neck. But later on, it extended upper chest, upper arms, face & back. Crepitus swelling of neck and bilateral parotid region, typical of subcutaneous emphysema was noted. Chest X ray showed free air in the cervical regions reaching upper mediastinum. There was no airway obstruction and patients general condition was stable. Emphysema was no longer clinically evident 3 days after & patient was released. Subcutaneous emphysema is an uncommon complication of tonsillectomy, appearing almost ever after deeper dissections of the pharyngeal mucosa, when a porous surface is created, thus providing a route for the entry of air. Increased upper airway pressure may contribute to this injury.
J. Paediatr. Surg. Bangladesh 3(1): 51-53, 2012 (January)
Downloads
Download data is not yet available.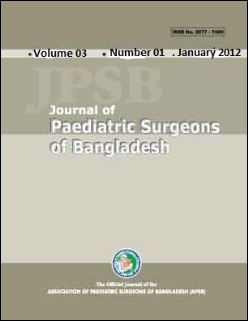 Downloads
How to Cite
Litu, M. A., Chowdhury, N. K., Hossain, M. A., Mamun, A. A., Mahmud, M., Bishwas, D., Dutta, U. K., & Alam, M. Z. (2015). Subcutaneous Emphysema: A Rare Postoperative Complication after Tonsillectomy. Journal of Paediatric Surgeons of Bangladesh, 3(1), 51–53. https://doi.org/10.3329/jpsb.v3i1.23909
License
Authors of articles published in JPSB retain the copyright of their articles and are free to reproduce and disseminate their work. A Copyright and License Agreement – signed and dated by the corresponding author on behalf of all authors – must be submitted with each manuscript submission.