Study of Voiding Obstruction in Physiological Phimosis
Keywords:
Physiological Phimosis, Ballooning of foreskin obstructed roiding
Abstract
Background: There are many circumcisions done by the surgeons due to physiological phimosis which need no intervention. General practitioners inappropriately refer those cases due to fear of obstructed voiding.
Materials & Methods: From July 2005 to April 2007 total 33 boys with physiological phimosis were assessed in BSMMU.Among them 20 cases were without ballooning and 13 cases with ballooning. All the boys had upper tract and bladder USG followed by uroflowmetry and USG determined postvoid residual urine volume. Data were compared between boys with and without ballooning of foreskin.
Results: In all 33 boys with physiological phimosis completed uroflowmetry and USG. Ballooning of the foreskin was present in 13 boys (mean age 22.08 months range from 18 to 25 months) and non ballooning were 20 (mean age- 22.7 months range from 18 to 28 months). Upper tract USG and bladder wall thickness were normal in all boys. The mean Maximum flow rate (Q max) was not significantly different in boys with ballooning and those with non ballooning (mean 8.4ml/s maxi-10.3 mini-6.7-) vs (8.5 ml/s, maxi-10.7,mini -6.7). In addition all Qmax values were within normal range. The two groups had comparable mean PVR (0 .92 ml SD-0.9, range -0 to7) vs (.85 ml SD-0.8 range 0 to 8).
Conclusions: The non-invasive assessment of voiding efficiency in boys with physiological phimosis with or without ballooning of foreskin showed no evidence of obstructed voiding.
Downloads
Download data is not yet available.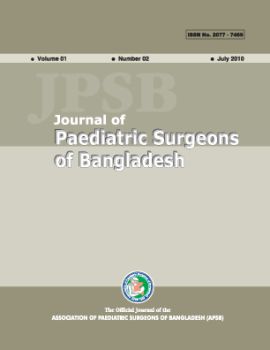 Downloads
How to Cite
Islam, S., Morshed, A. A., & Hoque, S. (2014). Study of Voiding Obstruction in Physiological Phimosis. Journal of Paediatric Surgeons of Bangladesh, 1(2), 137–142. https://doi.org/10.3329/jpsb.v1i2.19530
Section
Original Articles
License
Authors of articles published in JPSB retain the copyright of their articles and are free to reproduce and disseminate their work. A Copyright and License Agreement – signed and dated by the corresponding author on behalf of all authors – must be submitted with each manuscript submission.