Laparoscopic Pyeloplasty - Our Early Experience
Keywords:
laparoscopic, pyeloplasty, ureteropelvic junction obstruction, renogram
Abstract
Objectives: To present our initial experience with laparoscopic pyeloplasty and to evaluate the safety and short-term outcome of this technique.

Methods: Five patients underwent laparoscopic dismembered pyeloplasty for the management of ureteropelvic junction obstruction (UPJO) at Chittagong between July2007 to Mach2009. Patient age at surgery was 822 years. There were two boys and three girls. All had unilateral UPJO with a normal contralateral kidney. We used 5 mm instruments for grasping, blunt dissection, incising and suturing to facilitate safe and precise surgery. The outcome was measured by the operative time, perioperative complications and resolution of obstruction and symptoms.

Results: Mean operative time was 195 minutes (range 175220 min). No major perioperative complications occurred in any cases. Overall, successful resolution of UPJO was observed in all the five cases evident by renogram.

Conclusions: Laparoscopic pyeloplasty represents a safe and effective option in the surgical treatment of UPJO.
Downloads
Download data is not yet available.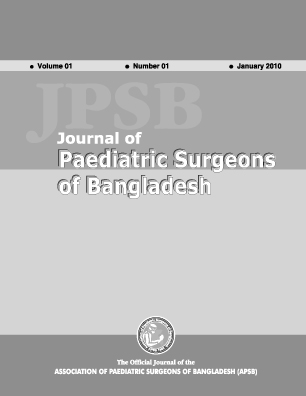 Downloads
How to Cite
Hossain, G. M. Z., Rahman, M., & Hasan, R. (2014). Laparoscopic Pyeloplasty - Our Early Experience. Journal of Paediatric Surgeons of Bangladesh, 1(1), 10–14. https://doi.org/10.3329/jpsb.v1i1.19448
Section
Original Articles
License
Authors of articles published in JPSB retain the copyright of their articles and are free to reproduce and disseminate their work. A Copyright and License Agreement – signed and dated by the corresponding author on behalf of all authors – must be submitted with each manuscript submission.