HEALTH AND OCCUPATIONAL SAFETY FOR FEMALE WORKFORCE OF GARMENT INDUSTRIES IN BANGLADESH
Keywords:
Female Workers, Health, Disease, Fire and Safety
Abstract
It is the advantage to outsourcing of supply chains that opened up a new door of economic emancipation for Bangladesh. The readymade garments (RMG) of Bangladesh emerge as value chain member of European, USA cloth merchants and retails. Many of them are found economic justification in outsourcing production function to Bangladesh. RMG sector of Bangladesh responded to this outsourcing demand quite successfully. The overwhelming success of the RMG sector of Bangladesh has moved its status in the global context in terms of economic and social development indicators. Despite the challenge that lies ahead, Bangladesh performed well in terms of realizing benefit of economic globalization, particularly its RMG sector. This paper discusses in brief the problem of health and safety issues of female workforce of garment industries in Bangladesh based upon the industry environment, their residential environment, working condition, age, problem of health, causes of diseases, causes of fire accident and their medical facilities.
Key Words: Female Workers; Health; Disease; Fire and Safety.
DOI: 10.3329/jme.v41i1.5364

Journal of Mechanical Engineering, Vol. ME 41, No. 1, June 2010 65-70
Downloads
Download data is not yet available.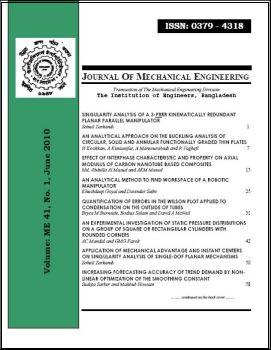 Downloads
How to Cite
Akhter, S., Salahuddin, A., Iqbal, M., Malek, A., & Jahan, N. (2010). HEALTH AND OCCUPATIONAL SAFETY FOR FEMALE WORKFORCE OF GARMENT INDUSTRIES IN BANGLADESH. Journal of Mechanical Engineering, 41(1), 65–70. https://doi.org/10.3329/jme.v41i1.5364