Effect of Pulse Jet MQL in Surface Milling of Hardened Steel
Abstract
Minimum quantity lubricant (MQL) machining is an emerging cooling technology that ensures
green machining. In this research work, an innovative design for the application of MQL in the form of pulse jet was created, following the development of that applicator. The surface milling of AISI 4140 steel, heat treated to 40 HRC, was investigated with pulse jet minimum quantity lubricant applicator using VG-68 grade straight cut cutting oil as the cutting fluid in respect of cutting force, surface roughness and tool flank wear with machining time. Four flute carbide end mill cutter was used to investigate the change in tool wear, and compared with that
of the dry condition. The result and analysis indicate that this pulse jet MQL applicator can be utilized in hard milling operation to ensure better surface finish and minimal tool wear and cutting force.
Downloads
Download data is not yet available.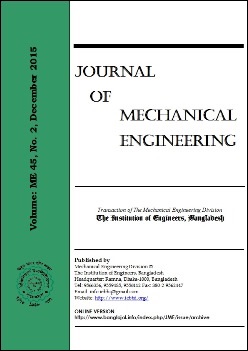 Downloads
How to Cite
Bashir, M. A., Mia, M., & Dhar, N. R. (2016). Effect of Pulse Jet MQL in Surface Milling of Hardened Steel. Journal of Mechanical Engineering, 45(2), 67–72. https://doi.org/10.3329/jme.v45i2.28118