Common Malocclusion Problems and their Management: A Hospital based study
Keywords:
Malocclusion, abnormal oral habits, prevention, management
Abstract
Aims: Orthodontics is the branch of dentistry concerned with the prevention, interception and correction of malocclusion. The present study aimed at the common malocclusion problems and their management in Bangladeshi population. It was also aimed to align for aesthetics reason, functional efficiency and structural balance.
Methods: A cross-sectional study was carried out among 120 respondents having malocclusions. Students, especially young women and urban residents were selected as the main respondents of our series which reflected its aesthetic value against malocclusion
Results: Mean age of the respondents was 22.22±9.07 years with a male and female ratio of 1:3.1. Among the respondents, 37.5% were within the 11 to 20 years age group with a past (21.0%) and present (7.5%) history of finger sucking habit and abnormal over jet (71.7%) and over bite (55.8%). Mean over jet and overbite were 4.4 ±3.47 (range, -2 to 12) mm and 3.47±1.98 (range, 0 to 7) mm, respectively. Angles classification revealed type 1, type 2 (division 1), type 2 (division 2) and type 3 were 55.0%, 28.3%, 3.3% and 13.3%, respectively, and based on skeletal relationships, type 1, type 2 and type 3 were 64.2%, 25.0% and 10.8%, respectively. Of all patients, 66.7% had convex, 22.5% straight and 10.8% had concave face profiles. They also had 44.2% competent, 36.7% incompetent and 19.2% habitual competent anterior lip seals.
Conclusions: Smile is a global language though many of our patients are deprived of both socially and economically, especially young women from this language. With growing importance imposed on preventive orthodontic treatment and proper oral health education, incidence of malocclusion can be reduced.
DOI: http://dx.doi.org/10.3329/cdcj.v10i1.13827
City Dent. Coll. J Volume-10, Number-1, January-2013
Downloads
Download data is not yet available.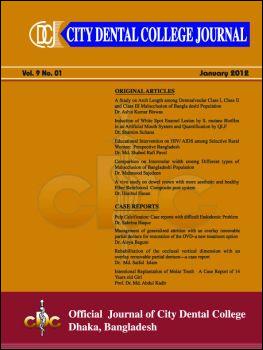 Downloads
How to Cite
Uddin, H., Ahmed, Z., Das, N. K., Saha, A. K., Babu, M. R. I., & Khan, A. M. S. A. (2018). Common Malocclusion Problems and their Management: A Hospital based study. City Dental College Journal, 10(1), 22–25. https://doi.org/10.3329/cdcj.v10i1.13827
Section
Original Articles