A Case of Morbid Obesity with Related Complications
Keywords:
Morbid Obesity, Hypertention, Left Ventricular Hypertrophy
Abstract
We are reporting a case of morbid obesity with related complications. This unfortunate 32 years old poor gentleman has been suffering from morbid obesity since his early childhood and presented to us with palpitation, shortness of breadth on exertion and chest pain, difficulty in micturation for the last 8 year Clinically the patient has been diagnosed as a case of Morbid Obesity with Left Ventricular Hypertrophy & Heart Failure, with Diabetes Mellitus, and Urethral Stricture. After meticulous search for all secondary causes of morbid obesity the reason for his obesity was considered as Genetic.

DOI: http://dx.doi.org/10.3329/bmj.v39i3.9949

BMJ 2010; 39(3)
Downloads
Download data is not yet available.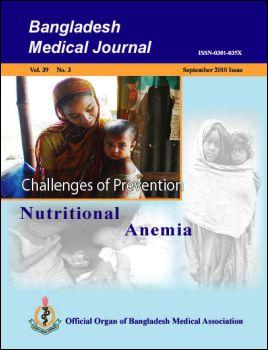 Downloads
How to Cite
Rahman, M., Haque, T., & Amin, A. (2012). A Case of Morbid Obesity with Related Complications. Bangladesh Medical Journal, 39(3). https://doi.org/10.3329/bmj.v39i3.9949