Pharmacological basis for the medicinal use of Psidium guajava leave in hyperactive gut disorders
Keywords:
Antidiarrheal, Antispasmodic, Ca antagonist, Psidium guajava
Abstract
Psidium guajava L. is reputed for its medicinal use in hyperactive gut disorders. This study was aimed to investigate mechanism responsible for its medicinal use in diarrhea and gut spasm. In castor oil-induced diarrheal model, the crude extract of P. guajava (100-1,000 mg/kg), provided 20.52-81.05% protection, similar to loperamide. In isolated rabbit jejunum preparations, crude extract was found more potent against high K+ than spontaneous pre-contractions, similar to verapamil, with EC50 values of 0.66 (0.44-0.97; n=8) and 2.28 mg/mL (1.43-3.62; n=8), respectively, suggests calcium channel blocking activity, as a possible mode of action. The Ca++ channel blocking activity was further confirmed when pre-treatment of tissue with crude extract (0.3-1 mg/mL) caused a rightward shift in the Ca++ concentration-response curves, similar to verapamil. Loperamide also inhibited spontaneous and high K+-induced contractions and shifted the Ca++ curves to the right. These data indicate that crude extract of P. guajava possesses Ca++ antagonist-like constituent(s), which explain its inhibitory effect on gut motility.
Downloads
Download data is not yet available.
Abstract
4053
Download
1240 Read
231
References
Awouters F, Niemegeers CJE, Lenaerts FM, Janssen PAJ. Delay of castor oil diarrhea in rats, a new way to evaluate inhibitors of prostaglandin biosynthesis. J Pharm Pharmacol. 1978; 30: 41-45.
Brading AF. How do drugs initiate contraction in smooth muscles? Trends Pharmacol Sci. 1981; 2: 261-65.
Brunton LL. Agents affecting gastrointestinal water flux and motility; emesis and antiemetics; bile acids and pancreatic enzymes. In: Goodman and Gillman's The Pharmacological Basis of Therapeutics. Hardman JG, Limbird LE, Molinoff PB (eds). New York, McGraw Hill, 1996.
Croci T, Landi M, Almond-Alt X, Le F, Maffrand JP, Manara L. Role of tachykinins in castor oil induced diarrhea in rats. Br J Pharmacol. 1997; 121: 375-80.
Coutino RR, Hernandez CP, Giles RH. Lectins in fruits having gastrointestinal activity: Their participation in the hemagglutinating property of Escherichia coli O157:H7. Arch Med Res. 2001; 32: 25157.
de Wet H, Nkwanyana MN, van Vuuren SF. Medicinal plants used for the treatment of diarrhea in northern Maputaland, KwaZulu-Natal Province, South Africa. J Ethnopharmacol. 2010; 130: 284-89.
Duke JA. Handbook of Medicinal Herbs. London, CRC Press, 2002.
Farre AJ, Columbo M, Fort M, Gutierrez B. Differential effects of various Ca++ antagonists. Gen Pharmacol. 1991; 22: 177-81.
Gilani AH, Shah AJ, Muhammad NG, Kashif M. Pharmacological basis for the use of turmeric in gastrointestinal and respiratory disorders. Life Sci. 2005; 76: 3089-105.
Godfraind T, Miller R, Wibo M. Calcium antagonism and calcium entry blockade. Pharmacol Rev. 1986; 38: 321-416.
Guti´erreza RMP, Mitchell S, Solis RV. Psidium guajava: A review of its traditional uses, phytochemistry and pharmacology. J Ethnopharmacol. 2008; 117: 127.
Iwao I, Terada Y. On the mechanism of diarrhea due to castor oil. Jap J Pharmacol. 1962; 12: 137-45.
Jebunnessa, Uddin SB, Mahbub-Uz-Zaman M, Akter R, Ahmed NU. Antidiarrheal activity of ethanolic bark extract of Mitragyna diversifolia. Bangladesh J Pharmacol. 2009; 4: 144-46.
Karaki H, Weiss G. Calcium release in smooth muscles. Life Sci. 1983; 42: 111-22.
Lozoya X, Meckes M, Abou-Zaid M, Tortoriello J, Nozzolillo C, Arnason JT. Quercetin glycosides in Psidium guajava L. leaves and determination of a spasmolytic principle. Arch Med Res. 1994; 25: 11-15.
Morales MA, Tortoriello J, Meckes M, Paz D, Lozoya X. Calcium-antagonist effect of quercetin and its relation with the spasmolytic properties of Psidium guajava L. Arch Med Res. 1994; 25: 17-21.
National Research Council. Guide for the care and use of laboratory animals. Washington, D.C, National Academy Press, 1996.
Neira GA, Ramirez GMB. Actividad antimicrobiana de extractos de dos especies de guayaba contra Sterptococcus mutans y Escherichia coli. Actualidades Biologicas. 2005; 27: 2730.
Ojewole JA, Awe EO, Chiwororo WD. Antidiarrheal activity of Psidium guajava Linn. (Myrtaceae) leaf aqueous extract in rodents. J Smooth Muscle Res. 2008; 44: 195-207.
Osman AM, Younes ME, Sheta AE. Triterpenoids of the leaves of Psidium guajava . Phytochemistry. 1974; 13: 2015-2016.
Reynolds IJ, Gould RJ, Synder SH. Loperamide blockade of calcium channel as mechanism for antidiarrheal effects. J Exp Pharmacol Ther. 1984; 231: 628-32.
Shah AJ, Bhulani NN, Khan SH, Gilani AH. Antidiarrhoeal and antispasmodic effects of Mentha longifolia are mediated through calcium channel blockade. Phytother Res. 2010; 24: 1392-97.
Shah AJ, Zaidi MA, Hamidullah SH, Gilani AH. Antidiarrheal and antispasmodic activities of Vincetoxicum stocksii are mediated through calcium channel blockade. Bangladesh J Pharmacol. 2011; 6: 46-50.
Tona L, Kambu K, Ngimbi N, Mesia K, Penge O, Lusakibanza M, Cimanga K, De Bruyne T, Apers S, Totte J, Pieters L, Vlietinck AJ. Antiamoebic and spasmolytic activities of extracts from some antidiarrheal traditional preparations used in Kinshasa, Congo. Phytomedicine 2000; 7: 31-38.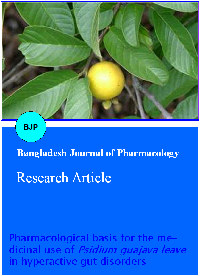 How to Cite
Shah, A. J., S. Begum, S. I. Hassan, S. N. Ali, B. S. Siddiqui, and A.-H. Gilani. "Pharmacological Basis for the Medicinal Use of Psidium Guajava Leave in Hyperactive Gut Disorders". Bangladesh Journal of Pharmacology, vol. 6, no. 2, Dec. 2011, pp. 100-5, doi:10.3329/bjp.v6i2.8692.
Section
Research Articles
License
Authors who publish with this journal agree to the following terms:
Authors retain copyright and grant the journal right of first publication with the work simultaneously licensed under a

Creative Commons Attribution License

that allows others to share the work with an acknowledgement of the work's authorship and initial publication in this journal.
Authors are able to enter into separate, additional contractual arrangements for the non-exclusive distribution of the journal's published version of the work (e.g., post it to an institutional repository or publish it in a book), with an acknowledgement of its initial publication in this journal.
Authors are permitted and encouraged to post their work online (e.g., in institutional repositories or on their website) prior to and during the submission process, as it can lead to productive exchanges, as well as earlier and greater citation of published work (See

The Effect of Open Access

).