Antihepatotoxic effect of isolated chitin from Rhizopus oryzae against paracetamol-induced hepatotoxicity
Keywords:
Rhizopus oryzae, Fungal chitin, Paracetamol, Hepatoprotective
Abstract
The present study was aimed at investigating the antihepatotoxic activity of isolated fungal chitin, a natural polysaccharide from Rhizopus oryzae NCIM1009 against paracetamol-induced toxicity in rats. Changes in the levels of biochemical markers of hepatic injury such as  serum glutamate oxaloacetic transaminase (SGOT), serum glutamic pyuruvic transaminase (SGPT), alkaline phosphatase, bilirubin and total protein were determined in both treated and control group of rats. The effect of fungal chitin was compared with that of silymarin (25 mg/kg). The results showed that paracetamol (750 mg/kg) elevated the levels of biomarkers enzymes. Treatment with fungal chitin (200 mg/kg) brought the marker level near to normal and showed significant hepatoprotective activity. Acute toxicity studies of fungal chitin was carried out and found safe up to 2,000 mg/kg. The isolated fungal chitin was characterized by IR spectroscopy and compared with commercial chitin.
Downloads
Download data is not yet available.
Abstract
1317
Download
659 Read
228
References
Chen MH, Chan HY, Wu CL. Food industry research and development institute. Production of chitosan and chitin. US patent 6255085. 1999.
Felse AP, Panda T. Studies on application of chitin and its derivatives. Bioprocess Eng. 1999; 20: 505-15.
Jendrassik L, Grof P. Simplified photometric methods for the determination of the blood bilirubin. Biochemische Zeitschrift. 1938; 297: 81-89.
Kind PRN, King EJ. Estimation of plasma phosphatase by determination of hydrolysed phenol with amino-antipyrine. J Clin Pathol. 1954; 7: 322-26.
Kumar NVRM. A review on chitin and chitosan applications. React Funct Polymer. 2000; 46: 1-27.
Kurita K. Chemistry and application of chitin and chitosan. Polym Degrad Stabil. 1998; 59: 117-20.
Muriel P, Rivera-Espinoza, Y. Beneficial drugs for liver disease. J Appl Toxicol. 2008; 28: 93103.
OECD. Acute and toxicity-acute and toxic class method guideline 423. In: Eleventh addendum to the OECD guidelines for the testing of chemicals. Paris, Organization for economic co-operation and development, 2000.
Pochanavanich P, Suntornsuk W. Fungal chitosan production and its characterization. Lett Appl Microbiol. 2002; 35: 17-21.
Recknagel RO. A new direction in the study of carbontetrachloride hepatotoxicity. Life Sci. 1983; 33: 401-08.
Reitman S, Frankel S. A colorimetric method for the determination of serum glutamic oxalacetic and glutamic pyruvic transaminases. Am J Clin Pathol. 1957; 28: 56-63.
Sahani S. Evaluation of hepatoprotective efficacy of APCL: A poly herbal formulation in vivo in rats. Indian drugs. 1999; 36: 628-31.
Thayza CMS, Tania LMS, Newton PS, Benicio BN, Galba Maria CT. Growth of Cunninghhamella elegans UCP 542 and production of chitin and chitosan using yam bean medium. Electron J Biotechnol Chile. 2007; 10: N1.
Wendel A, Feuersteins S, Konz KH. Acute paracetamol intoxication of starved mice leads to lipid peroxidation in in vivo. Biochem Pharmacol. 1987; 28: 2051-53.
White S.A, Farina PR, Fulton I. Production and isolation of chitosan from Mucor rouxii. Appl Environ Microbiol. 1979; 38: 323-28.
Yan Y, Wanshun L, Baoqin H, Bing L Chenwei F. Protective effects of chitosan oligosaccharide and its derivative against carbontetrachloride-induced liver damage in mice. Hepatology Res. 2006; 35: 178-84.
Zupanets IA, Drogovoz SM, Lakovleva LV, Pavlii AI, Bykova OV. Physiological importance of glucosamine. Fiziol Zh. 1990; 36: 115-20.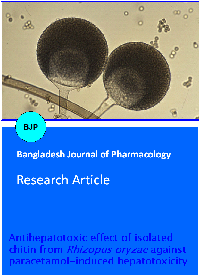 How to Cite
Ramanathan, A., and R. Kittusamy. "Antihepatotoxic Effect of Isolated Chitin from Rhizopus Oryzae Against Paracetamol-Induced Hepatotoxicity". Bangladesh Journal of Pharmacology, vol. 6, no. 1, Sept. 2011, pp. 64-67, doi:10.3329/bjp.v6i1.8556.
Section
Research Articles
License
Authors who publish with this journal agree to the following terms:
Authors retain copyright and grant the journal right of first publication with the work simultaneously licensed under a

Creative Commons Attribution License

that allows others to share the work with an acknowledgement of the work's authorship and initial publication in this journal.
Authors are able to enter into separate, additional contractual arrangements for the non-exclusive distribution of the journal's published version of the work (e.g., post it to an institutional repository or publish it in a book), with an acknowledgement of its initial publication in this journal.
Authors are permitted and encouraged to post their work online (e.g., in institutional repositories or on their website) prior to and during the submission process, as it can lead to productive exchanges, as well as earlier and greater citation of published work (See

The Effect of Open Access

).