Effect of Indigofera tinctoria on β-amyloid (25-35) mediated Alzheimer's disease in mice: Relationship to antioxidant activity
Keywords:
Antioxidant enzymes, Alzheimer's disease, ?-amyloid, Indigofera tinctoria, Oxidative stress
Abstract
The oxidative stress reducing effect of methanol extract of Indigofera tinctoria leaves (250 and 500 mg/kg) was investigated on β-amyloid (25-35) peptide-induced Alzheimer's disease in mice. All the antioxidant enzymes (superoxide dismutase, catalase, glutathione peroxide and glutathione reductase) in brain were reduced significantly (p<0.001) in the β-amyloid peptide injected group, whereas lipid peroxidation was increased significantly (p<0.001). The reduced enzyme level were restored significantly (p<0.01; p<0.001) by the administration of extract at the tested dose levels. A significant (p<0.001) reduction in lipid peroxidation was observed in the groups of animals administered with extract. Histopathological sections of the hippocampal region showed the extent of neuronal loss and its restoration upon administration of extract. Treatment with extract at the tested doses moderately prevented the neuronal loss.
Downloads
Download data is not yet available.
Abstract
1445
Download
784 Read
193
References
Aebi H. Catalase. In: Methods in enzymatic analysis. Bergmeyer HU (ed). New York, Academic Press, 1974, pp 674-84.
Ambasta SP. Indigofera tinctoria. In: The useful plants of India. New Delhi, Publication Information Directorate, 1994, p 289.
Asolkar, LV, Kakkar KK, Chakre OJ. Indigofera tinctoria. In: Second supplement to glossary of Indian medicinal plants with active principles. New Delhi, Publication Information Directorate, 1992, p 368.
Balamurugan G, Muthusamy P. Observation of the hepatoprotective and antioxidant activities of Trianthema decandra Linn roots on carbon tetrachloride treated rats. Bangladesh J Pharmacol. 2008; 3: 83-89.
Behl C, Davis J, Cole GM, Schubert D. Vitamin E protects nerve cells from amyloid beta protein toxicity. Biochem Biophys Res Commun. 1992; 186: 944-50.
Bush AI. The metallobiology of Alzheimers disease. Trends Neurosci. 2003; 26: 207-14.
Chatterjee A, Prakashi SC. Indigofera tinctoria. In: The treatise of Indian medicinal plants. Part I (A-K). New Delhi, Publication Information Directorate, CSIR, 1992, pp 97-98.
Chopra RN, Nayar SL, Chopra IC. Indigofera tinctoria. In: Glossary of Indian medicinal plants. New Delhi, NISCAIR, 1996, p 141.
Dobler RE, Anderson BM. Simultaneous inactivation of the catalytic activities of yeast glutathione reductase by N-alkyl melimides. Biochem Biophys Acta. 1981; 659: 70-74.
El-Sherbiny DA, Khalifa AE, Attia AS, Eldenshary Eel-D. Hypericum perforatum extract demonstrates antioxidant properties against elevated rat brain oxidative status induced by amnestic dose of scopolamine. Pharmacol Biochem Behav. 2003; 76: 525-33.
Jeong EJ, Ma CJ, Lee KY, Kim SH, Sung SH, Kim YC. KD-501, a standardized extract of Scrophularia buergeriana has both cognitive enhancing and antioxidant activities in mice given scopolamine. J Ethnopharmacol. 2009; 121: 98-105.
Hayes JD, Flanagan JU, Jowsey IR. Glutathione transferases. Annu Rev Pharmacol Toxicol. 2005; 45: 51-88.
Huang X, Cuajungco MP, Atwood CS, Hartshorn MA, Tyndall JD, Hanson GR, Stokes KC, Leopold M, Multhaup G, Goldstein LE, Scarpa RC, Saunders AJ, Lim J, Moir RD, Glabe C, Bowden EF, Masters CL, Fairlie DP, Tanzi RE, Bush AI. Cu (II) potentiation of Alzheimer A? neurotoxicity. Correlation with cell-free hydrogen peroxide production and metal reduction. J Biol Chem. 1999; 274: 37111-16.
Khare CP. Indigofera tinctoria. In: Indian medicinal plants. New Delhi, Verlag / Heidelberg, Springer, 2007, p 328.
Lawrence RA, Burk RF. Glutathione peroxidase activity in selenium deficient rat liver. Biochem Biophys Res Commun. 1976; 71: 952-58.
Lovell MA, Robertson JD, Teesdale WJ, Campbell JL, Markesbery WR. Copper, iron and zinc in Alzheimers disease senile plaques. J Neurol Sci. 1998; 158: 47-52.
Marklund S, Marklund G. Involvement of the superoxide anion radical in the auto oxidation of pyrogallol and a convenient assay for superoxide dismutase. Eur J Biochem. 1974; 47: 469-74.
Matsuoka Y, Picciano M, La Francois J, Duff K. Fibrillar beta amyloid evokes oxidative damage in a transgenic mouse model of Alzheimers disease. Neuroscience 2001; 104: 609-13.
Mecocci P, MacGarvey U, Beal MF. Oxidative damage to mitochondrial DNA is increased in Alzheimers disease. Ann Neurol. 1994; 36: 747-51.
Muralidharan P, Kumar VR, Balamurugan G. Protective effect of Morinda citrifolia fruits on ?-amyloid (25-35) induced cognitive dysfunction in mice: An experimental and biochemical study. Phytother Res. 2010; 24: 252-58. PMid: 19585480
Narender T, Khaliq T, Puri A, Chander R. Antidyslipidemic activity of furano-flavonoids isolated from Indigofera tinctoria. Bio org Med Chem Lett. 2006; 16: 3411-14.
Neely MD, Sidell KR, Graham DG, Montine TJ. The lipid peroxidation product 4-hydroxynonenal inhibits neurite outgrowth, disrupts neuronal microtubules and modifies cellular tubulin. J Neurochem. 1999; 72: 2323-33. Ohkawa H, Ohishi N, Yagi K. Assay for lipid peroxides in animal tissues by thiobarbituric acid reaction. Anal Biochem. 1979; 95: 351-58.
Palmer AM. The activity of the pentose phosphate pathway is increased in response to oxidative stress in Alzheimers disease. J Neural Transm. 1999; 106: 317-28.
Picklo MJ, Montine TJ. Acrolein inhibits respiration in isolated brain mitochondria. Biochim Biophys Acta. 2001; 1535: 145-52. PMID: 11342003
Pong K. Oxidative stress in neurodegenerative diseases: therapeutic implications for superoxide dismutase mimetics. Expert Opin Biol Ther. 2003; 3: 127-39.
Puri A, Khaliq T, Rajendran SM, Bhatia G, Chandra R, Narender T. Antidyslipidemic activity of Indigofera tinctoria. J Herb Pharmacother. 2007; 7: 59-64.
Rastogi RP, Mehrotra BN. Indigofera tinctoria. In: Compendium of Indian medicinal plants. Vol IV, Lucknow, Central Drug Research Institute, 1995, p 399.
Rush DK, Aschmies S, Merriman MC. Intracerebral beta amyloid (25-35) produces tissue damage: is it neurotoxic? Neurobiol Aging 1992; 13: 591-94.
Santapav H, Henry AN. Indigofera tinctoria. In: A dictionary of the flowering plants in India. New Delhi, CSIR, 1994, p 85.
Saravana Kumar A, Madhan Mohan E, Gandhimathi R, Amudha P. Study on the anti-seizure activity of methanolic extract of Indigofera tinctoria (L). Pharmacologyonl. 2009; 1: 1341-51.
Singh B, Chandan BK, Sharma N, Bhardwaj V, Satti NK, Gupta VN, Gupta BD, Suri KA, Suri OP. Isolation, structure elucidation and in vivo hepatoprotective potential of trans-tetracos-15-enoic acid from Indigofera tinctoria Linn. Phytother Res. 2006; 20: 831-39.
Singh B, Saxena AK, Chandan BK, Bhardwaj V, Gupta VN, Suri OP, Handa SS. Hepatoprotective activity of Indigtone- a bioactive fraction from Indigofera tinctoria. Phytother Res. 2001; 15: 294-97.
Sreepriya M, Devaki T, Nayeem M. Protective effect of Indigofera tinctoria against D-Galactosamine and Carbon tetra chloride challenge on in situ perfused rat liver. Indian J Physiol Pharmacol. 2001; 45: 428-34.
Stocker R. Lipoprotein oxidation: mechanistic aspects, methodological approaches and clinical relevance. Curr Opin Lipidol. 1994; 5: 422-33.
Thatcher GR, Bennett BM, Reynolds JN. Nitric oxide mimetic molecules as therapeutic agents in Alzheimers disease. Curr Alzheimer Res. 2005; 2: 171-82.
Zandi PP, Anthony JC, Khachaturian AS, Stone SV, Gustafson D, Tschanz JT, Norton MC, Welsh-Bohmer KA, Breitner JC; Cache County Study Group. Reduced risk of Alzheimer disease in users of antioxidant vitamin supplements: The Cache County study. Arch Neurol. 2004; 61: 82-88.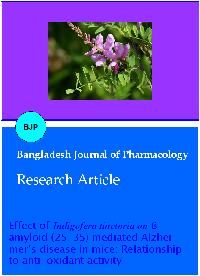 Additional Files
How to Cite
Balamurugan, G., and P. Muralidharan. "Effect of Indigofera Tinctoria on β-Amyloid (25-35) Mediated Alzheimer's Disease in Mice: Relationship to Antioxidant Activity". Bangladesh Journal of Pharmacology, vol. 5, no. 1, Aug. 2010, pp. 51-56, doi:10.3329/bjp.v5i1.5644.
Section
Research Articles
License
Authors who publish with this journal agree to the following terms:
Authors retain copyright and grant the journal right of first publication with the work simultaneously licensed under a

Creative Commons Attribution License

that allows others to share the work with an acknowledgement of the work's authorship and initial publication in this journal.
Authors are able to enter into separate, additional contractual arrangements for the non-exclusive distribution of the journal's published version of the work (e.g., post it to an institutional repository or publish it in a book), with an acknowledgement of its initial publication in this journal.
Authors are permitted and encouraged to post their work online (e.g., in institutional repositories or on their website) prior to and during the submission process, as it can lead to productive exchanges, as well as earlier and greater citation of published work (See

The Effect of Open Access

).