Protective effect of dried fruits of Carica papaya on hepatotoxicity in rat
Keywords:
Carica papaya, Hepatoprotective effect, Carbon tetrachloride
Abstract
Aqueous and ethanol extracts of Carica papaya has been evaluated for its hepatoprotective activity in rats. The aqueous and ethanol extracts of C. papaya showed significant hepatoprotection against carbon tetrachloride induced hepatotoxicity. The protective activity was evaluated by using biochemical parameters such as serum bilirubin, serum alanine aminotransferase, aspartate aminotransferase and alkaline phosphatase. The histopathological changes of liver were compared with control.
Downloads
Download data is not yet available.
Abstract
2022
Download
1158 Read
357
References
Ahmed FS. Prevalence of transfusion transmitted viruses (HBV, HCV, HIV) among multitransfused thalassamic children. MD Thesis, Dhaka, BSMMU, 2005.
Al-Qarawi AA, Abdel-Rahman HA, El-Mougy SA. Hepatoprotective activity of Licorice in rat liver injury model. J Herbs Spices Med Plants. 2001; 8: 7-14.
Balamurugan G, Muthusamy P. Observation of the hepatoprotective and antioxidant activities of Trianthema decandra Linn. (Vallai sharunnai) roots on carbon tetrachloride-treated rats. Bangladesh J Pharmacol. 2008; 3: 83-89.
Eva EO. Comparative hepatoprotective effects of Andrographis paniculata and alpha-tocopherol in paracetamol-induced liver damage in rats. MPhil Thesis, Dhaka, Dhaka Medical College, 2004.
Ghani A. Medicinal plants of Bangladesh. 2nd ed. Dhaka, Asiatic Society of Bangladesh, 2003, pp 1-149.
Iqbal MJ, Dewan FZ, Chowdhury SAR, Mamun MIR, Moshiuzzaman M, Begum M. Pre-treatment by n-hexane extract of Phyllanthus niruri can alleviate paracetamol-induced damage of the rat live. Bangladesh J Pharmacol. 2007; 2: 43-48.
Jayakar B, Dube R, Rama SKV, Vimala S. Effects of caseria esculenta on paracetamol induced hepatotoxicity. Indian Drugs 1999; 36: 263-64.
Kumar V, Cotran RS, Robbins SL. Cell injury and adaptation. In: Basic pathology. Kumar V, Cotran RS, Robbins SL (eds). 5th ed. Prism Books, India, 1992, pp 1-24.
Kaplowitz N, Aw TY, Simon FR, Stolz A. Drug induced hepatotoxicity. Ann Intern Med. 1986; 104: 826-39. PMid: 3518564
Ruckmani K, Kavimani S, Anandan R, Jayakar B. Effect of Moringa oliefera Lam on paracetamol-induced hepatotoxicity. Indian J Pharm Sci. 1998; 60: 33-35.
Rajkapoor B, Jayakar B, Kavimani S, Murugesh N. Effect of dried fruits of Carica papaya Linn on hepatotoxicity. Biol Pharm Bull. 2002; 25: 1645-46.
Samson JA. Tropical fruits. 2nd ed. Longman Scientific and Technical Publication, 1986, pp 256-69.
Thakare SP, Jain HN, Patil SD, Upadhyay UM. Hepatoprotective effect of Cocculus hirsutus on bile duct ligation-induced liver fibrosis in Albino Wistar rats. Bangladesh J Pharmacol. 2009; 4: 126-30.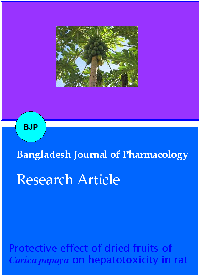 Additional Files
How to Cite
Sadeque, M. Z., and Z. A. Begum. "Protective Effect of Dried Fruits of Carica Papaya on Hepatotoxicity in Rat". Bangladesh Journal of Pharmacology, vol. 5, no. 1, July 2010, pp. 48-50, doi:10.3329/bjp.v5i1.5305.
Section
Research Articles
License
Authors who publish with this journal agree to the following terms:
Authors retain copyright and grant the journal right of first publication with the work simultaneously licensed under a

Creative Commons Attribution License

that allows others to share the work with an acknowledgement of the work's authorship and initial publication in this journal.
Authors are able to enter into separate, additional contractual arrangements for the non-exclusive distribution of the journal's published version of the work (e.g., post it to an institutional repository or publish it in a book), with an acknowledgement of its initial publication in this journal.
Authors are permitted and encouraged to post their work online (e.g., in institutional repositories or on their website) prior to and during the submission process, as it can lead to productive exchanges, as well as earlier and greater citation of published work (See

The Effect of Open Access

).