Chemical and pharmacological characterization of hypolipidemic compound from Cajanus Cajan
Keywords:
Cajanus cajan, Chromatography, Diabetic mice, Hypolipidemic activity, Redgram, Streptozotocin
Abstract
The study was carried out to identify the compound responsible for hypolipidemic and hypoglycemic effects of Cajanus cajan (redgram). The methanol extract of redgram seeds were fractionated into petroleum ether, chloroform, and methanol.The methanol fraction significantly decreased fasting blood glucose, and lipid profiles (p<0.001) on streptozotocin-induced mice compared to control. The methanol fraction was then subjected to chromatographic analysis and a compound (CCA1) has been isolated. The structure of the compound is considered to be substituted cyclopentene with glucose by analysis its 1H and 13C-NMR data. Biological studies of the isolated compound possessed prominent hypolipidemic activity. Although a number of hypoglycemic compounds are reported, yet not any hypolipidemic compound from redgram.The compound CCA1 seems to be the first report on hypolipidemic activity from methanol extract of redgram.
Downloads
Download data is not yet available.
Abstract
1652
Download
683 Read
202
References
American Diabetes Association. Role of cardiovascular risk factors in prevention and treatment of macrovascular disease in diabetes. Diab Care 1989; 12: 573-79.
Bandara T, Rokeya B, Khan S, Ali L, Ekanayake S, Jansz ER, Balasubramanium K. Effects of Gymnema lactiferum leaves on glycemic and lipidemic status in type 2 diabetes subjects. Bangladesh J Pharmacol. 2009; 4: 92-95.
Bhowmik A, Khan LA, Akhter M, Rokeya B. Studies on the antidiabetic effects of Mangifera indica stem-barks and leaves on nondiabetic, type 1 and type 2 diabetic model rats. Bangladesh J Pharmacol. 2009; 4: 110-14.
Bloks VW, Bakker-van Waarde WM, Verkade HJ, Kema IP, Wolters H, Vink E, Groen AK, Kuipers F. Down-regulation of hepatic and intestinal Abcg5 and Abcg8 expression associated with altered sterol fluxes in rats with streptozotocin-induced diabetes. Diabetologia 2004; 47: 104-12.
Halliwell B, Gutteridge JM. Free radicals in biology and medicine. 2nd ed. Oxford, Clarendon Press, 1985, pp 33-45.
Hu X, Sato J, Oshida Y, Xu M, Bajotto G and Sato Y. Effect of goshajinki-gan (Chinese herbal medicine: Niu-che-sen-Qi-wan) on insulin resistance in streptozotocin induced diabetic rats. Diab Res Clin Prac. 2003; 59: 103-11.
Iwasaki T, Takahashi S, Takahashi M, Zenimaru Y, Kujiraoka T, Ishihara M, Nagano M, Suzuki J, Miyamori I, Naiki H, Sakai J, Fujino T, Miller NE, Yamamoto TT, Hattori H. Deficiency of the very low-density lipoprotein (VLDL) receptors in streptozotocin-induced diabetic rats: Insulin dependency of the VLDL receptor. Endocrinology 2005; 146: 3286-94.
Khanam M, Dewan ZF. Effects of the crude and the n-hexane extract of Nigella sativa Linn. (kalajira) upon diabetic rats. Bangladesh J Pharmacol. 2009; 4: 17-20.
Moosa ASM, Rashid MU, Asadi AZS, Ara N, Uddin MM, Ferdaus A. Hypolipidemic effects of fenugreek seed powder. Bangladesh J Pharmacol. 2006; 1: 64-67.
Panlasigui LN, Panlilio LM, Madrid JC. Glycemic response in normal subjects to five different legumes commonly used in the Philippines. Int J food Sci Nutr. 1995; 46: 155-60.
Pattanayak S, Nayak SS, Panda D, Shende V. Hypoglycemic of Cajanus scarabaeoides in glucose overloaded and streptozotocin-induced diabetic rats. Bangladesh J Pharmacol. 2009; 4: 131-35.
Prajapati DD, Patel NM, Savadi RV, Akki KS, Mruthunjaya K. Alleviation of alloxan-induced diabetes and its complications in rats by Actinodaphne hookeri leaf extract. Bangladesh J Pharmacol. 2008; 3: 102-06.
Ravi S, Sadashiva CT, Tamizmani T, Balasubramanian T, Rupeshkumar M, Balachandran I. In vitro glucose uptake by isolated rat hemi-diaphragm study of Aegle marmelos Correa root. Bangladesh J Pharmacol. 2009; 4: 65-68.
Saha BK, Bhuiyan MNH, Mazumder K, Haque KMF. Hypoglycemic activity of Lagerstroemia speciosa L. extract on streptozotocin-induced diabetic rat: Underlying mechanism of action. Bangladesh J Pharmacol. 2009; 4: 79-83.
Saraswathy DK, Kurup PA. Effects of certain Indian pulses on the serum, liver and aortic lipid levels in rats fed hypercholesteromic diet. Atherosclerosis 1970; 11: 479-84.
Siddique O, Sun Y, Lin JC, Chum YW. Facilitated transdermal transport of insulin. J Pharm Sci. 1987; 76: 341-45.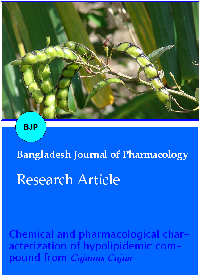 How to Cite
Habib, M. A., A. S. M. Anisuzzaman, M. R. I. Khan, and M. A. Gafur. "Chemical and Pharmacological Characterization of Hypolipidemic Compound from Cajanus Cajan". Bangladesh Journal of Pharmacology, vol. 5, no. 1, May 2010, pp. 34-38, doi:10.3329/bjp.v5i1.5158.
Section
Research Articles
License
Authors who publish with this journal agree to the following terms:
Authors retain copyright and grant the journal right of first publication with the work simultaneously licensed under a

Creative Commons Attribution License

that allows others to share the work with an acknowledgement of the work's authorship and initial publication in this journal.
Authors are able to enter into separate, additional contractual arrangements for the non-exclusive distribution of the journal's published version of the work (e.g., post it to an institutional repository or publish it in a book), with an acknowledgement of its initial publication in this journal.
Authors are permitted and encouraged to post their work online (e.g., in institutional repositories or on their website) prior to and during the submission process, as it can lead to productive exchanges, as well as earlier and greater citation of published work (See

The Effect of Open Access

).