In vitro study of antiamoebic effect of methanol extract of mature seeds of Carica papaya on trophozoites of Entamoeba histolytica
Keywords:
Amoebiasis, Entamoeba histolytica, Carica papaya
Abstract
Antiamoebic activity of methanol extract of mature seeds of Carica papaya was tested in vitro on axenic culture of Entamoeba histolytica using metronidazole as a reference amoebicidal agent. The MIC of seed extract was >62.5 µg/mL as compared to <0.8 µg/mL for metronidazole. The present study suggests that the mature seeds of C.  papaya have antiamoebic effect but less pronounced than metronidazole.
Downloads
Download data is not yet available.
Abstract
1220
Download
940 Read
203
References
Andrews JM. Determination of minimum inhibitory concentrations. J Antimicrob Chemother. 2001; 48: 5-16.
Bansal D, Sehgal R, Chawla Y, Malla N, Mahajan RC. Multidrug resistance in amoebiasis patient. Indian J Med Res. 2006; 124: 189-94.
Calzada F, Yepez-mulia L, Aguilar A. In vitro susceptibility of Entamoeba histolytica and Giardia lamblia to plants used in Mexican traditional medicine for the treatment of gastrointestinal disorders. J Ethnopharmacol. 2006; 108: 367-70.
Clark CG, Diamond LS. Methods for cultivation of luminal parasitic protists of clinical importance. Clin Microbiol Rev. 2002; 15: 329-41.
Ghani A. Carica papaya (Linn). In: Ghani A, (ed). Medicinal plants of Bangladesh with chemical constituents. 2nd ed. Dhaka, Asiatic Society of Bangladesh, 2003, p149.
Krishna KL, Paridhavi M, Patel JA. Review on nutritional, medicinal and pharmacological properties of papaya (Carica papaya Linn.). Nat Prod Radian. 2008; 7: 364-73.
Lakshmi V, Saxena A, Mishra SK, Mishra M, Srivastava S, Ghoshal S. Antiamoebic activity of marine sponge Haliclona exigua (Krikpatrick). Bangladesh J Pharmacol. 2009; 4: 55-59.
Tona L, Kambu K, Ngimbi N, Cimanga K, Vlietinck AJ. Antiamoebic and phytochemical screening of some Congolese medicinal plants. J Ethnopharmacol. 1998; 61: 57-65.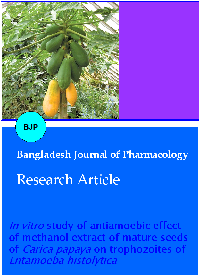 How to Cite
Sarker, S. K., N. Begum, D. Mondal, M. A. Siddique, and M. A. Rashid. "In Vitro Study of Antiamoebic Effect of Methanol Extract of Mature Seeds of Carica Papaya on Trophozoites of Entamoeba Histolytica". Bangladesh Journal of Pharmacology, vol. 5, no. 1, June 2010, pp. 45-47, doi:10.3329/bjp.v5i1.5003.
Section
Research Articles
License
Authors who publish with this journal agree to the following terms:
Authors retain copyright and grant the journal right of first publication with the work simultaneously licensed under a

Creative Commons Attribution License

that allows others to share the work with an acknowledgement of the work's authorship and initial publication in this journal.
Authors are able to enter into separate, additional contractual arrangements for the non-exclusive distribution of the journal's published version of the work (e.g., post it to an institutional repository or publish it in a book), with an acknowledgement of its initial publication in this journal.
Authors are permitted and encouraged to post their work online (e.g., in institutional repositories or on their website) prior to and during the submission process, as it can lead to productive exchanges, as well as earlier and greater citation of published work (See

The Effect of Open Access

).