Artemisia scoparia: A new source of artemisinin
Aditi Singh

Laboratory of Bioactive compounds, Department of Botany, University of Rajasthan, Jaipur 302004

Renu Sarin

Laboratory of Bioactive compounds, Department of Botany, University of Rajasthan, Jaipur 302004
Keywords:
Antimalarial drug, Artemisia Scoparia, Artemisinin, Callus culture
Abstract
Artemisinin is considered as the most active and potent antimalarial drug. Till date Artemisia annua Linn. plant is the only source for its production The present investigation was carried out with an objective to search a new plant for  artemisinin. An attempt was made on a perennial faintly odoratus herb, Artemisia scoparia Waldst et Kit. to find out an alternative of A. annua for the production of  artemisinin. The yield of artemisinin was higher in aerial plant parts (0.015%) in comparison to callus culture (0.001%). The present study concluded that A. scoparia contains an antimalarial drug artemisinin.
Downloads
Download data is not yet available.
Abstract
1331
Download
815 Read
197
References
Abdin MZ, Israr M, Rehman RU, Jain SK. Artemisinin, a novel antimalarial drug: Biochemical and molecular approaches for enhanced production. Planta Med. 2003; 69: 289-99.
Acton N,Klayman DL. Artemisinin, a new sesquiterpene lactone endoperoxide from Artemisia annua. Planta Med. 1985; 47: 442-45.
Acton N, Klayman DL, Rollman IJ. Reductive electrochemical HPLC assay for artemisinin (qinghaosu). Planta Med. 1985; 51: 445-46.
de Vries P, Dien TK. Clinical pharmacology and therapeutic potential of artemisinin and its derivatives in the treatment of malaria. Drugs 1996; 52: 818-36.
ElSohly HN, Croom EM, El-Feraly FS, El-Sherei MM. A large scale extraction technique of artemisinin from Artemisia annua. J Nat Prod. 1990; 53: 1560-64.
Ferreira JF, Janick J. A comparison of gas chromatography and high performance liquid chromatography for artemisinin analyses. J Phytochem. 1996a; 41: 97-104.
Ferreira JF, Charles DJ, Wood K, Simon JE, Janick J. A comparison of gas chromatography and high performance liquid chromatography for artemisinin analyses. Phytochem Anal. 1994; 5: 116-20.
Ferreira JF, Janick J. Roots as an enhancing factor for the production of artemisinin in shoot cultures of Artemisia annua. Plant Cell Tissue Organ Cult. 1996b; 44: 211-17.
Ferreira JF, Simon JE, Janick J. Developmental studies of Artemisia annua: Flowering and artemisinin production under greenhouse and field conditions. Planta Med. 1995a; 61: 167-70.
Ferreira JF, Simon JE, Janick J. Relationship of artemisinin content of tissue-cultured, greenhouse-grown, and field-grown plants of Artemisia annua. Planta Med. 1995b; 61: 351-55.
Fulzele DP, Sipahimalani AT, Heble MR. Tissue cultures of Artemisia annua: Organogenesis and artemisinin production. Phytother Res.
; 5: 149-53.
Jaziri M, Shimomura K, Yoshimatsu K, Fauconnier ML, Marlier M, Homes J. Establishment of normal and transformed root cultures of Artemisia annua L. for artemisinin production. J Plant Physiol. 1995; 145: 175-77.
Jha J, Jha TB, Mahato SB. Tissue culture of Artemisia annua L.: A potential source of an antimalarial drug. Curr Sci. 1988; 57: 344-46.
Martinez BC, Staba EJ. The production of artemisinin in Artemisia annua L. tissue cultures. Adv Cell Cult. 1988; 6: 69-87.
McIntosh HM, Olliaro P. Artemisinin derivatives for treating severe malaria. The Cochrane library 2. Oxford, Update Software, 2004.
Nair MS, Acton N, Klayman DL, Kendrick K, Basile DV, Mante S. Production of artemisinin in tissue cultures of Artemisia annua. J Nat Prod. 1986; 49: 504-07.
Theoharides AD, Smyth MH, Ashmore RW, Halverson JM, Zhou ZM, Ridder WE, Lin AJ. Determination of dihydroqinghaosu in blood by pyrolysis gas chromatography/mass spectrometry. J Anal Chem. 1988; 60: 115-20.
Titulaer HA, Zuidema J, Kager PA, Wetsteyn JC, Lugt CB, Merkus FW. The pharmacokinetics of artemisinin after oral, intramuscular and rectal administration to volunteers. J Pharm Pharmacol. 1990; 42: 81013.
Van Nieuwerburgh FC, Vande Casteele SR, Maes L, Goossens A, Inzé D, Van Bocxlaer J, Deforce DL. Quantitation of artemisinin and its biosynthetic precursors in Artemisia annua L. by high performance liquid chromatography-electrospray quadrupole time-of-flight tandem mass spectrometry. J Chromatogr A. 2006; 1118: 180-87.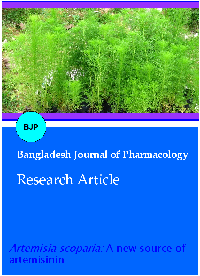 How to Cite
Singh, A., and R. Sarin. "Artemisia Scoparia: A New Source of Artemisinin". Bangladesh Journal of Pharmacology, Vol. 5, no. 1, May 2010, pp. 17-20, doi:10.3329/bjp.v5i1.4901.
Section
Research Articles
Copyright (c) 2010 Aditi Singh, Renu Sarin
This work is licensed under a Creative Commons Attribution 4.0 International License.
Authors who publish with this journal agree to the following terms:
Authors retain copyright and grant the journal right of first publication with the work simultaneously licensed under a

Creative Commons Attribution License

that allows others to share the work with an acknowledgement of the work's authorship and initial publication in this journal.
Authors are able to enter into separate, additional contractual arrangements for the non-exclusive distribution of the journal's published version of the work (e.g., post it to an institutional repository or publish it in a book), with an acknowledgement of its initial publication in this journal.
Authors are permitted and encouraged to post their work online (e.g., in institutional repositories or on their website) prior to and during the submission process, as it can lead to productive exchanges, as well as earlier and greater citation of published work (See

The Effect of Open Access

).