Study of an endophytic fungus from Aquilaria malaccensis Lamk
Keywords:
Aquilaria malaccensis, Antibacterial, Coumarin, Endophytic, HPLC
Abstract
Nine endophytic fungal strains labeled as AL-1, AL-2, AS-1, AS-2, AS-3, AS-4, AR-1, AR-2 and AR-4 were isolated from the medicinal plant Aquilaria malaccensis Lamk. Three compounds 1,7-dihydroxy-3-methoxyanthraquinone, propyl p-methoxy phenyl ether and  6-methoxy-7-O-(p-methoxyphenyl)-coumarin were isolated from the ethyl acetate extract of the strain AL-2 by silica gel column chromatography and HPLC. The structures of isolated compounds were elucidated by spectroscopic techniques i.e. UV, IR, 1D and 2D NMR. Extracts of the strain AL-2 were assessed for antibacterial activities against Gram positive and Gram negative bacteria and general toxicity against brine shrimp lethality assay. The ethyl acetate extract showed only mild activity against two Gram positive bacteria (Bacillus cereus and Staphylococcus aureus).
Downloads
Download data is not yet available.
Abstract
1627
Download
1175 Read
240
References
Aly AH, Edrada-Ebel RA, Wray V, Müller WEG, Kozytska S, Hentschel U, Proksch P, Ebel R. Bioactive metabolites from the endophytic fungus Ampelomyces sp. isolated from the medicinal plant Urospermum picroides. Phytochemistry 2008; 69: 1716-25.
Atta-ur-Rahman, Choudhary MI, Thomsen WJ. Bioassay techniques for drug development. Harwood Academic Publishers, 1999, pp 16-17.
Debbab A, Aly AH, Edrada-Ebel RA, Wray V, Müller WEG, Totzke F, Zirrgiebel U, Schächtele C, Kubbutat MHG, Lin WH, Mosaddak M, Hakiki A, Proksch P, Ebel R. Bioactive metabolites from endophytic fungus Stemphylium globuliferum isolated from Mentha pulegium. J Nat Prod. 2009; 72: 626-31.
Kwak JH, Lee KB, Schmitz, FJ. Four new coumarin derivatives from Artemisia keiskeana. J Nat Prod. 2001; 64: 1081-83.
Meyer BN, Ferrigni RN, Putnam JE, Jacobsen LB, Nichols DE, Mclaughlin JL. Brine shrimp- A convenient general bioassay for active plants constituents. Planta Med. 1982; 45: 31-34.
Petrini O. Fungal endophytes of tree leaves. In: Microbial ecology of leaves. New York, Springer-Verlag, 1991, p 179.
Schulz B, Wanke U, Drager S, Aust HJ. Endophytes from herbaceous plants and shrubs: Effectiveness of surface sterilization methods. Mycological Res. 1993; 97: 1447-50.
Strobel G, Yang X, Sears J, Kramer R, Sidhu RS, Hess WM. Taxol from Pestalotiopsis microspora, and endophytic fungus of Taxus wallachiana. Microbiology 1996; 142: 435-40.
Strobel GA, Miller RV, Miller C, Condron M, Teplow DB, Hess WM. Cryptocandin, a potent antimycotic from the endophytic fungus Cryptosporiopsis cf. quercina. Microbiology. 1999; 145: 1919-26.
Strobel G, Daisy B, Castillo U, Harper J. Natural products from engophytic microorganisms. J Nat Prod. 2004; 67: 257-68.
Wani MC, Taylor HL, Wall ME, Coggon P, McPhail AT. The isolation and structure of taxol, a novel antileukemic and antitumor agent from Taxus brevifolia. J Am Chem Soc. 1971; 93: 2325-27.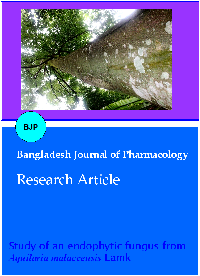 How to Cite
Shoeb, M., S. Begum, and N. Nahar. "Study of an Endophytic Fungus from Aquilaria Malaccensis Lamk". Bangladesh Journal of Pharmacology, vol. 5, no. 1, May 2010, pp. 21-24, doi:10.3329/bjp.v5i1.4687.
Section
Research Articles
License
Authors who publish with this journal agree to the following terms:
Authors retain copyright and grant the journal right of first publication with the work simultaneously licensed under a

Creative Commons Attribution License

that allows others to share the work with an acknowledgement of the work's authorship and initial publication in this journal.
Authors are able to enter into separate, additional contractual arrangements for the non-exclusive distribution of the journal's published version of the work (e.g., post it to an institutional repository or publish it in a book), with an acknowledgement of its initial publication in this journal.
Authors are permitted and encouraged to post their work online (e.g., in institutional repositories or on their website) prior to and during the submission process, as it can lead to productive exchanges, as well as earlier and greater citation of published work (See

The Effect of Open Access

).