Antiobesity effect of Bauhinia variegata bark extract on female rats fed on hypercaloric diet
Keywords:
Bauhinia variegata, Hypercaloric diet, Obesity, ?-Sitosterol
Abstract
The present study was carried out to investigate the antiobesity effect of methanolic extract of stem and root barks of Bauhinia variegata Linn in female rats fed with hypercaloric diet. Obesity was induced by administration of hypercaloric diet for 40 days. The plant extract (at the tested doses of 200 and 400 mg/kg body weight) exhibited a significant hypolipidemic effect and thus reduced the obesity. The body weight and feed intake was reduced significantly. Treatment of obese animals with the methanolic extract of B. variegata exhibited an increased brain serotonin level and high density lipoprotein with a concomitant decrease in total cholesterol, triglycerides and low density lipoprotein. Thus, the study indicates that the antiobesity activity of methanolic extract of B. variegata could be attributed to the presence of P- sitosterol in the stems and the tendency of the extract to reduce lipid profile and elicit the brain serotonin level.
Downloads
Download data is not yet available.
Abstract
1856
Download
949 Read
243
References
Bodakhe SH, Ram A. Hepatoprotective properties of Bauhinia variegata bark extract. Yakugaku Zasshi. 2007; 127: 1503-07.
Boppanna KN, Bhagyalakshmi N, Rathod SP, Balaraman R, Kannan J. Cell culture derived Hemisdesmus indicus in the prevention of hypercholesterolemia in normal and hyperlipidemic rats. Indian J Pharmacol. 1997; 29: 105-09.
Bull NL. Studies of the dietary habits, food consumption and nutrient intakes of adolescents and young adults. World Rev Nutr Diet. 1988; 57: 24-74.
Chanda S, Karathia N, Parekh J. Screening of some traditionally used medicinal plants for potentially anti bacterial activity. Indian J Pharm Sci. 2006; 68: 832-34.
Ecobichon DJ. The basis of toxicology testing. New York, CRC Press, 1997.
Farooqi IS, Keogh JM, Yeo GS, Lank EJ, Cheetham T, O'Rahilly S. Clinical spectrum of obesity and mutations in the melanocortin 4 receptor gene. New Eng J Med. 2003; 348: 1085-95.
Finer N, James WP, Kopelman PG, Lean ME, Williams G. One year treatment of obesity: A randomized double blind, placebo controlled, multicentre study of orlistat, a gastrointestinal lipase inhibitor. Int J Obes Relat Metab Disord. 2000; 24: 306-13.
Friedwald WT, Levy RI, Fredrickson DS. Estimation of the concentration of low-density lipoprotein cholesterol in plasma, without use of the preparative ultracentrifuge. Clin Chem. 1972; 18: 499-502.
James WP, Astrup A, Finer N, Hilsted J, Kopelman P, Rossner S, Saris WH, Van Gaal LF. Effect of sibutramine on weight maintenance after weight loss: A randomized trail. Lancet 2000; 356: 2119-25.
Khare CP. Bauhinia variegata. In: Indian medicinal plants. Verlin/Heidelberg, Springer, 2007, pp 86-87.
McGowan MW, Artiss JD, Strandbergh DR, Zak B. A peroxidase-coupled method for the colorimetric determination of serum triglycerides. Clin Chem. 1983; 29: 538-42.
McLaughlin T, Abbasi F, Lamendola C, Kim HS, Reaven GM. Metabolic changes following sibutramine-assisted weight loss in obese individuals: Role of plasma free fatty acids in the insulin resistance of obesity. Metabolism 2001; 50: 819-24.
Pasquali R, Casimirri F. Clinical aspects of ephedrine in the treatment of obesity. Int J Obes Relat Metab Disord. 1993; 17: 65-8.
Puri A, Khaliq T, Rajendran SM, Bhatia G, Chandra R, Narender T. Antidyslipidemic activity of Indigofera tinctoria. J Herb Pharmacother. 2007; 7: 59-64.
RajKapoor B, Jayakar B, Anandan R, Kavimani S. Antiulcer effect of Bauhinia variegata Linn in rats. J Nat Rem. 2003; 3: 215-17.
RajKapoor B, Jayakar B, Murugesh N, Sakthisekaran D. Chemoprevention and cytotoxic effect of Bauhinia variegata against N-nitrosodiethylamine induced liver tumors and human cancer cell lines. J Ethnopharmacol. 2006; 104: 407-09.
RajKapoor B, Jayakar B, Murugesh N. Antitumor activity of Bauhinia variegata on Daltons ascitic lymphoma. J Ethnopharmacol. 2003; 89: 107-09.
RajKapoor B, Ravichandran V, Gobinath M, Anbu J, Harikrishnan N, Sumithra M, Sankari M, Venugopal R, Sakthisekaran D. Effect of Bauhinia variegata on complete Freunds adjuvant induced arthritis in rats. J Pharmacol Toxicol. 2007; 2: 465-72.
Rothwell NJ, Stock MJ, Warwick BP. The effect of high fat and high carbohydrate cafeteria diets on diet-induced thermogenesis in the rat. Int J Obestet. 1983; 7: 263-70.
Schlumpf M, Lichtensteiger W, Langemann H, Waser PG, Hefti F. A fluorimetric micromethod for the simultaneous determination of serotonin, noradrenaline and dopamine in milligram amounts of brain tissue. Biochem Pharmacol. 1974; 23: 2337-46.
Sclafani A, Springer D. Dietary obesity in adult rats: Similarities to hypothalamic and human obesity syndromes. Physiol Behav. 1976; 17: 461-71.
Siedel J, Hagele EO, Ziegenhorn J, Whlefeld AW. Reagent for the enzymatic determination of serum total cholesterol with improved lipolytic efficiency. Clin Chem. 1983; 29: 1075-80.
Tripathi KD. Adrenergic drugs In: Essentials of medical pharmacology. 5th ed. New Delhi, Jaypee Brothers, 2004, pp 115-16.
Vasselli JR, Weindruch R, Heymsfield SB, Pi-Sunyer FX, Boozer CN, Yi N, Wang C, Pietrobelli A, Allison DB. Intentional weight loss reduced mortality rate in a rodent model of dietary obesity. Obes Res. 2005; 13: 693-702.
Warnick GR, Wood PD. National cholesterol education program recommendations for measurement of high-density lipoprotein cholesterol: Executive summary. The National Cholesterol Education Program Working Group on Lipoprotein Measurement. Clin Chem. 1995; 41: 1427-33.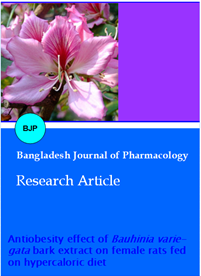 How to Cite
Balamurugan, G., and P. Muralidharan. "Antiobesity Effect of Bauhinia Variegata Bark Extract on Female Rats Fed on Hypercaloric Diet". Bangladesh Journal of Pharmacology, vol. 5, no. 1, Apr. 2010, pp. 8-12, doi:10.3329/bjp.v5i1.4310.
Section
Research Articles
License
Authors who publish with this journal agree to the following terms:
Authors retain copyright and grant the journal right of first publication with the work simultaneously licensed under a

Creative Commons Attribution License

that allows others to share the work with an acknowledgement of the work's authorship and initial publication in this journal.
Authors are able to enter into separate, additional contractual arrangements for the non-exclusive distribution of the journal's published version of the work (e.g., post it to an institutional repository or publish it in a book), with an acknowledgement of its initial publication in this journal.
Authors are permitted and encouraged to post their work online (e.g., in institutional repositories or on their website) prior to and during the submission process, as it can lead to productive exchanges, as well as earlier and greater citation of published work (See

The Effect of Open Access

).