Chemical constituents of essential oils from aerial parts of Adenosma capitatum and Limnophila aromatica
Keywords:
Adenosma capitatum, GC-MS analysis, Essential oils, Limnophila aromatica, Limonene, Z-Ocimene
Abstract
The essential oils were isolated by hydrodistillation from the aerial parts of Adenosma capitatum and Limnophila aromatica and were analyzed by gas chromatography mass spectrometry (GC-MS). Forty six and thirty components were identified, representing 98.8% and 99.3% of the total  oils respectively. Oil of A. capitatum rich in limonene (24.74%), fenchone (21.59%) and 2-carene (17.64%). On the other hand, L. aromatica rich in Z-ocimene (39.21%), terpinolene (17.24%) andcamphor (12.89%).
Downloads
Download data is not yet available.
Abstract
1694
Download
865 Read
404
References
Bhuiyan MNI, Chowdhury JU, Begum J. Chemical investigation of the leaf and rhizome essential oils of Zingiber zerumbet (L.) Smith from Bangladesh. Bangladesh J Pharmacol. 2009; 4: 9-12.
Clevenger JF. Apparatus for determination of volatile oil. J Am Pharm Assoc. 1928; 17: 346-49.
Fujita Y, Yamashita T. The essential oils of the southern Asiatic plants. III. Essential oils of Limonphila aromatica in Formosa. J Chem Soc Japan. 1942; 63: 995-98.
Hooker JD. Flora of British India. Vol. IV. L. Reeve and Co., Ltd., 1885, pp 263-64.
Huong HT, Bao HV. Contribution to the study on anti-oxidative properties of Adenosma capitatum Benth in Vietnam. TC D??c H?c. 2004; 10: 14-16.
Ji X, Pu Q. Studies on the components of the essential oil from Adenosma indianum (Lour.) Merr. Zhíwùxué Bào. 1985; 27: 80-83.
Kuebel KR, Tucker AO. Vietnamese culinary herbs in the United States. Econ Bot. 1988; 42: 413-19.
Mann J, Davidson RS, Hobbs JB, Banthorpe DV, Harborne JB. Natural Products. Harlow, UK, Addison Wesley Longman Ltd., 1994, pp 308-09.
My-Linh B, Renée JG, Nigel CV, Geoffrey CK, Hung T, Quynh-Cu KN. Uncommon 8-oxygenated flavonoids from Limnophila aromatica (Scrophulariaceae). Biochem Systematics Ecol. 2004; 32: 943-47.
Philcox D. A taxonomic revision of the genus Limnophila Br. (Scrophulariaceae). Kew Bull. 1970; 24: 10170.
Tucker AO, Maciarello MJ, Hendi M, Wheeler KA. Volatile leaf and stem oil of commercial Limnophila chinensis (Osb.) Merrill ssp aromatica (Lam.) Yamazaki (Scrophulariaceae). J Essent Oil Res. 2002; 14: 228-29.
Yamazaki T. A revision of the genera Limnophila and Torenia from Indochina. J Fac Sci Univ Tokyo. 1985; 13: 575-625.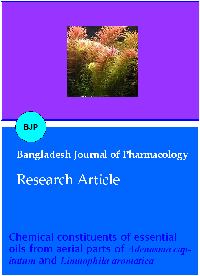 Additional Files
How to Cite
Bhuiyan, M. N. I., F. Akter, J. U. Chowdhury, and J. Begum. "Chemical Constituents of Essential Oils from Aerial Parts of Adenosma Capitatum and Limnophila Aromatica". Bangladesh Journal of Pharmacology, vol. 5, no. 1, May 2010, pp. 13-16, doi:10.3329/bjp.v5i1.4019.
Section
Research Articles
License
Authors who publish with this journal agree to the following terms:
Authors retain copyright and grant the journal right of first publication with the work simultaneously licensed under a

Creative Commons Attribution License

that allows others to share the work with an acknowledgement of the work's authorship and initial publication in this journal.
Authors are able to enter into separate, additional contractual arrangements for the non-exclusive distribution of the journal's published version of the work (e.g., post it to an institutional repository or publish it in a book), with an acknowledgement of its initial publication in this journal.
Authors are permitted and encouraged to post their work online (e.g., in institutional repositories or on their website) prior to and during the submission process, as it can lead to productive exchanges, as well as earlier and greater citation of published work (See

The Effect of Open Access

).