Salvia officinalis induces antidepressant-like effect, anxiolytic activity and learning improvement in hippocampal lesioned and intact adult rats
Keywords:
Anxiolytic, Antidepressant, Salvia officinalis
Abstract
The anxiolytic and antidepressant like effects of Salvia officinalis extract (50, 100 and 200 mg/kg) were evaluated using marble burying, forced swimming and open-field tests in intact and hippocampal lesioned rats. Additionally, S. officinalis was evaluated on rat's memory using conditioned learning test. and we screened the methanolic extract for anti-oxidant activity, phytochemical and high performance liquid chromatography analyses. The administration of sage extract showed a significant reduction of immobility time in lesioned and intact animals during the forced swim test and anxiolytic effect in marble burying test. In the case of conditioned learning paradigm, memory enhancement was observed in sage treated group which indicates a cognition improvement. These activities seem to be related to the anti-oxidant capacity and the phytochemicals (phenolic, flavonoid, and tannin) detected into the extract of S. officinalis. The findings show that the methanolic extract of sage possess antidepressant-like effect, anxiolytic activity and also may contain bioactive compounds that stimulate learning in rat.
Downloads
Download data is not yet available.
Abstract
1234
Download
409 Read
475
References
Akhondzadeh S, Noroozian M, Mohammadi M, Ohadinia S, Jamshidi AH, Khani M. S. officinalis extract in the treatment of patients with mild to moderate Alzheimer's disease: A double blind, randomized and placebo-controlled trial. J Clin Pharm Ther. 2003; 28: 53-59.
Alarcon-Aguilar FJ, Roman-Ramos R, Flores-Saenz JL, Aguirre-Garcia F. Investigation on the hypoglycaemic effects of extracts of four Mexican medicinal plants in normal and alloxan-diabetic mice. Phyther Res. 2002; 16: 383-86.
Behradmanesh S, Derees F, Rafieian-Kopaei M. Effect of S. officinalis on diabetic patients. J Ren Inj Prev. 2013; 2: 51-54.
Borsini F, Lecci A, Mancinelli A, D'Aranno V, Meli A. Stimulation of dopamine D-2 but not D-1 receptors reduces immobility time of rats in the forced swimming test: implication for antidepressant activity. Eur J Pharmacol. 1988; 148: 301-07.
Byers AL, Yaffe K. Depression and risk of developing dementia. Nat Rev Neurol. 2011; 7: 323-31.
Deacon RMJ, Rawlins JNP. Hippocampal lesions, species-typical behaviours and anxiety in mice. Behav Brain Res. 2005; 156: 241-49.
Dekeyne A. Behavioural models for the characterisation of established and innovative antidepressant agents. Th rapie 2005; 60: 477-84.
Dringenberg HC, Hamze B, Wilson A, Speechley W, Kuo MC. Heterosynaptic facilitation of in vivo thalamocortical long-term potentiation in the adult rat visual cortex by acetylcholine. Cereb Cortex. 2006; 17: 839-48.
Eidi M, Eidi A, Bahar M, Effects of S. officinalis L. (sage) leaves on memory retention and its interaction with the cholinergic system in rats. Nutrition 2006; 22: 321-26.
Eidi M, Zarrindast MR, Eidi A, Oryan S, Parivar K. Effects of histamine and cholinergic systems on memory retention of passive avoidance learning in rats. Eur J Pharmacol. 2003; 465: 91-96.
Farhat M Ben, Landoulsi A, Chaouch-Hamada R, Sotomayor JA, Jordan MJ. Characterization and quantification of pheno-lic compounds and anti-oxidant properties of Salvia species growing in different habitats. Ind Crops Prod. 2013; 49: 904-14.
Gorton LM, Vuckovic MG, Vertelkina N, Petzinger GM, Jakowec MW, Wood RI. Exercise effects on motor and affective behavior and catecholamine neurochemistry in the MPTP-lesioned mouse. Behav Brain Res. 2010; 213: 253-62.
Gyertyán I. Analysis of the marble burying response: Marbles serve to measure digging rather than evoke burying. Behav Pharmacol. 1995; 6: 24-31.
Harasawa T, Ago Y, Itoh S, Baba A, Matsuda T. Role of serotonin type 1A receptors in fluvoxamine-induced inhibition of marble-burying behavior in mice. Behav Pharmacol. 2006; 17, 637-640.
Hasanein P, Felehgari Z, Emamjomeh A. Preventive effects of S. officinalis L. against learning and memory deficit induced by diabetes in rats: Possible hypoglycaemic and anti-oxidant mechanisms. Neurosci Lett. 2016; 622: 72-77.
Hasanein P, Mahtaj AK. Ameliorative effect of rosmarinic acid on scopolamine-induced memory impairment in rats. Neurosci Lett. 2015; 585: 23-27.
Hasselmo ME. The role of acetylcholine in learning and memory. Curr Opin Neurobiol. 2006; 16: 710-15.
Hedlund PB, Sutcliffe JG. The 5-HT7 receptor influences stereotypic behavior in a model of obsessive-compulsive disorder. Neurosci Lett. 2007; 414: 247-51.
Herholz K, Weisenbach S, Kalbe E, Diederich NJ, Heiss WD. Cerebral acetylcholine esterase activity in mild cognitive impairment. Neuroreport 2005; 16: 1431-34.
Herrera-Ruiz M, García-Beltrán Y, Mora S, Díaz-Véliz G, Viana GSB, Tortoriello J, Ramírez G. Antidepressant and anxiolytic effects of hydroalcoholic extract from Salvia elegans. J Ethnopharmacol. 2006; 107: 53-58.
Ho YJ, Eichendorff J, Schwarting RKW. Individual response profiles of male Wistar rats in animal models for anxiety and depression. Behav Brain Res. 2002; 136: 1-12.
Hosseinzadeh H, Danaee A, Ziaee T. Anti-anxiety effect of aqueous and ethanolic extracts of Salvia leriifolia benth. leaves in mice using elevated plus maze. J Med Plants. 2008; 3: 25-36.
Houghton PJ, Howes MJ. Natural products and derivatives affecting neurotransmission relevant to Alzheimer's and Parkinson's disease. Neurosignals 2005; 14: 6-22.
Howes MJR, Perry NSL, Houghton PJ. Plants with traditional uses and activities, relevant to the management of Alzhei-mer's disease and other cognitive disorders. Phyther Res. 2003; 17: 1-18.
Katz RJ, Roth KA, Carroll BJ. Acute and chronic stress effects on open field activity in the rat: Implications for a model of depression. Neurosci Biobehav Rev. 1981; 5: 247-51.
Kennedy DO, Pace S, Haskell C, Okello EJ, Milne A, Scholey AB. Effects of cholinesterase inhibiting sage (S. officinalis) on mood, anxiety and performance on a psychological stressor battery. Neuropsychopharmacology 2006; 31: 845-52.
Kennedy DO, Scholey AB, The psychopharmacology of European herbs with cognition-enhancing properties. Curr Pharm Des. 2006; 12: 4613-23.
Kim GS, Choi YK, Song SS, Kim WK, Han BH. MKP-1 contributes to oxidative stress-induced apoptosis via inactivation of ERK1/2 in SH-SY5Y cells. Biochem Biophys Res Commun. 2005; 338: 1732-38.
Kim HG, Oh MS. Herbal medicines for the prevention and treatment of Alzheimer's disease. Curr Pharm Des. 2012; 18: 57-75.
Kondo S, El Omri A, Han J, Isoda H. Antidepressant-like effects of rosmarinic acid through mitogen-activated protein kinase phosphatase-1 and brain-derived neurotrophic factor modulation. J Funct Foods. 2015; 14: 758-66.
Lu Y, Yeap Foo L. Anti-oxidant activities of polyphenols from sage (S. officinalis). Food Chem. 2001; 75: 197-202.
Mayer B, Baggio CH, Freitas CS, dos Santos AC, Twardowschy A, Horst H, Pizzolatti MG, Micke GA, Heller M, dos Santos EP, Otuki MF, Marques MCA. Gastroprotective constituents of S. officinalis L. Fitoterapia 2009; 80: 421-26.
Miraliakbari H, Shahidi F. Anti-oxidant activity of minor components of tree nut oils. Food Chem. 2008; 111: 421-27.
Mora S, Millán R, Lungenstrass H, Díaz-Véliz G, Morán JA, Herrera-Ruiz M, Tortoriello J. The hydroalcoholic extract of Salvia elegans induces anxiolytic- and antidepressant-like effects in rats. J Ethnopharmacol. 2006; 106: 76-81.
Mufson EJ, Counts SE, Perez SE, Ginsberg SD. Cholinergic system during the progression of Alzheimer's disease: therapeutic implications. Expert Rev Neurother. 2008; 8: 1703-18.
Muir JL. Acetylcholine, aging, and Alzheimer's disease. Pharmacol Biochem Behav. 1997; 56: 687-96.
Nicolas LB, Kolb Y, Prinssen EPM. A combined marble burying–locomotor activity test in mice: A practical screen-ing test with sensitivity to different classes of anxiolytics and antidepressants. Eur J Pharmacol. 2006; 547: 106-15.
Oyaizu M. Studies on products of browning reaction: Antioxidative activities of products of browning reaction prepared from glucosamine. Japanese J Nutr Diet. 1986; 44: 307-15.
Palucha A, Pilc A. Metabotropic glutamate receptor ligands as possible anxiolytic and antidepressant drugs. Pharmacol Ther. 2007; 115: 116-47.
Paxinos G, Watson C. The rat brain in stereotaxic coordinates. Academic Press, San Diego, 1998.
Penso G. Index plantarum medicinalium totius mundi eorumque synonymorum: INPLAMED. O.E.M.F. 1983.
Perry EK, Pickering AT, Wang WW, Houghton PJ, Perry NS. Medicinal plants and Alzheimer's disease: From ethnobotany to phytotherapy. J Pharm Pharmacol. 1999; 51: 527-34.
Perry N, Court G, Bidet N, Court J, Perry E. European herbs with cholinergic activities: Potential in dementia therapy. Int J Geriatr Psychiatry. 1996; 11: 1063-69.
Perry NSL, Houghton PJ, Jenner P, Keith A, Perry EK. Salvia lavandulaefolia essential oil inhibits cholinesterase in vivo. Phytomedicine 2002; 9: 48-51.
Porsolt RD, Le Pichon M, Jalfre M. Depression: A new animal model sensitive to antidepressant treatments. Nature 1977; 266: 730-32.
Rabbani M, Sajjadi SE, Jafarian A, Vaseghi G. Anxiolytic effects of Salvia reuterana Boiss. on the elevated plus-maze model of anxiety in mice. J Ethnopharmacol. 2005; 101: 100-03.
Ramos JMJ. Hippocampal damage impairs long-term spatial memory in rats: Comparison between electrolytic and neuro-toxic lesions. Physiol Behav. 2008; 93: 1078-85.
Rodrigues MRA, Kanazawa LKS, das Neves TLM, da Silva CF, Horst H, Pizzolatti MG, Santos ARS, Baggio CH, de Paula Werner MF. Antinociceptive and anti-inflammatory potential of extract and isolated compounds from the leaves of S. officinalis in mice. J Ethnopharmacol. 2012; 139: 519-26.
Sallam A, Mira A, Ashour A, Shimizu K. Acetylcholine esterase inhibitors and melanin synthesis inhibitors from S. officinalis. Phytomedicine 2016; 23: 1005-11.
Sasaki K, Han J, Shimozono H, Villareal MO, Isoda H. Caffeoylquinic acid-rich purple sweet potato extract, with or without anthocyanin, imparts neuroprotection and contributes to the improvement of spatial learning and memory of SAMP8 Mouse. J Agric Food Chem. 2013; 61: 5037-45.
Savelev SU, Okello EJ, Perry EK. Butyryl- and acetylcholinesterase inhibitory activities in essential oils of Salvia species and their constituents. Phyther Res. 2004; 18: 315-24.
Schweitzer I, Tuckwell V, O'Brien J, Ames D. Is late onset depression a prodrome to dementia? Int J Geriatr Psychiatry. 2002; 17: 997-1005.
Shimazaki T, Iijima M, Chaki S. Anxiolytic-like activity of MGS0039, a potent group II metabotropic glutamate receptor antagonist, in a marble-burying behavior test. Eur J Pharmacol. 2004; 501: 121-25.
Singleton VL, Rossi JA. Colorimetry of total phenolics with phosphomolybdic-phosphotungstic acid reagents. Am J Enol Vitic. 1965; 16.
Takeda H, Tsuji M, Inazu M, Egashira T, Matsumiya T. Rosmarinic acid and caffeic acid produce antidepressive-like effect in the forced swimming test in mice. Eur J Pharmacol. 2002; 449: 261-67.
Tang Y, Mishkin M, Aigner TG. Effects of muscarinic blockade in perirhinal cortex during visual recognition. Proc Natl Acad Sci USA. 1997; 94: 12667-69.
Tildesley N, Kennedy D, Perry E, Ballard C, Wesnes K, Scholey A. Positive modulation of mood and cognitive performance following administration of acute doses of Salvia lavandulaefolia essential oil to healthy young volunteers. Physiol Behav. 2005; 83: 699-709.
Wake G, Court J, Pickering A, Lewis R, Wilkins R, Perry E. CNS acetylcholine receptor activity in European medicinal plants traditionally used to improve failing memory. J Ethnopharmacol. 2000; 69: 105-14.
Winters BD, Bussey TJ. Removal of cholinergic input to perirhinal cortex disrupts object recognition but not spatial working memory in the rat. Eur J Neurosci. 2005; 21: 2263-70.
Xu BJ, Chang SKC. A comparative study on phenolic profiles and anti-oxidant activities of legumes as affected by extraction solvents. J Food Sci. 2007; 72: S159-66.
Zhishen J, Mengcheng T, Jianming W. The determination of flavonoid contents in mulberry and their scavenging effects on superoxide radicals. Food Chem. 1999; 64: 555-59.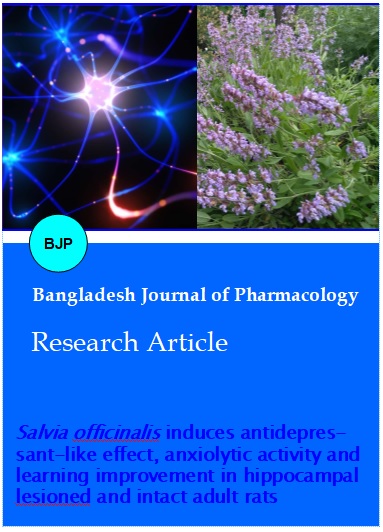 How to Cite
El Gabbas, Z., K. Bezza, J. Laadraoui, R. Makbal, R. Aboufatima, and abderrahman Chait. "Salvia Officinalis Induces Antidepressant-Like Effect, Anxiolytic Activity and Learning Improvement in Hippocampal Lesioned and Intact Adult Rats". Bangladesh Journal of Pharmacology, Vol. 13, no. 4, Dec. 2018, pp. 367-78, doi:10.3329/bjp.v13i4.38375.
Section
Research Articles
Copyright (c) 2018 Zineb EL GABBAS, Kenza BEZZA, Jawad LAADRAOUI, Rachida Makbal, Rachida ABOUFATIMA, abderrahman CHAIT
This work is licensed under a Creative Commons Attribution 4.0 International License.
Authors who publish with this journal agree to the following terms:
Authors retain copyright and grant the journal right of first publication with the work simultaneously licensed under a

Creative Commons Attribution License

that allows others to share the work with an acknowledgement of the work's authorship and initial publication in this journal.
Authors are able to enter into separate, additional contractual arrangements for the non-exclusive distribution of the journal's published version of the work (e.g., post it to an institutional repository or publish it in a book), with an acknowledgement of its initial publication in this journal.
Authors are permitted and encouraged to post their work online (e.g., in institutional repositories or on their website) prior to and during the submission process, as it can lead to productive exchanges, as well as earlier and greater citation of published work (See

The Effect of Open Access

).