Anxiolytic and hypnotic effects of Cocculus laurifolius leaf extract in mice
Sidra Maqbool

Department of Pharmacology, Faculty of Pharmacy, Hamdard University, Madinat al-Hikmah, Muhammad Bin Qasim Avenue, Karachi, Pakistan

https://orcid.org/0000-0001-5594-5333

Ishrat Younus

Department of Pharmacology, Faculty of Pharmacy, Hamdard University, Madinat al-Hikmah, Muhammad Bin Qasim Avenue, Karachi, Pakistan

https://orcid.org/0000-0002-7032-6677
Keywords:
Anxiety, Cocculus laurifolius, Hypnosis, Mouse
Abstract
The present study aims to assess the anxiolytic and hypnotic activity of ethanolic extract of Cocculus laurifolius leaf in mice. Anxiolytic activity was observed using behavioral paradigms while hypnotic activity was assessed by sodium pentobarbital induced hypnosis in mice. Animals were treated with the extract at dose 200 and 400 mg/kg orally for 30 days. Anxiolytic and hypnotic effect were observed on day 1, 7, 15 and 30 of treatment. Significant increase in the number of entries and time spent in open arm were observed in elevated plus maze. Similar results were observed in light/dark, open field and hole board test. The anxiolytic effect was substantially greater at dose 200 mg/kg in comparison to dose 400 mg/kg. Minimal hypnotic activity was observed with decrease in onset and prolongation in duration of sleep at dose 400 mg/kg, while dose 200 mg/kg did not produce any hypnotic effect. These results showed that the ethanolic extract of C. laurifolius leaf might have potential anxiolytic and hypnotic activity in mice.
Video Clip of Methodology:
6 min 52 sec: Full Screen   Alternate
Downloads
Download data is not yet available.
Abstract
57
Download
21 Read
11
References
Sfinchez C, Arnt J, Hyttel J, Moltzen EK. The role of serotonergic mechanisms in inhibition of isolation-induced aggression in male mice. Psychopharmacology 1993; 110: 53-59.
Takahashi RN, de Lima TC, Morato GS. Pharmacological actions of tannic acid; II. Evaluation of CNS activity in animals. Pharm Bull. 1986; 31: 2150.
Takeda H, Tsuji M, Matsumiya T. Changes in head-dipping behavior in the hole-board test reflect the anxiogenic and/or anxiolytic state in mice. Eur J Pharm. 1998; 350: 21-29.
Tatem KS, Quinn JL, Phadke A, Yu Q, Gordish-Dressman H, Nagaraju K. Behavioral and locomotor measurements using an open field activity monitoring system for skeletal muscle diseases. J Vis Exp. 2014; e51785.
Tu Y, Cheng SX, Sun HT, Ma TZ, Zhang S. Ferulic acid potentiates pentobarbital-induced sleep via the serotonergic system. Neurosci Lett. 2012; 525: 95-99.
Walsh RN, Cummins RA. The open-field test: A critical review. Psychol Bull. 1976; 83: 482-504.
Yadav AV, Kawale LA, Nade VS. Effect of Morus alba L. (mulberry) leaves on anxiety in mice. Indian J Pharmacol. 2008; 40: 32.
Yan MZ, Chang Q, Zhong Y, Xiao BX, Feng L, Cao FR, Pan RL, Zhang ZS, Liao YH, Liu XM. Lotus leaf alkaloid extract displays sedative–hypnotic and anxiolytic effects through GABAA receptor. J Agric Food Chem. 2015; 63: 9277-85.
Yao Y, Jia M, Wu JG, Zhang H, Sun LN, Chen WS, Rahman K. Anxiolytic and sedative-hypnotic activities of polygalasaponins from Polygala tenuifolia in mice. Pharm Biol. 2010: 48: 801-07.
Yemitan O, Ajibade A, Adeyemi O. Anticonvulsant activity of Dalbergia saxatilis. Nigerian J Neurosci. 2001; 4: 33-40.
Yu HS, Lee SY, Jang CG. Involvement of 5-HT1A and GABAA receptors in the anxiolytic-like effects of Cinnamomum cassia in mice. Pharmacol Biochem Behav. 2007; 87: 164-70.
Zarrindast MR, Khakpai F. The modulatory role of dopamine in anxiety-like behavior. Arch Iranian Med. 2015; 18: 591-603.
Zhao X, Cui XY, Chen BQ, Chu QP, Yao HY, Ku BS, Zhang YH. Tetrandrine, a bisbenzylisoquinoline alkaloid from Chinese herb Radix, augmented the hypnotic effect of pentobarbital through serotonergic system. Eur J Pharmacol. 2004; 506: 101-05.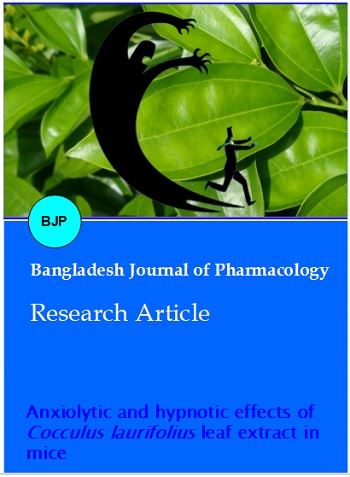 How to Cite
Maqbool, S., and I. Younus. "Anxiolytic and Hypnotic Effects of Cocculus Laurifolius Leaf Extract in Mice". Bangladesh Journal of Pharmacology, Vol. 14, no. 1, Feb. 2019, pp. 45-53, doi:10.3329/bjp.v14i1.38093.
Section
Research Articles
Copyright (c) 2019 Sidra Maqbool, Ishrat Younus
This work is licensed under a Creative Commons Attribution 4.0 International License.
Authors who publish with this journal agree to the following terms:
Authors retain copyright and grant the journal right of first publication with the work simultaneously licensed under a

Creative Commons Attribution License

that allows others to share the work with an acknowledgement of the work's authorship and initial publication in this journal.
Authors are able to enter into separate, additional contractual arrangements for the non-exclusive distribution of the journal's published version of the work (e.g., post it to an institutional repository or publish it in a book), with an acknowledgement of its initial publication in this journal.
Authors are permitted and encouraged to post their work online (e.g., in institutional repositories or on their website) prior to and during the submission process, as it can lead to productive exchanges, as well as earlier and greater citation of published work (See

The Effect of Open Access

).