Effect of Artemisia persica on seizure severity and memory and learning disorders in pentylenetetrazole-kindled mice
Mozhgan Daneshkhah

Department of Biology, Izeh Branch, Islamic Azad University, Izeh, Iran

Mahbubeh Setorki

Department of Biology, Izeh Branch, Islamic Azad University, Izeh, Iran
Keywords:
Artemisia persica, Flumazenil, Diazepam, Seizure, Pentylenetetrazol, PTZ
Abstract
The purpose of this study was to investigate the effect of hydroalcoholic extract of Artemisia persica (100, 200 and 400 mg/kg) on pentylenetetrazole-induced seizure and memory impairment. Sixty mice were assigned to seven groups. Pentylenetetrazole (35 mg/kg) was injected at 48 hours intervals for 9 days, and at 60 mg/kg on day 10 to induce seizure model. Different doses of A. persica extract were injected daily 30 min before pentylenetetrazole injection. Exposure of mice to extract significantly reduced the frequency of repeated spinning and jumping and tonic seizures in seizure model. In addition, the extract significantly reduced the increased levels of malondialdehyde in serum and brain. The extract significantly increased the serum and brain anti-oxidant capacity but had no significant effect on nitric oxide. The extract (100 mg/kg) significantly improved pentylenetetrazole-induced memory impairment. The hydro-alcoholic extract of A. persica has a protective effect against pentylenetrazole-induced seizure.
Video Clip of Methodology:
1 min 56 sec: Full Screen   Alternate
Downloads
Download data is not yet available.
Abstract
43
Download
29 Read
9
References
Ahmadvand H, Amiri H, Dalvand H, Bagheri S. Various anti-oxidant properties of essential oil and hydroalcoholic extract of Artemisa persica. J Birjand Univ Med Sci. 2014; 20: 416-24.
Aldieri E, Atragene D, Bergandi L, Riganti C, Costamagna C, Bosia A, Ghigo D. Artemisinin inhibits inducible nitric oxide synthase and nuclear factor NF‐kB activation. FEBS Lett. 2003; 552: 141-44.
Amos S, Chindo B, Abbah J, Vongtau H, Edmond I, Binda L, Akah PA, Wambebe C, Gamaniel KS. Postsynaptic dopamine (D2)-mediated behavioural effects of high acute doses of artemisinin in rodents. Brain Res Bull. 2003; 62: 255-60.
Bakanova NV, Leutskií KM. [The effect of orotic acid and vitamin A on 2C-14-orotic acid incorporation into the acid-soluble fraction and nucleic acids of white rat tissues]. Nauchnye Doki Vyss Shkoly Biol Nauki. 1975; 76: 61-65.
Bradford H. Glutamate, GABA and epilepsy. Prog Neurobiol. 1995; 47: 477-511.
de Magalhães PM, Dupont I, Hendrickx A, Joly A, Raas T, Dessy S, Sergent T, Schneider YJ. Anti-inflammatory effect and modulation of cytochrome P450 activities by Artemisia annua tea infusions in human intestinal Caco-2 cells. Food Chem. 2012; 134: 864-71.
Fathi F, Oryan S, Rafieian M, Eidi A. Neuroprotective effect of Mentha longifolia L. extract on ischemia/reperfusion-induced brain injury in male Wistar rats. J Med Plant. 2015; 2: 169-81.
Gale K. GABA and epilepsy: Basic concepts from preclinical research. Epilepsia 1992; 33: S3-12.
Gupta Y, Kumar MV, Srivastava A. Effect of Centella asiatica on pentylenetetrazole-induced kindling, cognition and oxidative stress in rats. Pharmacol Biochem Behav. 2003; 74: 579-85.
Hamed SA, Abdellah MM, El-Melegy N. Blood levels of trace elements, electrolytes, and oxidative stress/anti-oxidant systems in epileptic patients. J Pharmacol Sci. 2004; 96: 465-73.
Ho YH, Lin YT, Wu CWJ, Chao YM, Chang AY, Chan JY. Peripheral inflammation increases seizure susceptibility via the induction of neuroinflammation and oxidative stress in the hippocampus. J Biomed Sci. 2015; 22: 46.
Hosseinzadeh H, Sadeghnia H. Protective effect of safranal on pentylenetetrazole-induced seizures in the rat: Involvement of GABAergic and opioids systems. Phytomedicine 2007; 14: 256-62.
Ilhan A, Aladag MA, Kocer A, Boluk A, Gurel A, Armutcu F. Erdosteine ameliorates PTZ-induced oxidative stress in mice seizure model. Brain Res Bull. 2005; 65: 495-99.
Kalueff AV, Lehtimaki KA, Ylinen A, Honkaniemi J, Peltola J. Intranasal administration of human IL-6 increases the severity of chemically induced seizures in rats. Neurosci Lett. 2004; 365: 106-10.
Karamoddini M, Emami S, Ghann M. Antiviral activities of aerial subsets of Artemisia species against Herpes simplex virus type 1 (HSV1) in vitro. J Med Plant. 2011; 4: 22-29.
Khalili M, Roghani M, Ekhlasi M. The effect of aqueous Crocus sativus L. extract on intracerebroventricular streptozotocin-induced cognitive deficits in rat: A behavioral analysis. Iran J Pharm Res. 2009; 8: 185-91.
Kim WS. Epilepsy and oxidative stress. J Korean Epilepsy Soc. 2004; 8: 103-07.
Kwon SH, Lee HK, Kim JA, Hong SI, Kim HC, Jo TH, Park YI, Lee CK, Kim YB, Lee SY, Jang CG. Neuroprotective effects of chlorogenic acid on scopolamine-induced amnesia via anti-acetylcholinesterase and anti-oxidative activities in mice. Eur J Pharmacol. 2010; 649: 210-17.
Leite JR, Carlini EA. Failure to obtain "cannabis-directed behavior" and abstinence syndrome in rats chronically treated with Cannabis sativa extracts. Psychopharmacologia 1974; 36: 133-45.
Marchi N, Granata T, Freri E, Ciusani E, Ragona F, Puvenna V, Teng Q, Alexopolous A, Janigro D. Efficacy of anti-inflammatory therapy in a model of acute seizures and in a population of pediatric drug resistant epileptics. PLoS One. 2011; 6: e18200.
Merritt HH, Foster A. Vitamin C in epilepsy. J Nerv Ment Dis. 1942; 95: 91.
Mumtaz SM, Ahmed S, Dey S. Antiepileptic and central nervous system depressant activity of Sechium edule fruit extract. Bangladesh J Pharmacol. 2012; 7: 199-202.
Namıduru ES, Tarakçoğlu M, Namıduru M, Kocabaş R, Erbağcı B, Meram I, Karaoğlan I, Yılmaz N, Cekmen M. Increased serum nitric oxide and malondialdehyde levels in patients with acute intestinal amebiasis. Asian Pac J Trop Biomed. 2011; 1: 478-81.
Ogunmekan A, Hwang P. A randomized, double‐bind, placebo‐controlled, clinical trial of D‐α‐tocopheryl acetate (vitamin E), as add‐on therapy for epilepsy in children. Epilepsia 1989; 30: 84-89.
Paulose CS, Chathu F, Khan SR, Krishnakumar A. Neuro-protective role of Bacopa monnieri extract in epilepsy and effect of glucose supplementation during hypoxia: glutamate receptor gene expression. Neurochem Res. 2008; 33: 1663-71.
Pahuja M, Mehla J, Reeta K, Joshi S, Gupta YK. Hydroalcoholic extract of Zizyphus jujuba ameliorates seizures, oxidative stress, and cognitive impairment in experimental models of epilepsy in rats. Epilepsy Behav. 2011; 21: 356-63.
Ramezani M, Fazli-Bazzaz B, Saghafi-Khadem F, Dabaghian A. Antimicrobial activity of four Artemisia species of Iran. Fitoterapia 2004; 75: 201-03.
Rashidch A, Qureshi MZ, Raza SA, William J, Arshad M. Quantitative determination of anti-oxidant potential of Artemisia persica. Analele Universitatii Bucuresti Chimie 2010; 19: 55-59.
Rasool S, Khan F, Ahmad M. Evaluation of anticonvulsant, antimicrobial and hemolytic activity of Aitchisonia rosea. Bangladesh J Pharmacol. 2015; 10: 980-87.
Rostampour M, Aghaei I, Soltani B, Khakpour B. Effect of Matricaria chamomilla hydro-alcoholic extract on PTZ-induced seizure in male mice. J Guilan Univ Med Sci. 2014; 23: 8-14.
Schouten A, Oostrom K, Pestman W, Peters A, Jennekens-Schinkel A. Learning and memory of school children with epilepsy: A prospective controlled longitudinal study. Dev Med Child Neurol. 2002; 44: 803-11.
Siadat SA, Direkvand-Moghadam F. Study of phytochemical characteristics Artemisia persica Boiss in Ilam Province. Adv Herb Med. 2017; 3.
Sierra-Paredes G, Sierra-Marcuño G. Extrasynaptic GABA and glutamate receptors in epilepsy. CNS Neurol Dis Drug Targets. 2007; 6: 288-300.
Taghizadeh Rabe S, Mahmoudi M, Ahi A, Emami S. Antiproliferative effects of extracts from Iranian Artemisia species on cancer cell lines. Pharm Biol. 2011; 49: 962-69.
Vezzani A, French J, Bartfai T, Baram TZ. The role of inflammation in epilepsy. Nat Rev Neurol. 2011; 7: 31.
Vezzani A, Granata T. Brain inflammation in epilepsy: Experimental and clinical evidence. Epilepsia 2005; 46: 1724-43.
Vezzani A. Inflammation and epilepsy. Epilepsy Curr. 2005; 5: 1-6.
Wang JX, Tang W, Zhou R, Wan J, Shi LP, Zhang Y, Yang YF, Lo Y, Zuo JP. The new water‐soluble artemisinin derivative SM905 ameliorates collagen‐induced arthritis by suppression of inflammatory and Th17 responses. Br J Pharmacol. 2008; 153: 1303-10.
Wan P, Liu LL, Gau U, Zheng WH. Artemisinin protected neuronal cells against oxidative stress and its underlying mechanisms. Acta Pharmacol Sin. 2017; 38: 1069-69.
Waqar H, Khan H, Anjum A. Antiepileptic potential of Silybum marianum seeds in pentylenetetrazol-induced kindled mice. Bangladesh J Pharmacol. 2016; 11: 603-09.
Yin Y, Gong FY, Wu XX, Sun Y, Li YH, Chen T, Xu Q. Anti-inflammatory and immunosuppressive effect of flavones isolated from Artemisia vestita. J Ethnopharmacol. 2008; 120: 1-6.
Yu W, Kan W, Yu P, Li M, Song J, Zhao F. Anti-inflammatory effect and mechanism of artemisinin and dihydroarte-misinin. China J Chinese Materia Medica. 2012; 37: 2618-21.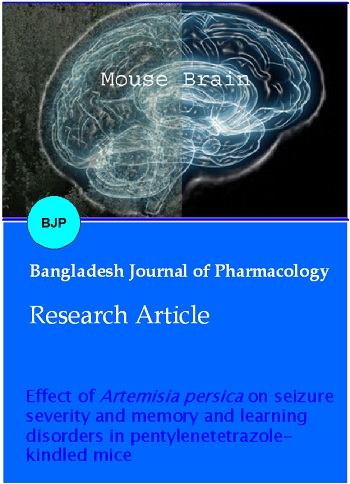 How to Cite
Daneshkhah, M., and M. Setorki. "Effect of Artemisia Persica on Seizure Severity and Memory and Learning Disorders in Pentylenetetrazole-Kindled Mice". Bangladesh Journal of Pharmacology, Vol. 14, no. 1, Feb. 2019, pp. 36-44, doi:10.3329/bjp.v14i1.38037.
Section
Research Articles
Copyright (c) 2019 Mozhgan Daneshkhah, Mahbubeh Setorki
This work is licensed under a Creative Commons Attribution 4.0 International License.
Authors who publish with this journal agree to the following terms:
Authors retain copyright and grant the journal right of first publication with the work simultaneously licensed under a

Creative Commons Attribution License

that allows others to share the work with an acknowledgement of the work's authorship and initial publication in this journal.
Authors are able to enter into separate, additional contractual arrangements for the non-exclusive distribution of the journal's published version of the work (e.g., post it to an institutional repository or publish it in a book), with an acknowledgement of its initial publication in this journal.
Authors are permitted and encouraged to post their work online (e.g., in institutional repositories or on their website) prior to and during the submission process, as it can lead to productive exchanges, as well as earlier and greater citation of published work (See

The Effect of Open Access

).