Mechanism of the diuretic activity of Descurainia sophia seed
Keywords:
Descurainia sophia, Diuretic
Abstract
The diuretic activity of the decoction and the chemical fractions of Descurainia sophia was studied with underlying mechanisms in rats. Rat metabolic cage method was used to study the diuretic activity of the decoction and the chemical fractions of D. sophia. Western blot, ELISA, ion selective electrode method and cryoscopy method were used to study the underlying mechanism. The urinary output increased significantly in rats administrated decoction. Washing elution fractions had the potent diuretic activity. Washing elution fractions could decrease the urine osmolality, increased the concentration of K+, and decreased the concentration of Na+ and ALD, also decreased the expression of aquaporin 1 (AQP1) in kidney. Moreover, compared with washing elution fractions, decoction decreased the levels of AVP, V2R, and AQP2. It is concluded that decoction had significant diuretic activity and washing elution fractions had the potent diuretic activity. The mechanisms of diuretic activity were different between decoction and washing elution fractions.
Video Clip of Methodology: 
10 min 51 sec:   Click to watch
Downloads
Download data is not yet available.
Abstract
2739
Download
926 Read
279
References
Arthur JH, Jianmin N, Naohiro J, William W, Li W, Cheng X, Brown D, Lu HJ. Characterization of the putative phosphorylation sites of the AQP2 C terminus and their role in AQP2 trafficking in LLC-PK1 cells. AM J Physiol Renal.2015;309: 673-79.
Benjumea D, Abdala S, Hernandez-Luis F, Pérez-Paz P, Martin-Herrera D. Diuretic activity of Artemisia thuscula, an endemic canary species. J Ethnopharmacol. 2005; 100: 205-09.
Bustamante M, Hasler U, Kotova O, Chibalin AV, Mordasini D, Rousselot M, Vandewalle A, Martin PY, Féraille E. Insulin potentiates AVP-induced AQP2 expression in cultured renal collecting duct principal cells. Am J Physiol Renal Physiol. 2005; 288: F334-44.
Firsov D, Tokonami N, Bonny O. Role of the renal circadian timing system in maintaining water and electrolytes homeostasis. Mol Cell Endocrinol. 2012; 349: 51-55.
Judith Radin M, Yu MJ, Stoedkilde L, Lance Miller R, Hoffert JD, Frokiaer J, Pisitkun T, Knepper MA. Aquaporin-2 regulation in health and disease. Veterinary Clin Pathol. 2012; 10: 455-70.
Junior AG, Gasparotto FM, Boffo MA, Lourenço EL, Stefanello MÉ, Salvador MJ, da Silva-Santos JE, Marques MC, Kassuya CA. Diuretic and potassium-sparing effect of isoquercitrin: An active flavonoid of Tropaeolum majus L. J Ethnopharmacol. 2011; 134: 210-15.
Lemmer B, Witte K, Schänzer A, Finedeisen A. Circadian rhythms in the rennin–angiotensin system and adrenal steroids may contribute to the inverse blood pressure rhythm in hypertensive TGR (mREN-2) 27 rat. Chronobiol Int. 2000; 17: 645-58.
Li Y, Tang J. Pathology. Beijing, People's Medical Publishing House, 2008, pp 64-65.
Ma T, Yang B, Gillespie A, Carlson EJ, Epstein CJ, Verkman AS. Severely impaired urinary concentrating ability in transgenic mice lacking aquaporin-1 water channels. J Biol Chem. 1998; 273: 4296-99.
Martinez-Aguayo A, Aglony M, Campino C, Garcia H, Bancalari R, Bolte L, Avalos C, Loureiro C, Carvajal CA, Avila A, Perez V. Aldosterone, plasma renin activity, and aldosterone/renin ratio in a normotensive healthy pediatric population. Hypertension 2010; 56: 391-96.
Mohamedl NH, Mahrous AE. Chemical constituents of Descurainia sophia L. and its biological activity. Rec Nat Prod. 2009; 3: 58-67.
Nimrouzi M, Zarshenas MM. Phytochemical and pharmacological aspects of Descurainia sophia Webb ex Prantl: Modern and traditional applications. Avicenna J Phytomed. 2016; 6: 266-72.
Schrijver G, Weinberger MH. Hydrochlorothiazide and spironolactone in hypertension. Clin Pharmacol Therap. 1979; 25: 33-42.
Terris JA, Ecelbarger CA, Nielsen S, Knepper MA. Long-term regulation of four renal aquaporins in rats. Am Physiol Renal Physiol. 1996; 271: F414-22.
Yuan D, Mori J, Komastu KI. An anti-aldosteronic diuretic component (drain dampness) in Polyporus sclerotium. Biol Pharm Bull. 2004; 27: 867-70.
Yuen MF, Tam J, Fung J. Traditional Chinese medicine causing hepatotoxicity in patients with chronic hepatitis B infection: A 1-year prospective study. Aliment Pharmacol Ther. 2006; 13: 1179-86.
Zhang M, Zhang Y, Zhao W. Research on fraction-splitting technology of seeds of Descurainia Sophia. World Sci Technol Modern Tradit Chinese Med. 2015; 17: 476-84.
Zhou XD, Tang LY, Zhou GH, Kou ZZ, Wang T, Wang ZJ. Advances on Lepidii semen and Descurainiae semen. Chin J Chin Mater Med. 2014; 39: 4699–708.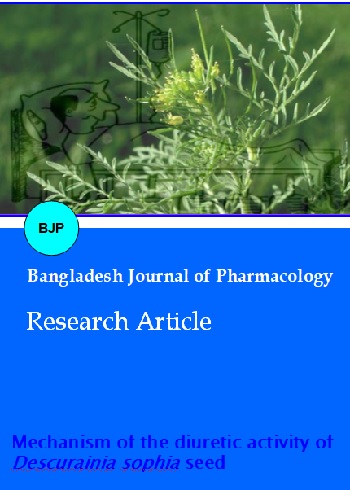 How to Cite
Zeng, M., L. Zhang, M. Li, B. Zhang, W. Feng, H. Kuang, and X. Zheng. "Mechanism of the Diuretic Activity of Descurainia Sophia Seed". Bangladesh Journal of Pharmacology, Vol. 13, no. 2, May 2018, pp. 157-63, doi:10.3329/bjp.v13i2.35931.
Section
Research Articles
Copyright (c) 2018 Mengnan Zeng, Li Zhang, Miao Li, Beibei Zhang, Weisheng Feng, Haixue Kuang, Xiaoke Zheng
This work is licensed under a Creative Commons Attribution 4.0 International License.
Authors who publish with this journal agree to the following terms:
Authors retain copyright and grant the journal right of first publication with the work simultaneously licensed under a

Creative Commons Attribution License

that allows others to share the work with an acknowledgement of the work's authorship and initial publication in this journal.
Authors are able to enter into separate, additional contractual arrangements for the non-exclusive distribution of the journal's published version of the work (e.g., post it to an institutional repository or publish it in a book), with an acknowledgement of its initial publication in this journal.
Authors are permitted and encouraged to post their work online (e.g., in institutional repositories or on their website) prior to and during the submission process, as it can lead to productive exchanges, as well as earlier and greater citation of published work (See

The Effect of Open Access

).