Enhancement of cognitive performance in mice and in vitro acetylcholinesterase inhibitory activity of 3,3',4',5,7-pentahydroxyflavone isolated from Cadaba indica
Sundaram Dhivya

Department of Pharmaceutical Technology, Centre for Excellence in Nanobio Translational Research Center, Anna University, Bharathidasan Institute of Technology Campus, Tiruchirappalli, Tamil Nadu

http://orcid.org/0000-0002-4220-4381

Subbiah Latha

Department of Pharmaceutical Technology, Centre for Excellence in Nanobio Translational Research Center, Anna University, Bharathidasan Institute of Technology Campus, Tiruchirappalli, Tamil Nadu

http://orcid.org/0000-0001-5054-6296

Palanisamy Selvamani

Department of Pharmaceutical Technology, Centre for Excellence in Nanobio Translational Research Center, Anna University, Bharathidasan Institute of Technology Campus, Tiruchirappalli, Tamil Nadu

http://orcid.org/0000-0001-6751-7133
Keywords:
Acetylcholinesterase, Cadaba indica, Cognitive performance, Mice, Pentahydroxyflavone
Abstract
Cadaba indica, a component of traditional siddha medicine, is used for the therapy of gonorrhea, inflammation, eczema etc. The present study shows that it exhibited acetylcholinesterase inhibitory activity (up to 81.5 ± 1.5%) at the concentration of 3 mg/mL, with the IC50 value of 1.8 mg/mL. Furthermore, the ethanol extract of C. indica therapy at a dose of 100 mg/kg p.o significantly ameliorated the cognitive impaired mice in Y-maze task. The active ingredient was identified as 3,3,4,5,7-pentahydroxyflavone. The above results suggest that C. indica would be a potential natural therapeutic remedy for cognitive disorders mediated by cholinergic dysfunction.
Video Clip of Methodology:
Memory impairment test in mice: 1 min   Full Screen  Alternative
Downloads
Download data is not yet available.
Abstract
1654
Download
662 Read
943
References
Ali-Shtayeh MS, Jamous RM, Zaitoun SYA, Qasem IB. In vitro screening of acetylcholinesterase inhibitory activity of extracts from palestinian indigenous flora in relation to the treatment of Alzheimers disease. Functional Foods Health Dis. 2014; 4: 381-400
Braida D, Paladini E, Griffini P, Lamperti M, Maggi A, Sala M. An inverted U-shaped curve for heptylphysostigmine on radial maze performance in rats: Comparison with other cholinesterase inhibitors. Eur J Pharmacol. 1996; 302: 1320.
Bricks J. Cholinesterase inhibitors for Alzheimers disease. Cochrane Database Syst Rev. 2006; cd005593.
Calabrese E J. U-shaped dose response in behavioral pharmacology: Historical foundations. Crit Rev Toxicol. 2008; 38: 59198.
Das A, Shanker G, Nath C, Pal R, Singh S, Singh HK. A comparative study in rodents of standardized extracts of Bacopa monniera and Ginkgo biloba anticholinesterase and cognitive enhancing activities. Pharmacol Biochem Behav. 2002; 73: 893900.
Dhivya PS, Selvamani P, Latha S, Omrohini M, Sobiya M. Evaluation of anticholinesterase activity of Cadaba indica by TLC bio-autography method and isolation of active phytoconstituents by bioassay guided fractionation. In: Nanobio pharmaceutical technology, applications and perspectives. Anna University. 2014, pp 538-43.
Dominik Szwajgier. Anticholinesterase activities of selected polyphenolsa short report. Pol J Food Nutr Sci. 2013; 64: 59-64.
Dyer RA. The genera of Southern African plants, vol. 1: Dicotyledons. Botanical Res Ins Pretoria. 1975.
Hashiguchi M, Ohta Y, Shimizu M, Maruyama J, Mochizuki M. Meta-analysis of the efficacy and safety of Ginkgo biloba extract for the treatment of dementia. J Pharm Health Care Sci. 2015; 1: 1-12.
Heckman PR, Wouters C, Prickaerts J. Phosphodiesterase inhibitors as a target for cognition enhancement in aging and Alzheimer's disease: A translational overview. Curr Pharm Des. 2015; 21: 317-31.
Houghton PJ. Use of small scale bioassays in the discovery of novel drugs from natural sources. Phytotherapy Res. 2000; 14: 419-23.
Howes MJ, Houghton PJ. Plants used in Chinese and Indian traditional medicine for improvement of memory and cognitive function. Pharmacol Biochem Behav. 2003; 75: 513-27.
Jorm AF. Effects of cholinergic enhancement therapies on memory function in Alzheimer's disease: A meta-analysis of the literature. Aust N Z J Psychiatry. 1986; 20: 237-40.
Kchaou M, Ben Salah H, Mhiri R, Allouche N. Anti-oxidant and anti-acetylcholinesterase activities of Zygophyllum album. Bangladesh J Pharmacol. 2016; 11: 54-62.
Khare CP. Indian medicinal plants An illustrated medical dictionary 2007, Springer p107.
Kim DH, Hung TM, Bae KH, Jung JW, Lee S, Yoon BH, Cheong JH, Ko KH, Ryu JH. Gomisin A improves scopolamine-induced memory impairment in mice. Eur J Pharmacol. 2006; 7: 12935.
Lavinya BU, Akalya JL, Srujana KSL, Sabina EP, Rajeswari VD. Appraisal of the in vitro antibacterial and anti-oxidant potential of the leaf extracts of Cadaba fruticosa. Asian J Pharm Clin Res. 2014; 7: 118-20.
Marston A, Kissling J, Hostettmann K. A rapid TLC bio-autographic method for the detection of acetylcholinesterase inhibitors in plants. Phytochem Anal. 2002; 13: 5154.
McGleenon BM, Dynan KB, Passmore AP. Acetylcholinesterase inhibitors in Alzheimers disease. Br J Clin Pharmacol. 1999; 48: 47180.
Melzer D. New drug treatment for Alzheimers diseases: Lessons for healthcare policy. BMJ 1998; 316: 76264.
Mintzer MZ, Kleykamp BA, Griffith RR. Dose effects of triazolam and scopolamine on metamemory. Exp Clin Psychopharm. 2010; 18: 17-31.
Oh MH, Houghton PJ, Whang WK, Cho JH. Screening of Korean herbal medicines used to improve cognitive function for anticholinesterase activity. Phytomedicine 2004; 11: 54448.
Ono K, Hamaguchi T, Naiki H, Yamada M. Anti-amyloidogenic effects of anti-oxidants: Implications for the prevention and therapeutics of Alzheimers disease. Biochim Biophys Acta. 2006; 1762: 57586.
Orhan IE, Orhan G, Gurkas E. An overview on natural cholinesterase inhibitors: A multi-targeted drug class and their mass production. Mini Rev Med Chem. 2011; 11: 836-42.
Sarter M, Bodewitz G, Stephens DN. Attenuation of scopolamine-induced impairment of spontaneous alternation behavior by antagonist but not inverse agonist and ?-carboline. Psychopharmacology 1988; 94: 49195.
Schulz V. Ginkgo extract or cholinesterase inhibitors in patients with dementia: What clinical trial and guidelines fail to consider. Phytomedicine 2003; 10: 7479.
Park SJ, Kim DH, Lee IK, Jung WY, Park DH, Kim JM, Lee KR, Lee KT, Shin CY, Cheong JH, Ko KH, Ryu JH. The ameliorating effect of the extract of the flower of Prunella vulgaris var. lilacina on drug-induced memory impairments in mice. ?Food Chem Toxicol. 2010; 48: 167176.
Saqib F, Janbaz K, Sherwani M. In vitro inhibitory potential of methanolic extract of Celosia argentea var. cristata on tyrosinase, acetylcholinesterase and butyrylcholinesterase enzymes. Bangladesh J Pharmacol. 2015; 10: 449-54.
Selvamani P, Latha S. Studies on the antimicrobial activity of Cadaba indica Lam. Ind J Pharma Sci. 2005; 67: 637-38.
Shashikanth J, Mohan Ch, Ramachandra Reddy P. A potent folklore medicinal plant Cadaba fruticosa (L.) Druce. Res Rev J Botanical Sci. 2014; 3: 30-33.
Shoaib M, Shah I, Ali N, Shah S. In vitro acetylcholinesterase and butyrylcholinesterase inhibitory potentials of essential oil of Artemisia macrocephala. Bangladesh J Pharmacol. 2015; 10: 87-91.
Thies W, Bleiler L. Alzheimers disease facts and figures. Alzheimers Dementia. 2013; 9: 208-45.
Tong-Un T, Muchimapura S, Phachonpai W, Wattanathorn J. Nasal administration of quercetin liposomes modulate cognitive impairment and inhibit acetylcholinesterase activity in hippocampus. Am J Neurosci. 2010; 1: 2127.
Yang G, Wang Y, Tian J, Liu JP. Huperzine A for Alzheimer's disease: A systematic review and meta-analysis of randomized clinical trials. PLoS One. 2013; 23.
Yusuf S, Adelaiye BA, Agunu A. Effect of Ziziphus mauritiania (L) seed extracts on spatial recognition memory of rats as measured by the Y-maze test. J Nat Prod. 2009; 2: 3139.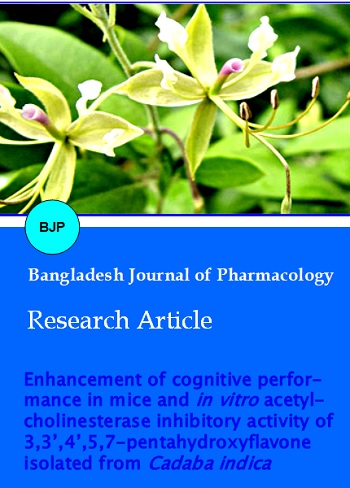 How to Cite
Dhivya, S., S. Latha, and P. Selvamani. "Enhancement of Cognitive Performance in Mice and in Vitro Acetylcholinesterase Inhibitory Activity of 3,3',4',5,7-Pentahydroxyflavone Isolated from Cadaba Indica". Bangladesh Journal of Pharmacology, Vol. 11, no. 4, Nov. 2016, pp. 886-93, doi:10.3329/bjp.v11i4.28000.
Section
Research Articles
Copyright (c) 2016 Sundaram Dhivya, Subbiah Latha, Palanisamy Selvamani
This work is licensed under a Creative Commons Attribution 4.0 International License.
Authors who publish with this journal agree to the following terms:
Authors retain copyright and grant the journal right of first publication with the work simultaneously licensed under a

Creative Commons Attribution License

that allows others to share the work with an acknowledgement of the work's authorship and initial publication in this journal.
Authors are able to enter into separate, additional contractual arrangements for the non-exclusive distribution of the journal's published version of the work (e.g., post it to an institutional repository or publish it in a book), with an acknowledgement of its initial publication in this journal.
Authors are permitted and encouraged to post their work online (e.g., in institutional repositories or on their website) prior to and during the submission process, as it can lead to productive exchanges, as well as earlier and greater citation of published work (See

The Effect of Open Access

).