Antitumor effects of iridomyrmecin in HeLa cervical cancer cells are mediated via apoptosis induction, loss of mitochondrial membrane potential, cell cycle arrest and down-regulation of PI3K/Akt and up-regulation of lncRNA CCAT2 expression
Keywords:
Antitumor, Apoptosis, Cell cycle arrest, HeLa cervical cancer cell, Iridomyrmecin, lncRNA CCAT2 expression, Mitochondrial membrane potential, PI3K/Akt
Abstract
The main purpose of the current study was to study the antitumor effects of iridomyrmecin against human cervical cancer cells (HeLa). Its effects on apoptosis induction, cell cycle phase distribution, PI3K/Akt signalling pathway and long non-coding RNA (lncRNA) were also investigated. Cytotoxic effects of iridomyrmecin were evaluated by MTT assay while the apoptotic effect was assessed by flow cytometry using annexin V-FITC assay. Western blot assay was used to study effects on PI3K/Akt signalling pathway. Results exhibited that iridomyrmecin led to concentration-dependent as well as time-dependent growth inhibitory effects. Iridomyrmecin-treated cells showed signs of early and late apoptosis. Iridomyrmecin treatment also led to sub-G1 cell cycle arrest as well as induced loss of mitochondrial membrane potential (??m). Further, Western blot assay revealed that iridomyrmecin treatment resulted in down-regulation of PI3K/Akt protein expressions in a dose-dependent manner while as it up-regulated lncRNA CCAT2 expression.
Video Clip of Methodology:
Flow cytometry for cell cycle analysis: 3 min 20 sec   Full Screen   Alternative
Downloads
Download data is not yet available.
Abstract
1335
Download
588 Read
497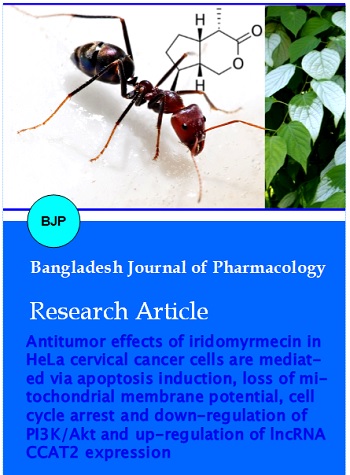 How to Cite
Lin, L., X.-L. Cheng, M.-Z. Li, T. Wang, M.-H. Dong, Z.-Y. Wang, and M. Liao. "Antitumor Effects of Iridomyrmecin in HeLa Cervical Cancer Cells Are Mediated via Apoptosis Induction, Loss of Mitochondrial Membrane Potential, Cell Cycle Arrest and down-Regulation of PI3K/Akt and up-Regulation of LncRNA CCAT2 Expression". Bangladesh Journal of Pharmacology, vol. 11, no. 4, Oct. 2016, pp. 856-62, doi:10.3329/bjp.v11i4.27539.
Section
Research Articles
License
Authors who publish with this journal agree to the following terms:
Authors retain copyright and grant the journal right of first publication with the work simultaneously licensed under a

Creative Commons Attribution License

that allows others to share the work with an acknowledgement of the work's authorship and initial publication in this journal.
Authors are able to enter into separate, additional contractual arrangements for the non-exclusive distribution of the journal's published version of the work (e.g., post it to an institutional repository or publish it in a book), with an acknowledgement of its initial publication in this journal.
Authors are permitted and encouraged to post their work online (e.g., in institutional repositories or on their website) prior to and during the submission process, as it can lead to productive exchanges, as well as earlier and greater citation of published work (See

The Effect of Open Access

).