Caryophyllene oxide exhibits anti-cancer effects in MG-63 human osteosarcoma cells via the inhibition of cell migration, generation of reactive oxygen species and induction of apoptosis
Keywords:
Apoptosis, Cancer, Caryophyllene oxide, Cell migration, MG-63 human osteosarcoma cell, Reactive oxygen species
Abstract
The main objective of the present study was to evaluate the antitumor and apoptotic effects of caryophyllene oxide in MG-63 human osteosarcoma cells. Cell viability of these cells was evaluated by MTT assay while as in vitro wound healing assay was used to study the effect of caryophyllene oxide on cell migration. Fluorescence microscopy and transmission electron microscopy were used to study the changes in cell morphology once the cells undergo apoptosis. Caryophyllene oxide significantly led to cytotoxicity in MG-63 cells showing dose-dependent as well as time-dependent effects. Caryophyllene oxide led to an inhibition of wound closure significantly. At caryophyllene oxide doses of 20, 80 and 120 µM, the percentage of cell migration was shown to be 94.2, 67.1 and 14.8% respectively. With an increase in the caryophyllene oxide dose, the extent of apoptosis also increased characterized by cellular shrinkage, membrane blebbing, chromatin condensation and apoptotic body formation.
Video Clip of Methodology:
Cell viability assay: 2 min 22 sec   Full Screen   Alternative
Downloads
Download data is not yet available.
Abstract
1040
Download
521 Read
626
References
Ayerza MA, Farfalli GL, Aponte-Tinao L, Muscolo DL. Does increased rate of limb-sparing surgery affect survival in osteosarcoma? Clin Orthop Relat Res. 2010; 468: 2854-59.
Chen Y, Han X, Wang W, Zhao R, Li X. Withaferin A inhibits osteosarcoma cells through inactivation of Notch-1 signalling. Bangladesh J Pharmacol. 2014; 9: 364-70.
Cotterill SJ, Wright CM, Pearce MS, Craft AW. Stature of young people with malignant bone tumors. Pediatr Blood Cancer. 2004; 42: 59-63.
Cragg GM, Grothaus PG, Newman DJ. Impact of natural products on developing new anti-cancer agents. Chem Rev. 2009; 109: 3012-43.
Eilber F, Giuliano A, Eckardt J, Patterson K, Moseley S, Goodnight J. Adjuvant chemotherapy for osteosarcoma: A randomized prospective trial. J Clin Oncol. 1987; 5: 21-26.
Gordaliza M. Natural products as lead to anti-cancer drugs. Clin Transl Oncol. 2007; 9: 767-76.
Jun NJ, Mosaddik A, Moon JY, Jang KC, Lee DS, Ahn KS, Somi K. Cytotoxic Activity of ?-Caryophyllene Oxide Isolated from Jeju Guava (Psidium cattleianum Sabine) Leaf. Rec. Nat Prod. 2011; 5: 242-46.
Kubo I, Chaudhuri SK, Kubo Y, Sanchez Y, Ogura T, Saito T, Ishikawa H, Haraguchi H. Cytotoxic and anti-oxidative sesquiterpenoids from heterotheca inuloides. Planta Med. 1996; 62: 427-30.
Link MP, Goorin AM, Horowitz M, Meyer WH, Belasco J, Baker A, Ayala A, Shuster J. Adjuvant chemotherapy of high-grade osteosarcoma of the extremity. Updated results of the Multi-Institutional Osteosarcoma Study. Clin Orthop Relat Res. 1991; 270: 8-14.
Link MP, Meyers PA. Osteosarcoma. In: Pizzo PA PD, ed. Principles and Practice of Pediatric Oncology. Philadelphia: Lippincott Williams and Wilkins. 2002: 1051-80.
Longhi A, Errani C, De Paolis M, Mercuri M, Bacci G. Primary bone osteosarcoma in the pediatric age: State of the art. Cancer Treat Rev. 2006; 32: 423-36.
Niu F, Zhang Y, Li K, Zhang M. Nobiletin acts as a potential anticancer agent against osteosarcoma by regulating ERK and AKT signaling pathways. Bangladesh J Pharmacol. 2014; 9: 406-12.
Park KR, Nam D, Yun HM, Lee SG, Jang HJ, Sethi G, Cho SK, Ahn KS. ?-Caryophyllene oxide inhibits growth and induces apoptosis through the suppression of PI3K/AKT/mTOR/S6K1 pathways and ROS-mediated MAPKs activation. Cancer Lett. 2011; 312: 17888.
Wang GW, Qin JJ, Cheng XR, Shen YH, Shan L, Jin HZ, Zhang WD. Inula sesquiterpenoids: Structural diversity, cytotoxicity and antitumor activity. Expert Opin Investig Drugs. 2014; 23: 317-45.
Wesolowski R, Budd GT. Use of chemotherapy for patients with bone and soft-tissue sarcomas. Cleve Clin J Med. 2010; 77: S23-26.
Zhang Y, Quan R, Cheng W, Ye Z, Li W, Yang D. Resibufogenin inhibits the growth of human osteosarcoma MG-63 cells via mitochondrial pathway. Bangladesh J Pharmacol. 2014; 9: 413-18.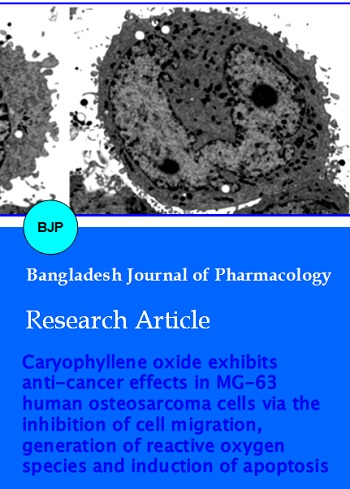 How to Cite
Pan, Z., S.-K. Wang, X.-L. Cheng, X.-W. Tian, and J. Wang. "Caryophyllene Oxide Exhibits Anti-Cancer Effects in MG-63 Human Osteosarcoma Cells via the Inhibition of Cell Migration, Generation of Reactive Oxygen Species and Induction of Apoptosis". Bangladesh Journal of Pharmacology, Vol. 11, no. 4, Oct. 2016, pp. 817-23, doi:10.3329/bjp.v11i4.27517.
Section
Research Articles
Copyright (c) 2016 Zheng Pan, Shuan-Ke wang, Xiao-Li Cheng, Xia-Wei Tian, Jing Wang
This work is licensed under a Creative Commons Attribution 4.0 International License.
Authors who publish with this journal agree to the following terms:
Authors retain copyright and grant the journal right of first publication with the work simultaneously licensed under a

Creative Commons Attribution License

that allows others to share the work with an acknowledgement of the work's authorship and initial publication in this journal.
Authors are able to enter into separate, additional contractual arrangements for the non-exclusive distribution of the journal's published version of the work (e.g., post it to an institutional repository or publish it in a book), with an acknowledgement of its initial publication in this journal.
Authors are permitted and encouraged to post their work online (e.g., in institutional repositories or on their website) prior to and during the submission process, as it can lead to productive exchanges, as well as earlier and greater citation of published work (See

The Effect of Open Access

).