Mentha longifolia lowers blood pressure in anesthetized rats through multiple pathways
Abdul Jabbar Shah

COMSATS Institute of Information Technology

Ishfaq Ali Bukhari

Department of Pharmacology, College of Medicine and King Khalid University Hospitals, King Saud University, Riyadh

Anwarul Hassan Gilani

Department of Pharmacology, Vice chair for research and graduate studies, Department of Biological and Biomedical Sciences, Aga Khan University, Karachi
Keywords:
Anesthesia, Blood pressure, Mentha longifolia, Rat
Abstract
This study was aimed to investigate the effect of the extract of Mentha longifolia on blood pressure and the possible mechanisms. In anesthetized rats, the crude extract of M. longifolia and aqueous and chloroform fractions caused a dose-dependent fall in mean arterial pressure. Atropine pretreatment abolished the effect of extract and aqueous fraction but did not change that of chloroform fraction. In rabbit aortic rings, crude extract relaxed phenylephrine (1 µM) and high K+ (80 mM) pre-contractions. Chloroform fraction was more potent against high K+, similar to verapamil and caused a rightward shift in the Ca++ concentration-response curves. Aqueous fraction partially relaxed high K+ pre-contractions. In rat aortic rings, crude extract and aqueous fraction-induced endothelium-dependent atropine-sensitive vasodilator effect. Extract and fractions also relaxed high K+ precontractions. In guinea-pig atrial strips, crude extract and chloroform fraction suppressed force and rate of contractions, similar to verapamil. In conclusion, M. longifolia lowers blood pressure through Ca++ channel blockade and atropine-sensitive-NO pathway.
Video Clip of Methodology:
Experiment using aorta: 2 min 35 sec  Full Screen   Alternative
Downloads
Download data is not yet available.
Abstract
1592
Download
764 Read
557 Feature
315
References
Abou-Jawdah Y, Sobh H, Salameh A. Antimycotic activities of selected plant flora, growing wild in Lebanon, against phytopathogenic fungi. J Agric Food Chem. 2002; 50: 3208-13.
Ajay M, Gilani AH, Mustafa MR. Effects of flavonoids on vascular smooth muscle of the isolated rat thoracic aorta. Life Sci. 2003; 74: 603-12.
Amabeoku GJ, Erasmus SJ, Ojewole JAO, Mukinda JT. Anti-pyretic and antinociceptive properties of Mentha longifolia Huds. (Lamiaceae) leaf aqueous extract in rats and mice. Methods Find Exp Clin Pharmacol. 2009; 31: 645-49.
Amini A. Illustrated dictionary of therapeutic plants and their traditional usage in Kurdistan, Khoramabad, Taqbostan Publication, 1997.
Amzazi S, Ghoulami S, Bakri Y, Idrissi A, Fkih-Tetouani S, Benjouad A. Human immunodeficiency virus type 1 inhibitory activity of Mentha longifolia. Therapie 2003; 58: 531-34.
Arunlakshana O, Schild HO. Some quantitative uses of drug antagonists. Br J Pharmacol Chemother. 1959; 14: 48-58.
Baquar SR. Medicinal and poisonous plants of Pakistan. Pakistan, Printas, 1989.
Campbell WB, Gebremedhin D, Pratt PF, Harder DR. Identification of epoxyeicosatrienoic acids as endothelium-derived hyperpolarizing factors. Circ Res. 1996; 78: 415-23.
Crystal GJ, Zhou X, Alam S, Piotrowsk A, Hu G. Lack of role for nitric oxide in cholinergic modulation of myocardial contractility in vivo. Am J Physiol Heart Circ Physiol. 2001; 281: H198-206.
Duke JA. The green pharmacy: New discoveries in herbal remedies for common diseases and conditions from the Worlds foremost authority on healing herbs. USA, Rodale Press, 1997.
Duke JA. Handbook of medicinal herbs. London, CRC Press, 2002.
Farzaneh N, Mahmoud M, Saeed MM, Abdolbaset G. Labiatae family in folk medicine in Iran: From ethnobotany to pharmacology. Iran J Pharmacol Res. 2005; 4: 63-79.
Fantel AG, Nekahi N, Shepard TH, Cornel LM, Unis AS, Lemire RJ. The teratogenicity of NG-nitro-L-arginine methyl ester (L-NAME), a nitric oxide synthase inhibitor in rats. Reprod Toxicol. 1997; 11: 709-17.
Feletou M, Vanhoutte PM. Endothelium-dependent hyperpolarization of canine coronary smooth muscle. Br J Pharmacol. 1988; 93: 515-24.
Fleckenstein A. Specific pharmacology of Ca2+ in myocardium, cardiac pacemakers and vascular smooth muscle. Annu Rev Pharmacol Toxicol. 1977; 17: 149-66.
Furchgott RF, Zawadaski JV. The obligatory role of endothelial cells in the relaxation of arterial smooth muscle by acetyl-choline. Nature 1980; 288: 373-76.
Gilani AH, Shah AJ, Janbaz KH, Ahmed SP, Ghayur MN. Studies on antihypertensive and antispasmodic activities of Andropogaon muricatus Retz. Can J Physiol Pharmacol. 2007; 85: 911-17.
Gilani AH, ShahAJ, Ghyyur MN, Kashif M. Pharmacological basis for the use of turmeric in gastrointestinal and respiratory disorders. Life Sci. 2005; 76: 3089-105.
Gilani AH, Atta-ur-Rahman. Trends in ethnopharmacology. J Ethnopharmacol. 2005; 100: 43-49.
Gul H, Abbas K, Qadir M. Gastroprotective effect of ethanolic extract of Mentha longifolia in alcohol- and aspirin-induced gastric ulcer models. Bangladesh J Pharmacol. 2015; 10: 241-45.
Jalilzadeh-Amin G, Maham M. Antidiarrheal activity and acute oral toxicity of Mentha longifolia L. essential oil. Avicenna J Phytomed. 2015; 5: 128-37.
Jiang HD, Cai J, Xu JH, Zhou XM, Xia Q. Endothelium-dependent and direct relaxation induced by ethyl acetate extract from Flos Chrysanthemi in rat thoracic aorta. J Ethnopharmacol. 2005; 101: 221-26.
Karaki H, Weiss G. Mini-review: Calcium release in smooth muscles. Life Sci. 1988; 42: 111-22.
Khan M, Shah AJ, Gilani AH. Antidiarrheal and antispasmodic activities of Vitex negundo are mediated through calcium channel blockade. Bangladesh J Pharmacol. 2013; 8: 317-22.
Kozan E, Küpeli E, Yesilada E. Evaluation of some plants used in Turkish folk medicine against parasitic infections for their in vivo anthelmintic activity. J Ethnopharmacol. 2006; 108: 211-16.
Lewis W, Elvin-Lewis M. Medical botany. USA, Willey Inter Science Publication, 1977.
Mimica-Dukic N, Popovic M, Jakovljevic V, Szabo A, Gasic O. Pharmacological studies of Mentha longifolia phenolic extracts. II. Hepatoprotective activity. Pharm Biol. 1999; 37: 221-24.
National Research Council. Guide for the care and use of laboratory animals. USA, National Academy Press, 1996.
Shah AJ, Gilani AH. Blood pressure-lowering and vascular modulator effects of Acorus calamus extract are mediated through multiple pathways. J Cardiovasc Pharmacol. 2009; 54: 38-46.
Shah AJ, Gilani AH. Blood pressure lowering effect of the extract of aerial parts of Capparis aphylla is mediated through endothelium-dependent and independent mechanisms. Clin Exp Hypertens. 2011; 33: 470-77.
Shah AJ, Zaidi MA, Sajjad H, Hamidullah, Gilani AH. Antidiarrheal and antispasmodic activities of Vincetoxicum stocksii are mediated through calcium channel blockade. Bangladesh J Pharmacol. 2011; 6: 46-50.
Sharma V, Hussain S, Gupta M, Saxena AK. In vitro anti-cancer activity of extracts of Mentha Spp. against human cancer cells. Indian J Biochem Biophys. 2014; 51: 416-19.
Taqvi SI, ShahAJ, Gilani AH. Blood pressure lowering and vasomodulator effects of piperine. J Cardiovas Pharmacol. 2008; 52: 452-58.
Watt JM, Breyer-Brandwijk MM. The medicinal and poisonous plants of Southern and Eastern Africa, 2nd edi. England, Livingstone, 1962.
Williamson EM, Okpako DT. In pharmacological methods in phytotherapy research, FJ Evans (ed). England, John Wiley & Sons, 1998.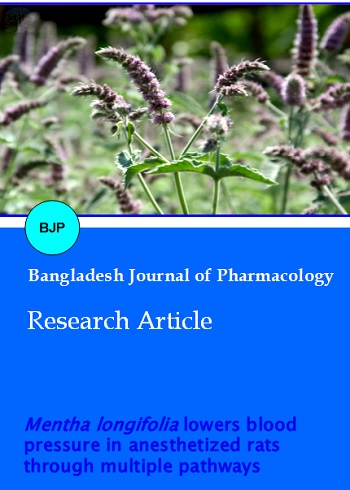 How to Cite
Shah, A., I. Bukhari, and A. Gilani. "Mentha Longifolia Lowers Blood Pressure in Anesthetized Rats through Multiple Pathways". Bangladesh Journal of Pharmacology, Vol. 11, no. 4, Oct. 2016, pp. 784-92, doi:10.3329/bjp.v11i4.27340.
Section
Research Articles
Copyright (c) 2016 Abdul Jabbar Shah, Ishfaq Ali Bukhari, Anwarul Hassan Gilani
This work is licensed under a Creative Commons Attribution 4.0 International License.
Authors who publish with this journal agree to the following terms:
Authors retain copyright and grant the journal right of first publication with the work simultaneously licensed under a

Creative Commons Attribution License

that allows others to share the work with an acknowledgement of the work's authorship and initial publication in this journal.
Authors are able to enter into separate, additional contractual arrangements for the non-exclusive distribution of the journal's published version of the work (e.g., post it to an institutional repository or publish it in a book), with an acknowledgement of its initial publication in this journal.
Authors are permitted and encouraged to post their work online (e.g., in institutional repositories or on their website) prior to and during the submission process, as it can lead to productive exchanges, as well as earlier and greater citation of published work (See

The Effect of Open Access

).