Antidepressant effects of Mentha pulegium in mice
Keywords:
Antidepressant, Depression, Forced swimming test, Mentha pulegium, Mice
Abstract
The aim of this study is to investigate the antidepressant effects of Mentha pulegium essential oil in BALB/c mice. Six experimental groups (7 mice each) were used. Forced swim test was performed 30 min after essential oil injection. In the groups receiving M. pulegium essential oil (50, 75 and 100 mg/kg), immobility duration significantly decreased compared to the control group. M. pulegium (50 and 75 mg/kg) resulted in significant decrease in nitrate/nitrite content in serum compared to the control group. M. pulegium essential oil antidepressant effect that may be due to the inhibition of oxidative stress.  The results showed that decrease in nitrate/nitrite content in serum and high anti-oxidant effects of M. pulegium essential oil.
Video Clip of Methodology:
Immobility in Forced Swim Test: 13 sec   Full Screen   Alternate
Mobility in Forced Swim Test: 19 sec   Full Screen   Alternate
Downloads
Download data is not yet available.
Abstract
981
Download
446 Read
392 Feature
329
References
Ahmad N, Fazal H, Ahmad I, Abbasi BH. Free radical scavenging (DPPH) potential in nine Mentha species. Toxicol Ind Health. 2012; 28: 83-89.
Akhlaghi M, Shabanian G, Rafieian-Kopaei M, Parvin N, Saadat M, Akhlaghi M. Citrus aurantium blossom and pre-operative anxiety. Rev Bras Anestesiol. 2011; 61: 707-12.
Aslam M, Sultana N. Vitis vinifera juice ameliorates depression-like behavior in mice by modulating biogenic amine neurotransmitters. Bangladesh J Pharmacol. 2015; 10: 753-58.
Cummings JA, Nicola SM, Malenka RC. Induction in the rat hippocampus of long-term potentiation (LTP) and long-term depression (LTD) in the presence of a nitric oxide synthase inhibitor. Neurosci Lett. 1994; 176: 110-14.
Deng XY, Li HY, Chen JJ, Li RP, Qu R, Fu Q, Ma SP. Thymol produces an antidepressant-like effect in a chronic unpredictable mild stress model of depression in mice. Behav Brain Res. 2015; 291: 12-19.
Djordjevi? VV, Stojanovi? I, Stankovi?-Ferle D, Risti?, Lazarevi? D, ?osi? V, Djordjevi? VB. Plasma nitrite/nitrate concentrations in patients with schizophrenia. ?Clin Chem Lab Med. 2010; 48: 89-94.
Kuczmarski RJ, Flegal KM, Campbell SM, Johnson CL. Increasing prevalence of overweight among US adults: The national health and nutrition examination surveys, 1960 to 1991. JAMA. 1994; 272: 205-11.
Machado DG, Cunha MP, Neis VB, Balen GO, Colla A, Bettio LE, Oliveira Á, Pazini FL, Dalmarco JB, Simionatto EL. Antidepressant-like effects of fractions, essential oil, carnosol and betulinic acid isolated from Rosmarinus officinalis L. Food Chem. 2013; 136: 999-1005.
Melo FHC, Moura BA, de Sousa DP, de Vasconcelos SMM, Macedo DS, Fonteles MMdF, Viana GSdB, de Sousa FCF. Antidepressant?like effect of carvacrol (5?isopropyl?2?methyl-phenol) in mice: Involvement of dopaminergic system. Fundam Clin Pharmacol. 2011; 25: 362-67.
Mirhosseini M, Baradaran A, Rafeian-Kopaei M. Anethum graveolens and hyperlipidemia: A randomized clinical trial. J Res Med Sci . 2014; 19.
Müller-Riebau FJ, Berger BM, Yegen O, Cakir C. Seasonal variations in the chemical compositions of essential oils of selected aromatic plants growing wild in Turkey. ?J Agric Food. 1997; 45: 4821-25.
Navarro-Gonzálvez JA, García-Benayas C, Arenas J. Semiautomated measurement of nitrate in biological fluids. ?Clin Chem. 1998; 44: 679-81.
Rabiei Z, Rafieian-Kopaei M, Mokhtari S, Alibabaei Z, Shahrani M. The effect of pretreatment with different doses of Lavandula officinalis ethanolic extract on memory, learning and nociception. Biomed and Aging Pathol. 2014; 4: 71-76.
Rafieian-Kopaei M, Nasri H. Re: Erythropoietin ameliorates oxidative stress and tissue injury following renal ischemia/reperfusion in rat kidney and lung. Med Princ Pract. 2013; 23: 95.
Rafieian-Kopaei M, Setorki M, Doudi M, Baradaran A, Nasri H. Atherosclerosis: Process, indicators, risk factors and new hopes. Int J Prev Med. 2014; 5.
Rafieian-Kopaei M, Shahinfard N, Rouhi-Boroujeni H, Gharipour M, Darvishzadeh-Boroujeni P. Effects of Ferulago angulata extract on serum lipids and lipid peroxidation. Evid Based Complement Alternat Med. 2014.
Saki K, Bahmani M, Rafieian-Kopaei M. The effect of most important medicinal plants on two important psychiatric disorders (anxiety and depression): A review. Asian Pac J Trop Med. 2014; 7: S34-42.
Sarrafchi A, Bahmani M, Shirzad H, Rafieian-Kopaei M. Oxidative stress and Parkinsons disease: New hopes in treatment with herbal anti-oxidants. Curr Pharm Des. 2016; 22: 238-46.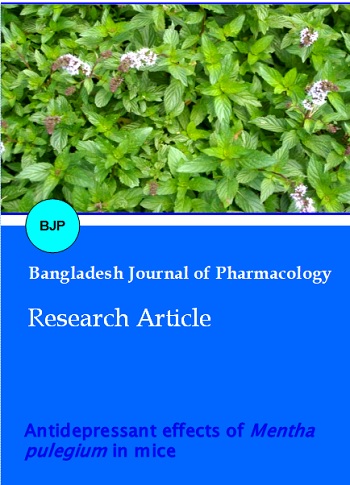 How to Cite
Rabiei, Z., M. Gholami, and M. Rafieian-Kopaei. "Antidepressant Effects of Mentha Pulegium in Mice". Bangladesh Journal of Pharmacology, Vol. 11, no. 3, Aug. 2016, pp. 711-5, doi:10.3329/bjp.v11i3.27318.
Section
Research Articles
Copyright (c) 2016 Zahra Rabiei, Mostafa Gholami, Mahmoud Rafieian-kopaei
This work is licensed under a Creative Commons Attribution 4.0 International License.
Authors who publish with this journal agree to the following terms:
Authors retain copyright and grant the journal right of first publication with the work simultaneously licensed under a

Creative Commons Attribution License

that allows others to share the work with an acknowledgement of the work's authorship and initial publication in this journal.
Authors are able to enter into separate, additional contractual arrangements for the non-exclusive distribution of the journal's published version of the work (e.g., post it to an institutional repository or publish it in a book), with an acknowledgement of its initial publication in this journal.
Authors are permitted and encouraged to post their work online (e.g., in institutional repositories or on their website) prior to and during the submission process, as it can lead to productive exchanges, as well as earlier and greater citation of published work (See

The Effect of Open Access

).