Protective effect of Kombucha tea on brain damage induced by transient cerebral ischemia and reperfusion in rat
Keywords:
Brain damage, Kombucha tea, Rat, Reperfusion, Transient cerebral ischemia
Abstract
The aim of study was to investigate the potential neuroprotective effects of Kombucha on cerebral damage induced by ischemia in rats (n=99). Cerebral infarct volume in the ischemic rats received Kombucha solution showed no significance alteration. However, the permeability of blood-brain barrier significantly decreased in both ischemic rats received 15 mg/kg Kombucha tea and Sham group. In addition, brain water content in the ischemic groups treated with Kombucha solution was significantly higher than the Sham group, although right hemispheres in all of the treated groups illustrated higher brain water content than the left ones. Brain antioxidant capacity elevated in the ischemic rats treated with Kombucha and in the Sham group. Brain and plasma malondialdehyde concentrations significantly decreased in both of the ischemic groups injected with Kombucha. The findings suggest that Kombucha tea could be useful for the prevention of cerebral damage.
Video Clip of Methodology:
Induction of brain ischemia: 5 min 19 sec   Click to watch
Downloads
Download data is not yet available.
Abstract
12765
Download
777 Read
1121 Feature
958
References
Bhattacharya S, Manna P, Gachhui R, Sil PC. Protective effect of kombucha tea against tertiary butyl hydroperoxide induced cytotoxicity and cell death in murine hepatocytes. Indian J Exp Biol. 2011; 49: 511-24.
Block F. Global ischemia and behavioural deficits. Prog Neurobiol. 1999; 58: 279-95.
Carluccio MA, Siculella L, Ancora MA, Massaro M, Scoditti E, Storelli C, Visioli F, Distante A, De Caterina R. Olive oil and red wine antioxidant polyphenols inhibit endothelial activation: Antiatherogenic properties of Mediterranean diet phytochemicals. Arterioscler Thromb Vasc Biol. 2003; 23: 622-29.
Gasche Y, Copin JC, Sugawara T, Fujimura M, Chan PH. Matrix metalloproteinase inhibition prevents oxidative stress-associated bloodbrain barrier disruption after transient focal cerebral ischemia. J Cereb Blood Flow Metab. 2001; 21: 1393-400.
Gharib O. Review article: Does kombucha tea attenuate the hepato-nepherotoxicity induced by a certain environmental pollutant. Egypt Acad J Biolog Sci. 2010; 2: 11-18.
Greenwalt C, Ledford R, Steinkraus K. Determination and characterization of the antimicrobial activity of the fermented tea Kombucha. LWT-Food Sci Technol. 1998; 31: 291-96.
Hadjinikolaou L, Kotidis K, Galiñanes M. Relationship between reduced elasticity of extracardiac vessels and left main stem coronary artery disease. Eur Heart J. 2004; 25: 508-13.
Ibrahim NK. Possible protective effect of kombucha tea ferment on cadmium chloride induced liver and kidney damage in irradiated rats. Int J Biol Life Sci. 2013; 9: 8-11.
Kamalakannan K, Balakrishnan V. Antioxidant and hepatoprotective activity of ethanolic and aqueous extracts of Limonia elephantum leaves, Bangladesh J Pharmacol. 2014; 9: 383-88.
Kastner RS, Freund T. Selective vulnerability of the hippocampus in brain ischemia. Neuroscience 1991; 40: 599-636.
Kondo T, Reaume AG, Huang TT, Carlson E, Murakami K, Chen SF, Hoffman EK, Scott RW, Epstein CJ, Chan PH. Reduction of CuZn-superoxide dismutase activity exacerbates neuronal cell injury and edema formation after transient focal cerebral ischemia. J Neurosci. 1997; 17: 4180-89.
Lo EH, Dalkara T, Moskowitz MA. Mechanisms, challenges and opportunities in stroke. Nat Rev Neur. 2003; 4: 399-414.
Longa EZ, Weinstein PR, Carlson S, Cummins R. Reversible middle cerebral artery occlusion without craniectomy in rats. Stroke 1989; 20: 84-91.
Malbaa RV, Lon?ar ES, Vitas JS, ?anadanovi?-Brunet JM. Influence of starter cultures on the anti-oxidant activity of kombucha beverage. Food Chem. 2011; 127: 1727-31.
Margaill I, Plotkine M, Lerouet D. Anti-oxidant strategies in the treatment of stroke. Free Radic Biol Med. 2005; 39: 429-43.
Massaro M, Basta G, Lazzerini G, Carluccio MA, Bosetti F, Solaini G, Visioli F, Paolicchi A, De Caterina R. Quenching of intracellular ROS generation as a mechanism for oleate-induced reduction of endothelial activation and early atherogenesis. Thromb Haemost. 2002; 88: 335-44.
McCarty M. Up-regulation of endothelial nitric oxide activity as a central strategy for prevention of ischemic strokeJust say NO to stroke! Med Hypotheses. 2000; 55: 386-403.
Moreno JJ. Effect of olive oil minor components on oxidative stress and arachidonic acid mobilization and metabolism by macrophages RAW 264.7. Free Radic Biol Med. 2003; 35: 1073-81.
Nussmeier NA. A review of risk factors for adverse neurologic outcome after cardiac surgery. J Extra Corpor Technol. 2002; 34: 4-10.
Pham-Huy LA, He H, Pham-Huy C. Free radicals, anti-oxidants in disease and health. Int J Biomedical Sci. 2008; 4: 89-96.
Rabiei Z, Bigdeli MR, Rasoulian B, Ghassempour A, Mirzajani F. The neuroprotection effect of pretreatment with olive leaf extract on brain lipidomics in rat stroke model. Phytomedicine 2012; 19: 940-46.
Rollin B, Kessel M. Guidelines for the treatment of animals in behavioural research and teaching. Anim Behav. 1998; 55: 251-57.
Vijayaraghavan R, Singh M, Rao PV, Bhattacharya R, Kumar P, Sugendran K, Kumar O, Pant SC, Singh R. Subacute (90 days) oral toxicity studies of Kombucha tea. Biomed Environ Sci. 2000; 13: 293-99.
Warner DS, Sheng H, Haberle IB. Oxidants, anti-oxidants and the ischemic brain. J Exp Biol. 2004; 207: 3221-31.
Wells PG, McCallum GP, Lam KC, Henderson JT, Ondovcik SL. Oxidative DNA damage and repair in teratogenesis and neurodevelopmental deficits. Birth Defects Res Embryo Today. 2010; 90: 103-09.
White BC, Sullivan JM, DeGracia DJ, O'Neil BJ, Neumar RW, Grossman LI, Rafols JA, Krause GS. Brain ischemia and reperfusion: Molecular mechanisms of neuronal injury. J Neur Sci. 2000; 179: 1-33.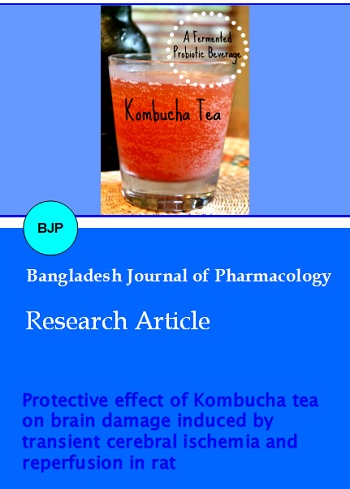 How to Cite
Kabiri, N., and M. Setorki. "Protective Effect of Kombucha Tea on Brain Damage Induced by Transient Cerebral Ischemia and Reperfusion in Rat". Bangladesh Journal of Pharmacology, Vol. 11, no. 3, July 2016, pp. 675-83, doi:10.3329/bjp.v11i3.27014.
Section
Research Articles
Copyright (c) 2016 Najmeh Kabiri, Mahbubeh Setorki
This work is licensed under a Creative Commons Attribution 4.0 International License.
Authors who publish with this journal agree to the following terms:
Authors retain copyright and grant the journal right of first publication with the work simultaneously licensed under a

Creative Commons Attribution License

that allows others to share the work with an acknowledgement of the work's authorship and initial publication in this journal.
Authors are able to enter into separate, additional contractual arrangements for the non-exclusive distribution of the journal's published version of the work (e.g., post it to an institutional repository or publish it in a book), with an acknowledgement of its initial publication in this journal.
Authors are permitted and encouraged to post their work online (e.g., in institutional repositories or on their website) prior to and during the submission process, as it can lead to productive exchanges, as well as earlier and greater citation of published work (See

The Effect of Open Access

).