Antiproliferative and apoptotic effects of quinine in human Hep-2 laryngeal cancer and KB oral cancer cell
Marimuthu Krishnaveni

Research and Development centre, Bharathiar University, Coimbatore

http://orcid.org/0000-0002-7829-7858

Kathiresan Suresh

Department of Biochemistry and Biotechnology, Faculty of Science, Annamalai University, Annamalai Nagar 608002, Tamil Nadu

Ramu Arunkumar

Department of Biochemistry and Biotechnology, Faculty of Science, Annamalai University, Annamalai Nagar 608002, Tamil Nadu

http://orcid.org/0000-0002-2365-2920
Keywords:
Anti-proliferative, Apoptotic, Human Hep-2 laryngeal cancer cell, KB oral cancer cell, Quinine
Abstract
The present study evaluated the antiproliferative and apoptotic effect of quinine on oral cancer cells Hep-2 and KB. Cell inhibition, apoptosis and anti-inflammatory effects were explored by nuclear DNA cleavage, condensation, change in  membrane potential of mitochondria. Meanwhile, inflammatory and apoptosis-related mRNA and proteins expressions such as iNOS COX-2, IL-6, Bcl-2, mutant p53, Bax, caspase-3 and NF-?B were determined by RT-PCR and Western blotting assays.  Results showed that, quinine treatment significantly inhibited the cell viability and colony formation, inhibited cell proliferation lead to increased generation of reactive oxygen species induction of MMP depolarization, morphological changes and DNA damage in dose- and time-dependent manner. Moreover, quinine significantly decreased the iNOS, COX-2, IL-6, Bcl-2 and mutant p53 simultaneously up-regulated Bax, caspase-3 expressions through the inhibition of NF-?B suggest that quinine may serve as a potential candidate in the prevention of cell proliferation and enhances apoptosis via inhibiting up-stream signalling.
Video Clip of Methodology:
Programmed cell death assay by dual staining: 17 min 25 sec   Click to watch
Downloads
Download data is not yet available.
Abstract
2164
Download
898 Read
1164 Feature
271
References
Achan J, Talisuna AO, Erhart A, Yeka A, Tibenderana JK, Baliraine FN, Rosenthal PJ, D'Alessandro U. Quinine, an old anti-malarial drug in a modern world: Role in the treatment of malaria. Malar J. 2011; 10: 144.
Bachelot T, Ray-Coquard I, Menetrier-Caux C, Rastkha M, Duc A, Blay JY. Prognostic value of serum levels of interleukin 6 and of serum and plasma levels of vascular endothelial growth factor in hormone-refractory metastatic breast cancer patients. Br J Cancer. 2003; 88: 1721-26.
Baracca A, Sgarbi G, Solaini G, Lenaz G. Rhodamine 123 as a probe of mitochondrial membrane potential: Evaluation of proton flux through F(0) during ATP synthesis. Biochim Biophys Acta. 2003; 1606: 137-46.
Bi D, Yang M, Zhao X, Huang S. Effect of Cnidium lactone on serum mutant p53 and BCL-2/BAX expression in human prostate cancer cells PC-3 tumor-bearing BALB/C nude mouse model. Med Sci Monit. 2015; 21: 2421-27.
Jab?onska E, Puzewska W, Charkiewicz M. Effect of IL-18 on leukocyte expression of iNOS and phospho-IkB in patients with squamous cell carcinoma of the oral cavity. Neoplasma 2006; 53: 200-05.
Jung IH, Choi JH, Chung YY, Lim GL, Park YN, Park SW. Predominant activation of JAK/STAT3 pathway by interleukin-6 is implicated in hepatocarcinogenesis. Neoplasia 2015; 17: 586-97.
Kang J, Tae N, Min BS, Choe J, Lee JH. Malabaricone C suppresses lipopolysaccharide-induced inflammatory responses via inhibiting ROS-mediated Akt/IKK/NF-?B signalling in murine macrophages. Int Immunopharmacol. 2012; 14: 302-10.
Karin M, Delhase M. The I kappa B kinase (IKK) and NF-kappa B: Key elements of pro-inflammatory signalling. Semin Immunol. 2000; 12: 85-98.
Khandelwal N, Simpson J, Taylor G, Rafique S, Whitehouse A, Hiscox J, Stark LA. Nucleolar NF-?B/RelA mediates apoptosis by causing cytoplasmic relocalization of nucleophosmin. Cell Death Differ. 2011; 18: 1889-903.
Kim DH, Chung JH, Yoon JS, Ha YM, Bae S, Lee EK, Jung KJ, Kim MS, Kim YJ, Kim MK, Chung HY. Ginsenoside Rd inhibits the expressions of iNOS and COX-2 by suppressing NF-?B in LPS-stimulated RAW264.7 cells and mouse liver. J Ginseng Res. 2013; 37: 54-63.
Kochubei TO, Maksymchuk OV, Piven OO, Lukash LL. Isolectins of phytohemagglutinin are able to induce apoptosis in HEp-2 carcinoma cells in vitro. Exp Oncol. 2015; 37: 116-19.
Krishnaveni M, Suresh K. Induction of apoptosis by quinine in human laryngeal carcinoma cell line (KB). Int J Curr Res Aca Rev. 2015; 3: 169-78.
Lakshmi S, Dhanaya GS, Joy B, Beena Joy, Padmaja G. Inhibitory effect of an extract of Curcuma zedoariae on human cervical carcinoma cells. Med Chem Res. 2008; 17: 335-44.
Lawall Mde A, Crivelini MM. PCNA and p53 expression in oral leukoplakia with different degrees of keratinization. J Appl Oral Sci. 2006; 14: 276-80.
Lee SH, Jeong EG, Yoo NJ, Lee SH. Mutational and expressional analysis of BNIP3, a pro-apoptotic Bcl-2 member, in gastric carcinomas. APMIS. 2007; 115: 1274-80.
Lee YY, Yang YP, Huang PI, Li WC, Huang MC, Kao CL, Chen YJ, Chen MT. Exercise suppresses COX-2 pro-inflammatory pathway in vestibular migraine. Brain Res Bull. 2015; 116: 98-105.
Li P, Zhao M, Parris AB, Feng X, Yang X. p53 is required for metformin-induced growth inhibition, senescence and apoptosis in breast cancer cells. Biochem Biophys Res Commun. 2015; 464: 1267-74.
Liu J, Guo W, Li J, Li X, Geng J, Chen Q, Gao J. Tumor-targeting novel manganese complex induces ROS-mediated apoptotic and autophagic cancer cell death. Int J Mol Med. 2015; 35: 607-16.
Liu L, Li J, Kundu JK, Surh YJ. Piceatannol inhibits phorbol ester-induced expression of COX-2 and iNOS in HR-1 hairless mouse skin by blocking the activation of NF-?B and AP-1. Inflamm Res. 2014; 63: 1013-21.
Ma L, Pei H, Lei L, He L, Chen J, Liang X, Peng A, Ye H, Xiang M, Chen L. Structural exploration, synthesis and pharmacological evaluation of novel 5-benzylidene-thiazolidine-2, 4-dione derivatives as iNOS inhibitors against inflammatory diseases. Eur J Med Chem. 2015; 92: 178-90.
Mendoza-Rodriguez CA, Ceron MA. Tumor suppressor gene p53: Mechanisms of action in cell proliferation and death. Rev Invest Clin. 2001; 53: 266-73.
Mohammad S, Ram H, Gupta PN, Husain N, Bhatt ML. Overexpression of COX-2 in oral squamous cell carcinoma patients undergoing chemoradiotherapy. Natl J Maxillofac Surg. 2011; 2: 17-21.
Moon SM, Yun SJ, Kook JK, Kim HJ, Choi MS, Park BR, Kim SG, Kim BO, Lee SY, Ahn H, Chun HS, Kim do K, Kim CS. Anti-cancer activity of Saussurea lappa extract by apoptotic pathway in KB human oral cancer cells. Pharm Biol. 2013; 51: 1372-77.
O'Callaghan K, Palagano E, Butini S, Campiani G, Williams DC, Zisterer DM, O'Sullivan J. Induction of apoptosis in oral squamous carcinoma cells by pyrrolo-1,5-benzoxazepines. Mol Med Rep. 2015; 12: 3748-54.
Rastogi RP, Singh SP, Hader DP, Sinha RP. Detection of reactive oxygen species (ROS) by the oxidant-sensing probe 2',7-dichlorodihydro-fluorescein diacetate in the cyanobacterium Anabaena variabilis PCC 7937. Biochem Biophys Res Commun. 2010; 2397: 603-07.
Santos FA, Rao VS. A study of the anti-pyretic effect of quinine, an alkaloid effective against cerebral malaria, on fever induced by bacterial endotoxin and yeast in rats. J Pharm Pharmacol. 1998; 50: 225-29.
Scaduto RC, Grotyohann LW. Measurement of mitochondrial membrane potential using fluorescent rhodamine derivatives. Biophys J. 1999; 76: 469-77.
Shou Y, Li N, Li L, Borowitz JL, Isom GE. NF-kappaB-mediated up-regulation of Bcl-X(S) and Bax contributes to cytochrome c release in cyanide-induced apoptosis. J Neurochem. 2002; 81: 842-52.
Van Tubergen E, Vander Broek R, Lee J, Wolf G, Carey T, Bradford C, Prince M, Kirkwood KL, D'Silva NJ. Tristetraprolin regulates interleukin-6, which is correlated with tumor progression in patients with head and neck squamous cell carcinoma. Cancer 2011; 117: 2677-89.
Yi C, Zhang Y, Yu Z, Xiao Y, Wang J, Qiu H, Yu W, Tang R, Yuan Y, Guo W, Deng W. Melatonin enhances the anti-tumor effect of fisetin by inhibiting COX-2/iNOS and NF-?B/p300 signaling pathways. PLoS One. 2014; 9: e99943.
Zhang H, Li X, Zhang Y, Luan X. Luteolin induces apoptosis by activating Fas signalling pathway at the receptor level in laryngeal squamous cell line Hep-2 cells. Eur Arch Otorhinolaryngol. 2014; 271: 1653-59.
Zhang Y, Yan W, Collins MA, Bednar F, Rakshit S, Zetter BR, Stanger BZ, Chung I, Rhim AD, di Magliano MP. Interleukin-6 is required for pancreatic cancer progression by promo-ting MAPK signaling activation and oxidative stress resistance. Cancer Res. 2013; 73: 6359-74.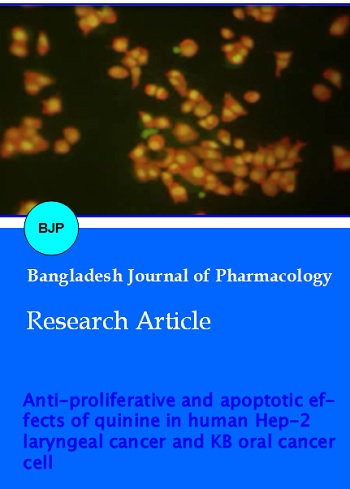 How to Cite
Krishnaveni, M., K. Suresh, and R. Arunkumar. "Antiproliferative and Apoptotic Effects of Quinine in Human Hep-2 Laryngeal Cancer and KB Oral Cancer Cell". Bangladesh Journal of Pharmacology, Vol. 11, no. 3, June 2016, pp. 593-02, doi:10.3329/bjp.v11i3.26961.
Section
Research Articles
Copyright (c) 2016 Marimuthu Krishnaveni, Kathiresan Suresh, Ramu Arunkumar
This work is licensed under a Creative Commons Attribution 4.0 International License.
Authors who publish with this journal agree to the following terms:
Authors retain copyright and grant the journal right of first publication with the work simultaneously licensed under a

Creative Commons Attribution License

that allows others to share the work with an acknowledgement of the work's authorship and initial publication in this journal.
Authors are able to enter into separate, additional contractual arrangements for the non-exclusive distribution of the journal's published version of the work (e.g., post it to an institutional repository or publish it in a book), with an acknowledgement of its initial publication in this journal.
Authors are permitted and encouraged to post their work online (e.g., in institutional repositories or on their website) prior to and during the submission process, as it can lead to productive exchanges, as well as earlier and greater citation of published work (See

The Effect of Open Access

).