In vitro thrombolytic, anthelmintic, anti-oxidant and cytotoxic activity with phytochemical screening of methanolic extract of Xanthium indicum leaves
Antara Ghosh

Department of Pharmacy, Noakhali Science and Technology University, Noakhali 3814

Sujan Banik

Department of Pharmacy, Noakhali Science and Technology University, Noakhali 3814

http://orcid.org/0000-0001-9639-6836

Md. Ariful Islam

Department of Pharmacy, Noakhali Science and Technology University, Noakhali 3814
Keywords:
Anthelmintic, Anti-oxidant, Cytotoxic, Thrombolytic, Xanthium indicum
Abstract
Xanthium indicum is an important medicinal plant traditionally used in Bangladesh as a folkloric treatment. The current study was undertaken to evaluate thrombolytic, anthelmintic, anti-oxidant, cytotoxic properties with phytochemical screening of methanolic extract of X. indicum leaves. The analysis of phytochemical screening confirmed the existence of phytosetrols and diterpenes. In thrombolytic assay, a significant clot lysis was observed at four concentrations of plant extract compare to the positive control streptokinase (30,000 IU, 15,000 IU) and negative control normal saline. The extract revealed potent anthelmintic activity at different concentrations. In anti-oxidant activity evaluation by two potential experiments namely total phenolic content determination and free radical scavenging assay by 2, 2-diphenylpicrylhydrazyl (DPPH), the leaves extract possess good anti-oxidant property. In the brine shrimp lethality bioassay, the crude extract showed potent (LC50 1.3 ?g/mL) cytotoxic activity compare to the vincristine sulfate as a positive control (LC50 0.8 ?g/mL). 
Downloads
Download data is not yet available.
Abstract
2132
Download
1098 Read
1275
References
Ajaiyeoba EO, Onocha PA, Larenwaju OTO. In vitro anthelmintic properties of Buchholzia coriaceae and Gynan-dropsis gynandra extract. Pharm Biol. 2001; 39: 217-20.
Bhowmick R, Sarwar MS, Dewan SMR, Das A, Das B, Uddin MMN, Islam MS, Islam MS. In vivo analgesic, antipyretic, and anti-inflammatory potential in Swiss albino mice and in vitro thrombolytic activity of hydroalcoholic extract from Litsea glutinosa leaves. Biol Res. 2014; 47: 56.
Brand-William W, Cuvelier ME, Berset C. Use of a free radical method to evaluate anti-oxidant activity. Lebensmittel-Wissenschaft und-Technologic. 1995; 28: 25-30.
Chowdhury NS, Alam MB, Haque ASMT, Zahan R, Mazumder MEH, Haque ME. In vitro free radical scavenging and thrombolytic activities of Bangladeshi aquatic plant Aponogeton undulatus Roxb. Global J Pharmacol. 2011; 5: 2732.
Doughari JH. Antimicrobial activity of Tamarindus indica Linn. Trop J Pharm Res. 2006; 5: 597.
Evans WC. Trease and Evans pharmacognosy. 13th ed. London, Bailliere Tindal, 1989.
Furie B, Furie BC. Mechanisms of thrombus formation. N Engl J Med. 2008; 359: 93849.
Haque ME, Rahman S, Rahmatullah M, Jahan R. Evaluation of antihyperglycemic and antinociceptive activity of Xanthium indicum stem extract in Swiss albino mice. BMC Complement Altern Med. 2013; 13: 296.
Harborne JB. Phytochemical methods: A guide to modern techniques of plant analysis. New York, Chapman and Hall Int Ed., 1998, p 114.
Hossan ANMF, Zaman F, Barman MR, Khatoon S, Zaman M, Khatun F, Mosaiab T, Mostafa F, Sintaha M, Jamal F, Rahmatullah M. Antinociceptive activity of Xanthium indicum J. Koenig ex Roxb. (Asteraceae) leaves and Leucas aspera (Willd.) Link (Lamiaceae) whole plants. Adv Nat App Sci. 2011; 5: 214-17.
Howlader MSI, Sayeed MSB, Ahmed MU, Mohiuddin Ak, Labu ZK, Bellah SF, Islam MS. Characterization of chemical groups and study of anti-oxidant, antidiarrhoeal, antimicrobial and cytotoxic activities of ethanolic extract of Diospyros blancoi (Family: Ebenaceae) leaves. J Pharm Res. 2012; 5: 3050-52.
Hussain F, Islam MA, Bulbul L, Moghal MMR, Hossain MS. In vitro thrombolytic potential of root extracts of four medicinal plants available in Bangladesh. Anc Sci Life. 2014? 33: 16264.
Islam T, Das A, Shill KB, Karmakar P, Islam S, Sattar MM. Evaluation of membrane stabilizing, anthelmintic, anti-oxidant activity with phytochemical screening of methanolic extract of Neolamarckia cadamba fruits. J Med Plants Res. 2015; 9: 151-53.
Lakshmi VK, Triveni KB, Anitha S, Shashidhara S. In vitro anthelmintic activity of Rotula aquatica Lour bark. Pharm Sci Monitor. 2012; 3: 2332-39.
Meyer BN, Ferrigni NR, Putnam JE, Jacobsen LB, Nichols DE, McLaughlin JL. Brine shrimp: A convenient general bioassay for active plant constituents. Planta Med. 1982; 45: 3134.
Namsa ND, Tag H, Mandal M, Kalita P, Das AK. An ethnobotanical study of traditional anti-inflammatory plants used by the Lohit community of Arunachal Pradesh, India. J Ethnopharmacol. 2009; 125: 23445.
Prasad S, Kashyap RS, Deopujari JY, Purohit HJ, Taori GM, Daginawala HF. Effect of Fagonia arabica (Dhamasa) on in vitro thrombolysis. BMC Complement Altern Med. 2007; 7: 36.
Rahmatullah M, Ishika T, Rahman M, Swarna A, Khan T, Monalisa MN, Seraj S, Mou SM, Mahal MJ, Biswas KR. Plants prescribed for both preventive and therapeutic purposes by the traditional healers of the Bede community residing by the Turag River, Dhaka District. Am-Eur J Sustain Agric. 2011; 5: 32531.
Sajib AI, Dewan SMR, Das A, Sarwar MS, Sarkar RC, Ahmed MU, Islam MS. In vitro antimicrobial activity study and in vivo antiemetic, antinociceptive activity evaluation of leaves extract of Erioglossum rubiginosum using experimental animal model. Orient Pharm Exp Med. 2015.
Salhan M, Kumar B, Tiwari P, Sharma P, Sandhar HK, Gautam M. Comparative anthelmintic activity of aqueous and ethanolic leaf extracts of Clitoria ternatea. Int J Drug Dev Res. 2011; 3: 62-69.
Sikder MA, Kuddus MR, Kaiser MA, Karna S, Rashid MA. In vitro membrane stabilizing activity, total phenolic content, free radical scavenging and cytotoxic properties of Aphanamixix polystachya (Wall.). Bangladesh Pham J. 2010; 13: 55-59.
Ullah MO, Haque M, Urmi KF, Zulfiker AH, Anita ES, Begum M, Hamid K, Uddin SJ. Anti-bacterial activity and brine shrimp lethality bioassay of methanolic extracts of fourteen different edible vegetables from Bangladesh. Asian Pac J Trop Biomed. 2013; 3: 17.
Vidyarthi RD. Pheritima phostuma. In: A testbook of Zoology. New Delhi, S. Chand and Co, 1967, pp 329-70.
Yadav RNS, Agarwal M. Phytochemical screening for active compounds in Pedalium murex L. Recent Res Sci Tech. 2010; 2: 110-14.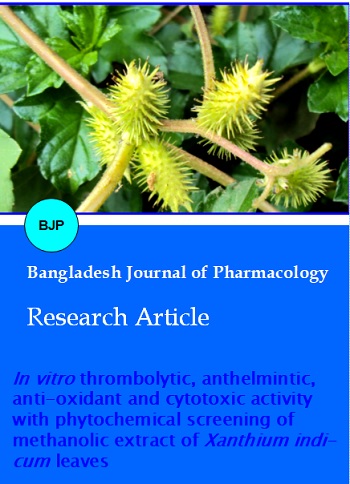 How to Cite
Ghosh, A., S. Banik, and M. Islam. "In Vitro Thrombolytic, Anthelmintic, Anti-Oxidant and Cytotoxic Activity With Phytochemical Screening of Methanolic Extract of Xanthium Indicum Leaves". Bangladesh Journal of Pharmacology, Vol. 10, no. 4, Oct. 2015, pp. 854-9, doi:10.3329/bjp.v10i4.23829.
Section
Research Articles
Copyright (c) 2015 Antara Ghosh, Sujan Banik, Md. Ariful Islam
This work is licensed under a Creative Commons Attribution 4.0 International License.
Authors who publish with this journal agree to the following terms:
Authors retain copyright and grant the journal right of first publication with the work simultaneously licensed under a

Creative Commons Attribution License

that allows others to share the work with an acknowledgement of the work's authorship and initial publication in this journal.
Authors are able to enter into separate, additional contractual arrangements for the non-exclusive distribution of the journal's published version of the work (e.g., post it to an institutional repository or publish it in a book), with an acknowledgement of its initial publication in this journal.
Authors are permitted and encouraged to post their work online (e.g., in institutional repositories or on their website) prior to and during the submission process, as it can lead to productive exchanges, as well as earlier and greater citation of published work (See

The Effect of Open Access

).