Synthesis of 4-aminoantipyrine derived Schiff bases and their evaluation for antibacterial, cytotoxic and free radical scavenging activity
Mohammad Shoaib

Department of Pharmacy, University of Malakand, Chakdara Lower Dir, Khyber Pakhtunkhwa, Pakistan

Ghawsur Rahman

Department of Pharmacy, University of Malakand, Chakdara Lower Dir, Khyber Pakhtunkhwa, Pakistan

Syed Wadood Ali Shah

Department of Pharmacy, University of Malakand, Chakdara Lower Dir, Khyber Pakhtunkhwa, Pakistan

Mohammad Naveed Umar

Department of Chemistry, University of Malakand, Chakdara Lower Dir, Khyber Pakhtunkhwa, Pakistan
Keywords:
4-Aminoantipyrene, Antioxidant, Antibacterial, Cytotoxicity
Abstract
The work was aimed to synthesize 4-Aminoantipyrine derived Schiff bases in economical way and to screen it for study the effect of nitro group on its antibacterial potential, conduct antitumor preliminary study, the effects of group presence in benzylidene phenyl ring on the cytotoxic potentials and study the effects of electron withdrawing and donating group on antioxidant potential. We used green method with 75% reduction in general synthesis time of Schiff bases. Synthesized compound possess antibacterial potentials and nitro group presence enhances this potential. G2, G3, G4, G5, G6, G7 and G8 have significant cytotoxic and no significant antioxidant activity.
Downloads
Download data is not yet available.
Abstract
3183
Download
1792 Read
1320
References
Alam MS, Lee DU. Synthesis, molecular structure and antioxidant activity of (E)-4[benzylideneamino]-1, 5-dimethyl-2-phenyl-1H-pyrazol-3 (2H)-one, a Schiff base ligand of 4-aminoantipyrine. J Chem Crystallogr. 2012; 42: 93-102.
Ali N, Ali Shah S, Ahmad B. Calcium channel blocking activity of fruits of Callistemon citrinus. 2011; 33: 245-48.
Awad L, Ibrahim E, Bdeewy OK. Synthesis of antipyrine deri-vatives derived from dimedone. China J Chem. 2007; 25: 570-73.
Burdulene D, Palaima A, Stumbryavichyute Z, Talaikite Z. Synthesis and antiinflammatory activity of 4-aminoantipyrine derivatives of succinamides. Pharm Chem J. 1999; 33: 191-93.
Cinarli A, Gürbüz D, Tavman A, Birteksöz AS. Synthesis, spectral characterizations and antimicrobial activity of some Schiff bases of 4-chloro-2-aminophenol. Bull Chem Soc Ethiop. 2011; 25: 407-17.
Colwell WT, Lange JH, Henry DW. Chemotherapeutic nitroheterocycles. Nitropyrrole-2-carboxaldehyde derivatives. J Med Chem. 1968; 11: 282-85.
Evstropov A, Yavorovskaya V, Vorob'ev E, et al. Synthesis and antiviral activity of antipyrine derivatives. Pharm Chem J. 1992; 26: 426-30.
Harpstrite SE, Collins SD, Oksman A, Goldberg DE, Sharma V. Synthesis, characterization, and antimalarial activity of novel Schiff-base-phenol and naphthalene-amine ligands. Med Chem. 2008; 4: 392-95.
Ilahi I, Samar S, Khan I, Ahmad I. In vitro antioxidant activities of four medicinal plants on the basis of DPPH free radical scavenging. Pak J Pharm Sci. 2013; 26: 949-52.
Kabak M, Elmali A, Elerman Y, Durlu T. Conformational study and structure of bis-N,N?-p-bromo-salicylideneamine-1, 2-diaminobenzene. J Mol Struct. 2000; 553: 187-92.
Kalaivani S, Priya NP, Arunachalam S. Schiff bases: Facile synthesis, spectral characterization and biocidal studies. Int J App Bio Pharm Tech. 2012; 3: 219-23.
Karthikeyan MS, Prasad DJ, Poojary B, Subrahmanya Bhat K, Holla BS, Kumari NS. Synthesis and biological activity of Schiff and Mannich bases bearing 2, 4-dichloro-5-fluorophenyl moiety. Bioorg Med Chem. 2006; 14: 7482-89.
Khafagi I, Dewedar A, Farouk S. In vitro cytotoxicity and antimicrobial activities of some common essential oils. Egypt J Bio. 2004; 2: 20-27.
Kumar D, Chadda S, Sharma J, Surain P. Syntheses, spectral characterization, and antimicrobial studies on the coordination compounds of metal ions with Schiff base containing both aliphatic and aromatic hydrazide moieties. Bioinorg Chem App. 2013; 2013: 1-10.
Maity S, Khan SA, Ahmad S. Synthesis, characterization, anti-microbial and antioxidant activity of some novel Schiff bases derived from 8-hydroxy quinoline. IJBPS. 2012; 3: 90-98.
Malladi S, Isloor AM, Isloor S, Akhila D, Fun H-K. Synthesis, characterization and antibacterial activity of some new pyrazole based Schiff bases. Arabian J Chem. 2013; 6: 335-40.
Metzler CM, Cahill A, Metzler DE. Equilibriums and absorption spectra of Schiff bases. J Am Chem Soc. 1980; 102: 6075-82.
Patil S, Jhadav S, Patil U. Natural acid catalyzed synthesis of Schiff base under solvent-free condition: As a green approach. Arch Ap Sci Res. 2012; 4: 1074-78.
Raman N, Mitu L, Sakthivel A, Pandi M. Studies on DNA cleavage and antimicrobial screening of transition metal complexes of 4-aminoantipyrine derivatives of N2O2 type. J Iran Chem Soc. 2009; 6: 738-48.
Shivarama HB, Veerendra B, Shivananda M, Poojary B. Synthesis characterization and anticancer activity studies on some Mannich bases derived from 1, 2, 4-triazoles. Eu J Med Chem. 2003; 38: 759-67.
Thorat B, Mandewale M, Shelke S, et al. Synthesis of novel Schiff bases of 4-hydroxy-3-methoxy-5-nitrobenzaldehyde and development of HPLC chromatographic method for their analysis. J Chem Pharm Res. 2012; 4: 14-17.
Venkatesan K, Satyanarayana V, Sivakumar A. Microwave-assisted synthesis and evaluation of antibacterial activity of 2, 2'-(naphthalene-2, 7-diylbis (oxy)) bis (N'-substituted acetohydrazide) derivatives. Bull Chem Soc Ethiop. 2012; 26: 257-65.
Venugopal T, Swathi D, Suchitha Y, et al. Mineral composition, cytotoxic and anticariogenic activity of Scleropyrum pentandrum (Dennst.) Mabb. Int J Drug Develop Res. 2011; 3: 344-50.
Zhang Y, Fang Y, Liang H. Synthesis and antioxidant activities of 2-oxo-quinoline-3-carbaldehyde Schiff-base derivatives. Bioorg Med Chem lett. 2013; 23: 107-11.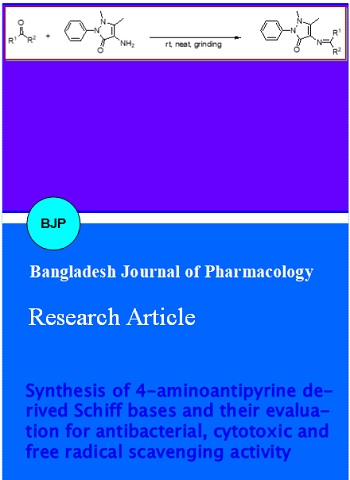 How to Cite
Shoaib, M., G. Rahman, S. Ali Shah, and M. Umar. "Synthesis of 4-Aminoantipyrine Derived Schiff Bases and Their Evaluation for Antibacterial, Cytotoxic and Free Radical Scavenging Activity". Bangladesh Journal of Pharmacology, Vol. 10, no. 2, Apr. 2015, pp. 332-6, doi:10.3329/bjp.v10i2.22471.
Section
Research Articles
Copyright (c) 2015 Mohammad Shoaib, Ghawsur Rahman, Syed Wadood Ali Shah, Mohammad Naveed Umar
This work is licensed under a Creative Commons Attribution 4.0 International License.
Authors who publish with this journal agree to the following terms:
Authors retain copyright and grant the journal right of first publication with the work simultaneously licensed under a

Creative Commons Attribution License

that allows others to share the work with an acknowledgement of the work's authorship and initial publication in this journal.
Authors are able to enter into separate, additional contractual arrangements for the non-exclusive distribution of the journal's published version of the work (e.g., post it to an institutional repository or publish it in a book), with an acknowledgement of its initial publication in this journal.
Authors are permitted and encouraged to post their work online (e.g., in institutional repositories or on their website) prior to and during the submission process, as it can lead to productive exchanges, as well as earlier and greater citation of published work (See

The Effect of Open Access

).