Preliminary phytochemical screening and evaluation of hypoglycemic properties of the root extract of Uveria chamae
Emordi Jonathan Emeka

Department of Pharmacology and Therapeutics College of Medicine, Ambrose Ali University Ekpoma, Nigeria

Agbaje Esther Oluwatoyin

Department of Pharmacology, Therapeutics and toxicology, College of Medicine of the University of Lagos, Nigeria

Oreagba Ibrahim Adekunle

Department of Pharmacology, Therapeutics and toxicology, College of Medicine of the University of Lagos, Nigeria

Iribhogbe Osede Ignis

Department of Pharmacology and Therapeutics College of Medicine, Ambrose Ali University Ekpoma, Nigeria
Keywords:
Diabetes mellitus, Hypoglycemia, Uveria chamae
Abstract
The purpose of this study is to evaluate the hypoglycaemic properties and preliminary phytochemical screening of Uveria chamae. The hypoglycaemic properties of Uveria chamae was assessed on normoglycaemic rat that received single dose of the extract at 250 and 500 mg/kg body weight and blood glucose levels estimated at 2, 4, and 6 hours (single dose study). The hypoglycaemic property of the extract was also evaluated in normoglycemic rats by oral glucose tolerance test. Phytochemical screening of the extract for the presence of secondary metabolites was performed with standard methods. The extract showed a significant (p<0.05) reduction in blood glucose levels at 2h and 6h compared to control.  The oral glucose tolerance test  result also showed a significant decrease (p<0.05) in blood glucose levels . The study showed that the extract, Uveria chamae has hypoglycaemic properties which may be accounted for by the presence of the phytochemicals.
Downloads
Download data is not yet available.
Abstract
3650
Download
1018 Read
958
References
Albert RGMM, Zimmet PZ. Definition, diagnosis and classification of diabetes mellitus and its complications. Part 1, Provisional report of WHO consultation. Diabetes Med. 1998; 15: 539-53.
Attele AS, Zhou Y, Xie J, Wu JA, Zhang L, Dey L, Pugh W, Rue PA, Polonsky KS, Yuan C. Anti?diabetic effects of Panax ginseng berry extract and the identification of an effective component. Diabetes 2002; 51: 1851-58.
Ayub SMA, Garg SK, Garg KM. Subacute toxicity studies on pendimethalin in rats. Indian J Pharmacol. 1997; 29: 322-24.
Burger C, Fischer DR, Cordenuzzi DA, Batschauer de Borba AP, Filho VC, Soares dos Santos AR. Acute and subacute toxicity of the hydroalcoholic extract from Wedelia paludosa in mice. J Pharmaceut Sci. 2005; 8: 370-73.
Choi JS, Yokozawa T, Oura H. Improvement of hyperglycaemia and hyperlipemia in streptozotocin-diabetic rats by a methanolic extract of Prunus davidiana stems and its main component, Prunin. Planta Medica. 1991; 57: 208-11.
Colegate SM, Molyneux RJ. Bioactive natural products detection, isolation and structural determination. 1st ed. USA, CRC Press, 1993, p 447.
Emordi EJ, Ogbonnia OS, Olayemi OS, Anyika NE, Iribhogbe IO. Hypoglycaemic and hypolipidemic effects of the phytomedicine- bee honey and Musa paradisiaca extract in alloxan-induced diabetic rats.
Int J Herbs Pharmacol Res. 2014; 3: 1623.
Farnsworth RN. Review on biological and phytochemical screening of plants. J Pharm Sci. 1966; 55: 225-76.
Harborne JB. Phytochemical methods: A guide to modern techniques of plant analysis. 3rd ed. London, Chapman and Hall, 1998, p 235.
Hassig A, Liang WX, Schwabl H, Stampfli K. Flavonoids and tannins: Plant-based antioxidants with vitamin character. Med Hypotheses. 1999; 52: 47981.
Houghton PJ, Raman A. Laboratory handbook for fractionation of natural extracts. London, Chapman and Hall, 1998, p 199.
Institute of Laboratory Animal Research. Commission on life science. National Research Council, 1996.
Irvin FR. Woody plants of Ghana with special reference to their uses. London, Oxford University Press, 1961, pp 19-20, 695.
James O, Godwin EU, Otini IG. Uvaria chamae (Annonaceae) plant extract neutralizes some biological effects of Naja nigricollis snake venom in rats. Bri J Pharmacol Toxicol. 2013; 4: 41-50.
Kazeem MI, Abimbola SG, Ashafa AOT. Inhibitory potential of Gossypium arboreum Linn leaf extracts on diabetes key enzymes (?-amylase and ?-glucosidase). Bangladesh J Pharmacol. 2013; 8: 149-55.
Kumar P, Clark M. Diabetes mellitus and other disorders of metabolism. Kumar and Clark's Clinical Medicine. 6th ed. Philadelphia, Elsevier Saunders, 2005, pp 1101-51.
Liu X, Kim J, Li Y, Li J, Liu F, Chen X. Tannic acid stimulates glucose transport and inhibits adipocyte differentiation in 3T3-Li cells. J Nutr. 2005; 135: 165-71.
Loomis TA, Hayes AW. Loomiss essentials of toxicology. 4th ed California, Academic Press, 1996, pp 208-45.
Mallick C, Chatterjee K, Guhabiswas M, Ghosh D. Antihyperglycemic effects of separate and composite extract of root of Musa paradisiaca and leaf of Coccinia indica in streptozotocin-induced diabetic male albino rat. Afr J Trad Cam. 2007; 4: 362-71.
Mayur B, Sandesh S, Shruti S, Sung-Yum S. Antioxidant and ?-glucosidase inhibitory properties of Carpesium abrotanoides L. J Medicinal Plant Res. 2010; 4: 1547-53.
Mbaka GO, Ogbonnia SO, Banjo AE. Activity of Raphia hookeri root extract on blood glucose, lipid profile and glycosylated haemoglobin on alloxan-induced diabetic rats. J Morphol Sci. 2012; 29: 214-22.
Meiselman HL, Halpern BP, Dateo GP. Reduction of sweetness judgments by extracts from the leaves of Ziziphus jujuba. Physiol Behavior. 1976; 17: 313-17.
Oda E. Metabolic syndrome: Its history, mechanisms, and limitations. Acta Diabetol. 2012; 49: 89-95.
OECD. Acute oral toxicity: Fixed dose procedure. OECD Guide line for testing chemicals. 2001.
Ogbonnia SO, Mbaka GO, Anyika EN, Ladiju O, Igbokwe HN, Emordi JE, Nwakakwa N. Evaluation of anti-diabetics and cardiovascular effects of Parinari curatellifolia seed extract and Anthoclista vogelli root extract individually and combined on postprandial and alloxan-induced diabetic albino rats. Bri J Med Medical Res. 2011; 1: 146-62.
Okwu DE. Phytochemicals and vitamin content of indigenous species of South Eastern Nigeria. J Sustainable Agric Environ. 2004; 6: 30-37.
Okwu DE. Phytochemicals, vitamins and mineral content of to Nigerian medicinal plants. Int J Mol Med Adv Sci., 2005; 1: 375-81.
Park J, Bong H, Jeong H, Kim KY, Kim JY, Kwon O. Post-prandial hypoglycemic effect of mulberry leaves in Goto-kakizaki rats and counterpart control Wistar rats. Nutr Res Pract. 2009; 3, 272-78.
Santosh KS, Achyut NK, Prashant KR, Geeta W. Assessment of glycemic potential of Musa paradisiacal stem juice. Indian J Clin Biochem. 2007; 22: 48-52
Shang Q, Xiang J, Zhang H, Li Q, Tang Y. The effect of polyhydroxylated alkaloids on maltase-glucoamylase. PLoS ONE. 2013; 8: 1-5.
Sofowora A. Medicinal plants and traditional medicine in Africa. Ibadan, Nigeria, Spectrum Books limited, 1993, pp 191-289.
Suba V, Murugesan T, Rao BR, Ghosh L, Pal M, Mandal SC, Saha BP. Antidiabetic potential of Barleria lupulina extract in rats. Fitoterapia 2004; 75: 1-4.
Sudha P, Zinjarde SS, Bhargava SY, Kumar AR. Potent ?-amylase inhibitory activity of Indian Ayurvedic medicinal plants. BMC Compl Alternative Med. 2011; 11: 110.
Suneetha B, Sujatha D, Prasad KVSRG. Antidiabetic and anti-oxidant activities of stem juice of Musa paradisiaca on alloxan induced diabetic rats. Int J Adv Pharmaceut Sci. 2010; 1: 167-76.
Tundis R, Loizzo MR, Menichini F. Natural products as ?-amylase and ?-glucosidase inhibitors and their hypoglycemic potential in the treatment of diabetes: An update. Minirev Med Chem. 2010; 10: 315-31.
Walter BJ. An introduction to the principles of disease. Philadelphia, USA, W.B. Saunders Company, 1977, pp 374-75.
Walum E. Acute oral toxicity. Environ Health Perspect. 1998; 106: 498.
World Health Organization. Expert committee on diabetes mellitus. (Technical Report, Series 646). Geneva, WHO, 1980.
Yadav RNS, Agarwala M. Phytochemical analysis of some medicinal plants. J Phytol. 2011; 3: 10-14.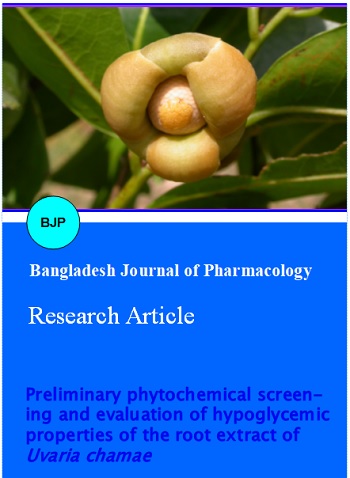 How to Cite
Emeka, E., A. Oluwatoyin, O. Adekunle, and I. Ignis. "Preliminary Phytochemical Screening and Evaluation of Hypoglycemic Properties of the Root Extract of Uveria Chamae". Bangladesh Journal of Pharmacology, Vol. 10, no. 2, Apr. 2015, pp. 326-31, doi:10.3329/bjp.v10i2.22287.
Section
Research Articles
Copyright (c) 2015 Emordi Jonathan Emeka, Agbaje Esther Oluwatoyin, Oreagba Ibrahim Adekunle, Iribhogbe Osede Ignis
This work is licensed under a Creative Commons Attribution 4.0 International License.
Authors who publish with this journal agree to the following terms:
Authors retain copyright and grant the journal right of first publication with the work simultaneously licensed under a

Creative Commons Attribution License

that allows others to share the work with an acknowledgement of the work's authorship and initial publication in this journal.
Authors are able to enter into separate, additional contractual arrangements for the non-exclusive distribution of the journal's published version of the work (e.g., post it to an institutional repository or publish it in a book), with an acknowledgement of its initial publication in this journal.
Authors are permitted and encouraged to post their work online (e.g., in institutional repositories or on their website) prior to and during the submission process, as it can lead to productive exchanges, as well as earlier and greater citation of published work (See

The Effect of Open Access

).