Kaempferol modulates the metastasis of human non-small cell lung cancer cells by inhibiting epithelial-mesenchymal transition
Meng Hang

Department of Oncology, Jiangsu Province Wuxi No. 2 People's Hospital, Wuxi 214002, China

Fan Zhao

Department of Oncology, Jiangsu Province Wuxi No. 2 People's Hospital, Wuxi 214002, China

Shu-Bo Chen

Department of Oncology, Jiangsu Province Wuxi No. 2 People's Hospital, Wuxi 214002, China

Qing Sun

Department of Oncology, Jiangsu Province Wuxi No. 2 People's Hospital, Wuxi 214002, China

Chun-Xiao Zhang

Department of Oncology, Jiangsu Province Wuxi No. 2 People's Hospital, Wuxi 214002, China
Keywords:
Epithelial-Mesenchymal Transition, Kaempferol, Non-small cell lung cancer
Abstract
The present study was done to determine whether kaempferol, a natural polyphenol of the flavonoid family, affects Epithelial-Mesenchymal Transition (EMT) in non-small cell lung cancer cells. Kaempferol not only inhibited cancer cell proliferation and migration in a dose-dependent manner but also modulated the expression of EMT-related proteins E-cadherin and vimentin which are indispensible to cellular motility, invasiveness and metastasis. These results indicate that kaempferol suppresses non-small cell lung cancer migration by modulating the expression of EMT proteins. Therefore, kaempferol may be useful as a potential anticancer agent for non-small cell lung cancer.
Downloads
Download data is not yet available.
Abstract
2034
Download
1008 Read
528
References
Borthwick LA, Parker SM, Brougham KA, et al. Epithelial to Mesenchymal Transition (EMT) and airway remodelling after human lung transplantation. Thorax 2009; 64: 77077.
Bosetti C, Rossi M, McLaughlin JK, Negri E, Talamini R, Lagiou P, Montella M, Ramazzotti V, Franceschi S, LaVecchia C. Flavonoids and the risk of renal cell carcinoma. Cancer Epidemiol Biomarkers Prev. 2007; 16: 98-101.
Cho HJ, Han J, Park Y. Kaempferol induces cell cycle arrest in HT-29 human colon cancer cells. J Cancer Prev. 2013; 18: 257-63.
Ghosal R, Kloer P, Lewis KE. A review of novel biological tools used in screening for the early detection of lung cancer. Postgrad Med J. 2009; 85: 358-63.
Gonzalez CA, Riboli E. Diet and cancer prevention: Where we are, where we are going. Nutr Cancer. 2006; 56: 225-31.
Gupta GP, Massagué J. Cancer metastasis: Building a framework. Cell. 2006; 127: 679-95.
Hoensch HP, Kirch W. Potential role of flavonoids in the prevention of intestinal neoplasia: A review of their mode of action and their clinical perspectives. Int J Gastrointest Cancer. 2005; 35: 187-95.
Kalluri R, Neilson EG. Epithelial-mesenchymal transition and its implications for fibrosis. J Clin Invest. 2003; 112: 177684.
Kang JW, Kim JH, Song K, Kim SH, Yoon JH, Kim KS. Kaempferol and quercetin, components of Ginkgo biloba extract (EGb 761), induce caspase-3-dependent apoptosis in oral cavity cancer cells. Phytother Res. 2010; 24(suppl 1): S77-82.
Koh PK, Faivre-Finn C, Blackhall FH, De Ruysscher D. Targeted agents in non-small cell lung cancer (NSCLC): Clinical developments and rationale for the combination with thoracic radiotherapy. Cancer Treat Rev. 2012; 38: 62640.
Lee SC, Kuan CY, Yang CC, Yang SD. Bioflavonoids commonly and potently induce tyrosine dephoshorylation/inactivation of oncogenic proline-directed protein kinase FA in human prostate cancer cells. Anticancer Res. 1998; 18: 1117-21.
Li W, Du B, Wang T, Wang S, Zhang J. Kaempferol induces apoptosis in human HCT116 colon cancer cells via the ataxia-telangiectasia mutated-p53 pathway with the involvement of p53 up-regulated modulator of apoptosis. Chem Biol Interact. 2009; 177: 121-27.
Nguyen TT, Tran E, Ong CK, Lee SK, Do PT, Huynh TT, et al. Kaempferol-induced growth inhibition and apoptosis in A549 lung cancer cells is mediated by activation of MEK-MAPK. J Cell Physiol. 2003; 197: 110-21.
Shen SC, Lin CW, Lee HM, Chien LL, Chen YC. Lipopolysaccharide plus 12-O tetradecanoylphorbol 13-acetate induction of migration and invasion of glioma cells in vitro and in vivo: Differential inhibitory effects of flavonoids. Neuro-science 2006; 140: 47789.
Thiery JP, Chua K, Sim WJ, Huang R. Epithelial to mesenchymal transition during development in fibriossis and in the progression of carcinoma. Bull Cancer. 2010; 97: 1285-95.
Sharma V, Joseph C, Ghosh S, Agarwal A, Mishra MK, Sen E. Kaempferol induces apoptosis in glioblastoma cells through oxidative stress. Mol Cancer Ther. 2007; 6: 2544-53.
Witte JS, Longnecker MP, Bird CL, Lee ER, Frankl HD, Haile RW. Relation of vegetable, fruit, and grain consumption to colorectal adenomatous polyps. Am J Epidemiol 1996; 144: 1015-25.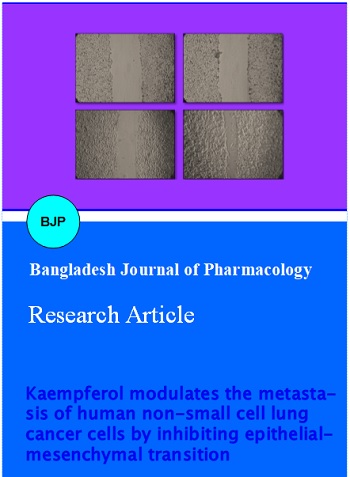 How to Cite
Hang, M., F. Zhao, S.-B. Chen, Q. Sun, and C.-X. Zhang. "Kaempferol Modulates the Metastasis of Human Non-Small Cell Lung Cancer Cells by Inhibiting Epithelial-Mesenchymal Transition". Bangladesh Journal of Pharmacology, Vol. 10, no. 2, Apr. 2015, pp. 267-70, doi:10.3329/bjp.v10i2.21739.
Section
Research Articles
Copyright (c) 2015 Meng Hang, Fan Zhao, Shu-Bo Chen, Qing Sun, Chun-Xiao Zhang
This work is licensed under a Creative Commons Attribution 4.0 International License.
Authors who publish with this journal agree to the following terms:
Authors retain copyright and grant the journal right of first publication with the work simultaneously licensed under a

Creative Commons Attribution License

that allows others to share the work with an acknowledgement of the work's authorship and initial publication in this journal.
Authors are able to enter into separate, additional contractual arrangements for the non-exclusive distribution of the journal's published version of the work (e.g., post it to an institutional repository or publish it in a book), with an acknowledgement of its initial publication in this journal.
Authors are permitted and encouraged to post their work online (e.g., in institutional repositories or on their website) prior to and during the submission process, as it can lead to productive exchanges, as well as earlier and greater citation of published work (See

The Effect of Open Access

).