Ellagic acid regulates Wnt/beta-catenin signaling pathway and CDK8 in HCT 116 and HT 29 colon cancer cells
Yang Fang

Department of Colorectal and Anus Surgery, Wenzhou Central Hospital?Zhejiang Province 325000

Hong Zhou

Department of Colorectal and Anus Surgery, Wenzhou Central Hospital?Zhejiang Province 325000

Jian-Fu Xia

Department of Colorectal and Anus Surgery, Wenzhou Central Hospital?Zhejiang Province 325000

Jie-Jun Lin

Department of Gastroenterology, Wenzhou Central Hospital?Zhejiang Province 325000

Ri-Zeng Li

Department of Colorectal and Anus Surgery, Wenzhou Central Hospital?Zhejiang Province 325000

Da-Qing Yang

Department of Colorectal and Anus Surgery, Wenzhou Central Hospital?Zhejiang Province 325000

Mai-Yu Xu

Department of Hepatobiliary Surgery, Wenzhou Central Hospital?Zhejiang Province 325000

Xiao-Yang Li

Department of Colorectal and Anus Surgery, Wenzhou Central Hospital?Zhejiang Province 325000
Keywords:
CDK8, Colon cancer, Ellagic acid, Wnt/?-catenin
Abstract
Colorectal cancer is one of the leading causes of death worldwide. Wnt/beta-catenin signalling pathway plays a central role in normal cellular responses, making it a potent target in cancer therapy. Study was taken to assess whether ellagic acid modulates Wnt/beta-catenin pathway and CDK8 activity in colon cancer cells. Effect of ellagic acid on viability of colon cancer cell lines (HT 29 and HCT 116), were assessed by MTT assay and its influence on CDK8, ?-catenin, p-?-catenin, axin1 and 2, survivin, c-Myc and cyclin D1 expressions were determined by western blotting. The levels of survivin, c-Myc and cyclin D1 were also analysed following siCDK8 transfection. Ellagic acid caused significant decrease in viability of HT 29 and HCT 116 cells. Expression of CDK 8, ?-catenin, survivin, c-Myc and cyclin D1were markedly reduced on exposure to ellagic acid. Significant up-regulation in the expression of p-?-catenin, axin1 and 2 were observed. siCDK8 transfection resulted in marked reduction in the expression of survivin, c-Myc and cyclin D1. Ellagic acid was able to effectively reduce cell viability and modulate expressions of Wnt/beta-catenin signalling cascade proteins and down regulate the activity and expression of CDK8 in HT 29 and HCT 116 cells.
Downloads
Download data is not yet available.
Abstract
3365
Download
643 Read
414
References
Avila MA, Velasco JA, Cansado J, Notario V. Quercetin mediates the down-regulation of mutant p53 in the human breast cancer cell line MDAMB468. Cancer Res. 1994; 54: 2424-28.
Bharati R, Jenkins MA, Lindor NM, Le Marchand L, Gallinger S, Haile RW, Newcomb PA, Hopper JL, Win AK. Does risk of endometrial cancer for women without a germline mutation in a DNA mismatch repair gene depend on family history of endometrial cancer or colorectal cancer? Gynecol Oncol. 2014; 133: 287-92.
Chen J, Huang XF. The signal pathways in azoxymethane-induced colon cancer and preventive implications. Cancer Biol Ther. 2009; 8: 1313-17.
Clevers H. Wnt/beta-catenin signaling in development and disease. Cell 2006; 127: 469-80.
Conaway RC, Sato S, Tomomori-Sato C, Yao T, Conaway JW. The mammalian Mediator complex and its role in transcriptional regulation. Trends Biochem Sci. 2005; 30: 250-55.
Damaschke NA, Yang B, Bhusari S, Svaren JP, Jarrard DF. Epigenetic susceptibility factors for prostate cancer with aging. Prostate 2013; 73: 1721-30.
Davies RJ, Miller R, Coleman N. Colorectal cancer screening: Prospects for molecular stool analysis. Nat Rev Cancer. 2005; 5: 199-209.
Deep G, Agarwal R. Antimetastatic efficacy of silibinin: Molecular mechanisms and therapeutic potential against cancer. Cancer Metastasis Rev. 2010; 29: 447-63.
Donner AJ, Szostek S, Hoover JM, Espinosa JM. CDK8 is a stimulus-specific positive coregulator of p53 target genes. Mol Cell. 2007; 27: 121-33.
Espada J, Calvo MB, Diaz-Prado S, Medina V. Wnt signalling and cancerstem cells. Clin Transl Oncol. 2009; 11: 411-27.
Firestein R, Bass AJ, Kim SY, Dunn IF, Silver SJ, Guney I, Freed E, Ligon AH, Vena N, Ogino S, Chheda MG, Tamayo P, Finn S, Shrestha Y, Boehm JS, Jain S, Bojarski E, Mermel C, Barretina J, Chan JA, Baselga J, Tabernero J, Root DE, Fuchs CS, Loda M, Shivdasani RA, Meyerson M, Hahn WC. CDK8 is a colorectal cancer oncogene that regulates beta-catenin activity. Nature 2008; 455: 547-51.
Fryer CJ, White JB, Jones KA. Mastermind recruits CycC:CDK8 to phosphorylate the Notch ICD and coordinate activation with turnover. Mol Cell. 2004; 16: 509-20.
Gadgeel SM, Ali S, Philip PA, Wozniak A, Sarkar FH. Genistein enhances the effect of epidermal growth factor receptor tyrosine kinase inhibitors and inhibits nuclear factor kappa B in nonsmall cell lung cancer cell lines. Cancer 2009; 115: 2165-76.
Galbraith MD, Donner AJ, Espinosa JM. CDK8: A positive regulator of transcription. Transcription 2010; 1: 4-12.
Guo D, Li Q, Lv Q, Wei Q, Cao S, Gu J. MiR-27a targets sFRP1 in hFOB cells to regulate proliferation, apoptosis and differentiation. PLoS ONE. 2014; 9: e91354.
Herbst A, Jurinovic V, Krebs S, Thieme SE, Blum H, Goke B, Kolligs FT. Comprehensive analysis of beta-catenin target genes in colorectal carcinoma cell lines with deregulated Wnt/beta-catenin signaling. BMC Genomics. 2014; 15: 74.
Hughes TA, Brady HJ. Cross-talk between pRb/E2F and Wnt/beta catenin pathways: E2F1 induces axin2 leading to repression of Wnt signalling and toincreased cell death. Exp Cell Res. 2005; 303: 32-46.
Jaramillo S, Lopez S, Varela LM, Rodriguez-Arcos R, Jimenez A, Abia R, Guillen RG, Muriana FJ. The flavonol isorhamnetin exhibits cytotoxic effects on human colon cancer cells. J Agric Food Chem. 2010; 58: 10869-75.
Kim S, Xu X, Hecht A, Boyer TG. Mediator is a transducer of Wnt/beta-catenin signaling. J Biol Chem. 2006; 281: 14066-75.
Kim HJ, Kim SK, Kim BS, Lee SH, Park YS, Park BK, Kim SJ, Kim J, Choi C, Kim JS, Cho SD, Jung JW, Roh KH, Kang KS, Jung JY. Apoptotic effect of quercetin on HT-29 colon cancer cells via the AMPK signaling pathway. J Agric Food Chem. 2010; 58: 86430-50.
Kim JH, Kim YH, Song GY, Kim DE, Jeong YJ, Liu KH, et al., Ursolic acid and its natural derivative corosolic acid suppress the proliferation of APC-mutated colon cancer cells through promotion of beta-catenin degradation. Food Chem Toxicol. 2014; 67: 87-95.
Klaus A, Birchmeier W. Wnt signalling and its impact on development and cancer. Nat Rev Cancer. 2008; 8: 387-98.
Larrosa M, Tomas-Barberan FA, Espin JC. The dietary hydrolysable tannin punicalagin releases ellagic acid that induces apoptosis in human colon adenocarcinoma Caco-2 cells by using the mitochondrial pathway. J Nutr Biochem. 2006; 17: 611-25.
Li H, Lee HJ, Ahn YH, Kwon HJ, Jang CY, Kim WY, Ryu JH. Tussilagone suppresses colon cancer cell proliferation by promoting the degradation of beta-catenin. Biochem Biophys Res Commun. 2014; 443: 132-37.
Luo Y, Wong CJ, Kaz AM, Dzieciatkowski S, Carter KT, Morris SM, Wang J, Willis JE, Makar KW, Ulrich CM, Lutterbaugh JD, Shrubsole MJ, Zheng W, Markowitz SD, Grady WM. Differences in DNA methylation signatures reveal multiple pathways of progression from adenoma to colorectal cancer. Gastroenterology 2014; 147: 41829.
Miyaki M, Konishi M, Kikuchi-Yanoshita R, Enomoto M, Igari T, Tanaka K, Muraoka M, Takahashi H, Amada Y, Fukayama M, Maeda Y, Iwama T, Mishima Y, Mori T, Koike M. Characteristics of somatic mutation of the adenomatous polyposis coli gene in colorectal tumours. Cancer Res. 1994; 54: 3011-20.
Morris EJ, Ji JY, Yang F, Di Stefano L, Herr A, Moon NS, Kwon EJ, Haigis KM, Naar AM, Dyson NJ. E2F1 represses beta-catenin transcription and isantagonized by both pRB and CDK8. Nature 2008; 455: 552-56.
Mullen W, Yokota T, Lean ME, Crozier A. Analysis of ellagitannins and conjugates of ellagic acid and quercetin in raspberry fruits by LC-MS. Phytochemistry 2003; 64: 61724.
Pan MH, Lin CL, Tsai JH, Ho CT, Chen WJ. 3,5,3,4,5-Pentamethoxystilbene (MR-5), a synthetically methoxylated analogue of resveratrol, inhibits growth and induces G1 cell cycle arrest of human breast carcinoma MCF-7 cells. J Agric Food Chem. 2010; 58: 226-34.
Reya T, Clevers H. Wnt signalling in stem cells and cancer. Nature 2005; 434: 843-50.
Sarkar FH, Li Y, Wang Z, Kong D. Cellular signaling perturbation by natural products. Cell Signal. 2009; 21: 1541-47.
Schon S, Flierman I, Ofner A, Stahringer A, Holdt L, Kolligs FT, Herbst A. beta-catenin regulates NF-kappaB activity via TNFRSF19 in colorectal cancer cells. Int J Cancer. 2014; 135: 1800-11.
Stoner GD, Gupta A. Etiology and chemoprevention of esophageal squamous cell carcinoma. Carcinogenesis 2001; 22: 1737-46.
Talcott ST, Lee JH. Ellagic acid and flavonoid antioxidant content of muscadine wine and juice. J Agric Food Chem. 2002; 50: 3186-92.
Thorne CA, Hanson AJ, Schneider J, Tahinci E, Orton D, Cselenyi CS, Jernigan KK, Meyers KC, Hang BI, Waterson AG, Kim K, Melancon B, Ghidu VP, Sulikowski GA, LaFleur B, Salic A, Lee LA, Miller DM, Lee E. Small-molecule inhibition of Wnt signaling through activation of casein kinase 1?. Nat Chem Biol. 2010; 6: 829-36.
Thresiamma KC, Kuttan R. Inhibition of liver fibrosis by ellagic acid. Indian J Physiol Pharmacol. 1996; 40: 363-66.
Walker AS, Johnson EK, Maykel JA, Stojadinovic A, Nissan A, Brucher B, Champagne BJ, Steele SR. Future directions for the early detection of colorectal cancer recurrence. J Cancer. 2014; 5: 272-80.
Watson AJ. An overview of apoptosis and the prevention of colorectal cancer. Crit Rev Oncol Haematol. 2006; 57: 107-21.
Wu Z, Zheng S, Li Z, Tan J, Yu Q. E2F1 suppresses Wnt/beta-catenin activity through transactivation of beta-catenin interacting protein ICAT. Oncogene 2011; 30: 3979-84.
Xing J, Cao G, Fu C. HMGA1 interacts with beta-catenin to positively regulate Wnt/beta-catenin signaling in colorectal cancer cells. Pathol Oncol Res. 2014; 20: 847-51.
Xu Y, Deng JZ, Ma J, Chen SN, Marshall R, Jones SH, Johnson RK, Hecht SM. DNA damaging activity of ellagic acid derivatives. Bioorg Med Chem. 2003; 11: 1593-96.
Zhang J, Cao H, Zhang B, Xu X, Ruan H, Yi T, Tan L, Qu R, Song G, Wang B, Hu T. Berberine potently attenuates intestinal polyps growth in ApcMin mice and familial adenomatous polyposis patients through inhibition of Wnt signalling. J Cell. Mol Med. 2013; 17: 1484-93.
Zhao J, Ramos R, Demma M. CDK8 regulates E2F1 trans-criptional activity through S375 phosphorylation. Oncogene 2013; 32: 3520-30.
Zheng P, Liu YX, Chen L, Liu XH, Xiao ZQ, Zhao L, Li GQ, Zhou J, Ding YQ, Li JM. Stathmin, a new target of PRL-3 identified by proteomic methods, plays a key role in progression and metastasis of colorectal cancer. J Proteome Res. 2010; 9: 4897-905.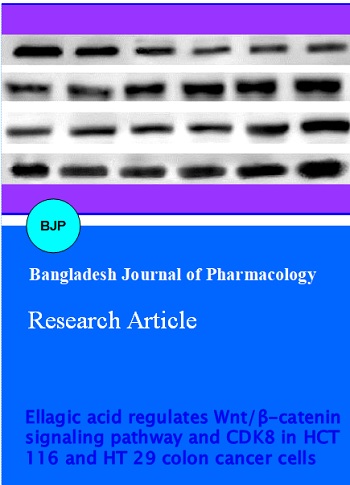 How to Cite
Fang, Y., H. Zhou, J.-F. Xia, J.-J. Lin, R.-Z. Li, D.-Q. Yang, M.-Y. Xu, and X.-Y. Li. "Ellagic Acid Regulates Wnt/Beta-Catenin Signaling Pathway and CDK8 in HCT 116 and HT 29 Colon Cancer Cells". Bangladesh Journal of Pharmacology, Vol. 10, no. 1, Jan. 2015, pp. 47-56, doi:10.3329/bjp.v10i1.21068.
Section
Research Articles
Copyright (c) 2015 Yang Fang, Hong Zhou, Jian-Fu Xia, Jie-Jun Lin, Ri-Zeng Li, Da-Qing Yang, Mai-Yu Xu, Xiao-Yang Li
This work is licensed under a Creative Commons Attribution 4.0 International License.
Authors who publish with this journal agree to the following terms:
Authors retain copyright and grant the journal right of first publication with the work simultaneously licensed under a

Creative Commons Attribution License

that allows others to share the work with an acknowledgement of the work's authorship and initial publication in this journal.
Authors are able to enter into separate, additional contractual arrangements for the non-exclusive distribution of the journal's published version of the work (e.g., post it to an institutional repository or publish it in a book), with an acknowledgement of its initial publication in this journal.
Authors are permitted and encouraged to post their work online (e.g., in institutional repositories or on their website) prior to and during the submission process, as it can lead to productive exchanges, as well as earlier and greater citation of published work (See

The Effect of Open Access

).