Anti-cancer activity and apoptosis inducing effect of methanolic extract of Cordia dichotoma against human cancer cell line
Md. Azizur Rahman

UP-CST Sponsored Project Lab, Faculty of Pharmacy, Integral University, Lucknow 226026, Uttar Pradesh

Arshad Hussain

UP-CST Sponsored Project Lab, Faculty of Pharmacy, Integral University, Lucknow 226026, Uttar Pradesh
Keywords:
Anticancer activity, Apoptosis, Cordia dichotoma, Medicinal plant, MTT assay
Abstract
MTT assay and DAPI staining test were performed to evaluate anticancer potential and to assess apoptosis inducing effect of methanolic extract of Cordia dichotoma leaves (MECD) against human cervical cancer cell line (HeLa). Changes in MMP and intracellular ROS level were also assessed by JC-1 and DCFH-DA staining. Total phenolic contents were determined by colorimetric principle. Levels of statistical significance were determined by one-way analysis of variance followed by Dunnetts posttest. Results showed that MECD with obtained IC50 of 202 µg/mL inhibited in vitro proliferation of human cervical cancer cells and induced apoptosis indicating its promising anticancer activity as compared to the standard tamoxifen with obtained IC50 of 48 µg/mL. Total phenolic contents was found to be 176.5 mg GAE/g dried extract. It was concluded that MECD possess promising anticancer activity and induce apoptosis.
Downloads
Download data is not yet available.
Abstract
2507
Download
1025 Read
2042
References
Aggeli IK, Gaitanaki C, Beis I. Involvement of JNKs and p38-MAPK/MSK1 pathways in H2O2-induced upregulation of heme oxygenase-1 mRNA in H9c2 cells. Cell Signall. 2006; 18: 1801-12.
Agnihotri VK, Srivastava SD, Srivastava SK, Pitre S, Rusia K. Constituents from the seeds of Cordia obliqua as potential anti-inflammatory agents. Ind J Phram Sci. 1987; 49: 66-69.
Ahamed M, Ali D, Alhadlaq HA, Akhtar MJ. Nickel oxide nanoparticles exert cytotoxicity via oxidative stress and induce apoptotic response in human liver cells (HepG2). Chemosphere 2013; 93: 2514-22.
Berridge MV, Herst PM, Tan AS. Tetrazolium dyes as tools in cell biology: New insights into their cellular reduction. Biotechnol Annu Rev. 2005; 11: 127-52.
Berridge MV, Tan AS, McCoy KD, Wang R. The biochemical and cellular basis of cell proliferation assays that use tetrazolium salts. Biochemica. 1996; 4: 14-19.
Bold RJ, Termuhlen PM, McConkey DJ. Apoptosis, cancer and cancer therapy. Surg Oncol. 1997; 6: 133-42.
Borner C. The Bcl2 protein family: Sensors and checkpoints for life-or-death decisions. Mol Immunol. 2003; 39: 615-47.
Choudhary DN, Singh JN, Verma SK, Singh BP. Antifertility effects of leaf extracts of some plants in male rats. Indian J Exp Biol. 1990; 28: 714-16.
Chowrasia D, Karthikeyan C, Choure L, Sahabjada, Gupta M, Arshad M. Synthesis, characterization and anticancer activity of some fluorinated 3,6-diaryl-[1,2,4] triazolo[3,4-b][1,3,4]thiadiazoles. Arabian J Chem. 2013 (in press).
Han J, Goldstein LA, Gastman BR, Rabinowich H. Interrelated roles for Mcl-1 and BIM in regulation of TRAIL-mediated mitochondrial apoptosis. J Biol Chem. 2006; 281: 10153-63.
Hausott B, Greger H, Marian B. Naturally occurring lignans efficiently induce apoptosis in colorectal tumor cells. J Cancer Res Clin Oncol. 2003; 129: 569-76.
Hu W, Lee SK, Jung MJ, Heo SI, Hur JH, Wang MH. Induction of cell cycle arrest and apoptosis by the ethyl acetate fraction of Kalopanax pictus leaves in human colon cancer cells. Bioresour Technol. 2010; 101: 9366-67.
Jemal A, Siegel R, Ward E, Hao Y, Xu J, Thun MJ. Cancer statistics, 2009. CA Cancer J Clin. 2009; 59: 225-49.
Kim YM, Lim JM, Kim BC, Han S. Cu, Zn-superoxide dismutase is an intracellular catalyst for the H(2)O(2)-dependent oxidation of dichlorodihydrofluorescein. Mol Cells. 2006; 21: 161-65.
Larrick JW, Wright SC. Cytotoxic mechanism of tumor necrosis factor-alpha. FASEB J. 1990; 4: 3215-23.
Lewandowska U, Szewczyk K, Owczarek K, Hrabec Z, Podsedek A, Koziolkiewicz M. Flavanols from Evening Primrose (Oenothera paradoxa) defatted seeds inhibit prostate cells invasiveness and cause changes in Bcl-2/Bax mRNA ratio. J Agric Food Chem. 2013; 61: 2987-98.
Liu T, Hannafon B, Gill L, Kelly W, Benbrook D. Flex-Hets differentially induce apoptosis in cancer over normal cells by directly targeting mitochondria. Mol Cancer Ther. 2007; 6: 1814-22.
Owen RW, Giacosa A, Hull WE, Haubner R, Spiegelhalder B, Bartsch H. The antioxidant/anticancer potential of phenolic compounds isolated from olive oil. Eur J Cancer. 2000; 36: 1235-47.
Simizu S, Takada M, Umezawa K, Imoto M. Requirement of caspase-3(-like) protease-mediated hydrogen peroxide production for apoptosis induced by various anticancer drugs. J Biol Chem. 1998; 273: 26900-07.
Sreelatha S, Jeyachitra A, Padma PR. Antiproliferation and induction of apoptosis by Moringa oleifera leaf extract on human cancer cells. Food Chem Toxicol. 2011; 49: 1270-75.
Suri RK, Chaudhari DC, Jaffer R. Commercially important medicinal plants from forest. J Ecol Bot Phytochem. 1992; 3: 129-40.
Taga MS, Miller EE, Pratt DE. Chia seeds as a source of natural lipid antioxidants. J Am Oil Chem Soc. 1984; 61: 928-31.
Valvi S, Yesane DP, Rathod VS. Isolation of antioxidant enzymes from some wild edible fruits at mature and ripened stage rhizome. Curr Bot. 2011; 2: 53-55.
van Meerloo J, Kaspers GJ, Cloos J. Cell sensitivity assays: The MTT assay. Methods Mol Biol. 2011; 731: 237-45.
Wu J, Wu Y, Yang BB. Anticancer activity of Hemsleya amabilis extract. Life Sci. 2002; 71: 2161-70.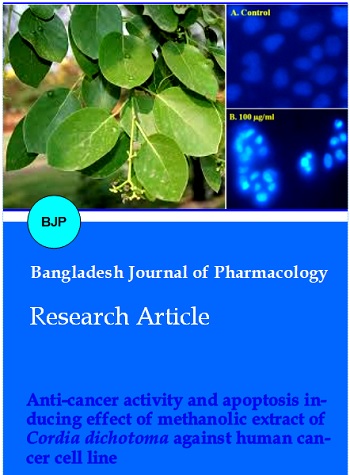 How to Cite
Rahman, M., and A. Hussain. "Anti-Cancer Activity and Apoptosis Inducing Effect of Methanolic Extract of Cordia Dichotoma Against Human Cancer Cell Line". Bangladesh Journal of Pharmacology, Vol. 10, no. 1, Jan. 2015, pp. 27-34, doi:10.3329/bjp.v10i1.20883.
Section
Research Articles
Copyright (c) 2015 Md. Azizur Rahman, Arshad Hussain
This work is licensed under a Creative Commons Attribution 4.0 International License.
Authors who publish with this journal agree to the following terms:
Authors retain copyright and grant the journal right of first publication with the work simultaneously licensed under a

Creative Commons Attribution License

that allows others to share the work with an acknowledgement of the work's authorship and initial publication in this journal.
Authors are able to enter into separate, additional contractual arrangements for the non-exclusive distribution of the journal's published version of the work (e.g., post it to an institutional repository or publish it in a book), with an acknowledgement of its initial publication in this journal.
Authors are permitted and encouraged to post their work online (e.g., in institutional repositories or on their website) prior to and during the submission process, as it can lead to productive exchanges, as well as earlier and greater citation of published work (See

The Effect of Open Access

).