Anti-cancer potential of banana flower extract: An in vitro study
Varalakshmi Kilingar Nadumane

Department of Biotechnology, Centre for Post-Graduate Studies, Jain University, Jayanagar, Bangalore 560 011

Bibechana Timsina

Department of Biotechnology, Centre for Post-Graduate Studies, Jain University, Jayanagar, Bangalore 560 011
Keywords:
Anti-cancer, antiproliferative, banana flower, bioactive fraction, cytotoxic, HeLa cells
Abstract
Banana (Musa paradisiaca) flower is rich in phytochemicals (vitamins, flavonoids, proteins) and has antioxidant properties. The anti-cancer activity of banana flower extract has been evaluated on the cervical cancer cell line HeLa. The antiproliferative effects were evaluated by MTT assay. The extract was further purified by TLC and characterized by LC-MS method. The ethanol extract had significant cytotoxicity to HeLa cells with an IC50 of 20 µg/mL. By thin layer chromatography we could isolate three fractions out of which fraction 2 had exhibited maximum anti-proliferative effects with an IC50 value of <10 µg/mL. By LC-MS analysis, bioactive fraction was found to have an m/z value of 224.2 indicating it as a novel one.
Downloads
Download data is not yet available.
Abstract
5502
Download
3282 Read
7969
References
Bhaskar JJ, Salimath PV, Nandini CD. Stimulation of glucose uptake by Musa sp. (cv. Elakkibale) flower and pseudostem extracts in Ehrlich ascites tumor cells. J Sci Food Agric. 2011; 91: 1482-87.
Chen MS, Chen D, Dou QP. Inhibition of proteasome activity by various fruits and vegetables is associated with cancer cell death. In Vivo. 2004; 18: 7380.
Cohen JJ. Apoptosis. Immunol Today. 1993; 14: 126-30.
China R, Dutta S, Sen S, Chakrabarti R, Bhowmik D, Ghosh S, Dhar P. In vitro antioxidant activity of different cultivars of banana flower (Musa paradicicus L.) extracts available in India. J Food Sci. 2011; 76: 1292-99.
Debabandya M, Sabyasachi M, Namrata S. Banana and its byproducts utilization: An overview. J Sci Indian Res. 2010; 69: 32329.
Deneo-Pellegrini H, De Stefani E, RoncoA, MendilaharsuM, CarzoglioJC. Meat consumption and risk of cancer: A case control study from Uruguay. Lung Cancer. 1996; 14: 195-205.
Harborne JB. Phytochemicals methods. London, Chapman and Hall Ltd., 1973, pp 49-188.
Kampa M, NifliAP, NotasG, CastanasE. Polyphenols and cancer cell growth. Rev Physiol Biochem Pharmacol. 2007; 159: 79-113.
Kanazawa K, Sakakibara H. High content of dopamine, a strong antioxidant, in Cavendish banana. J Agric Food Chem. 2000; 48: 844-48.
Kirtikar KR, Basu BD. Musa paradisiaca in Indian medicinal plant. Vol. 4. Delhi, Rexiodical Experts Book Agency, 1991, pp 1048-55.
Larkin T. Herbs are often more toxic than magical. FDA Consum. 1983; 17:4-11.
Mallick C, Kausik C, Mehuli GB, Debidas G. Antihyperglycemic effects of separate and composite extract of root of Musa paradisiaca and leaf of Cocciniaindica in streptozotocin-induced diabetic male albino rat. Afr J Trad CAM. 2007; 4: 36271.
Mosmann T. Rapid colorimetric assay for cellular growth and survival: Application to proliferation and cytotoxic assays. J Immunol Methods. 1983;16: 55-63.
Mukherjee AK, Basu S, Sarkar N. Advances in cancer therapy with plant based natural products. Curr Med Chem. 2001; 8: 146786.
Pari L, Uma-Maheswari J. Hypoglycaemic effects of Musa sapientum L. in alloxan-induced diabetic rats. J Ethnopharmacol. 1999; 68: 321-25.
Poonguzhali PK, H Cheju. The influence of banana stems extract on urinary risk factors for stones in normal and hyperoxaluric rats. Br J Urol. 1994; 741: 23-25.
Ramos S. Cancer chemoprevention and chemotherapy: Dietary polyphenols and signalling pathways. MolNutr Food Res. 2008; 52: 507-26.
Rashidkhani BP, Lindblad A Wok. Fruits, vegetables and risk of renal cell carcinoma: A prospective study of Swedish women. Int J Cancer. 2005; 113: 451-55.
Saxe TG. Toxicity of medicinal herbal preparations. Am Fam Physician. 1987; 35: 135-42.
Surh YJ. Cancer chemoprevention with dietary phytochemicals. Nat Rev Cancer. 2003; 10: 76880.
Yusoff NAB. Correlation between total phenolics and mineral content with antioxidant activity and determination of bioactive compounds in various local bananas (Musa sp.) Penang, University Sains Malaysia, 2008.
Zhang CX, Suzanne CH,Yu-Ming Chen, Jian-Hua Fu, Shou-Zhen Cheng, Fang-Yu Lin. Greater vegetable and fruit intake is associated with a lower risk of breast cancer among Chinese women. Int J Cancer. 2009; 125: 18188.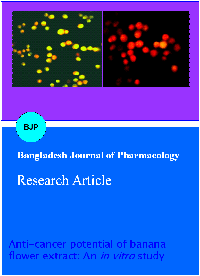 How to Cite
Nadumane, V., and B. Timsina. "Anti-Cancer Potential of Banana Flower Extract: An in Vitro Study". Bangladesh Journal of Pharmacology, Vol. 9, no. 4, Nov. 2014, pp. 628-35, doi:10.3329/bjp.v9i4.20610.
Section
Research Articles
Copyright (c) 2014 Varalakshmi Kilingar Nadumane, Bibechana Timsina
This work is licensed under a Creative Commons Attribution 4.0 International License.
Authors who publish with this journal agree to the following terms:
Authors retain copyright and grant the journal right of first publication with the work simultaneously licensed under a

Creative Commons Attribution License

that allows others to share the work with an acknowledgement of the work's authorship and initial publication in this journal.
Authors are able to enter into separate, additional contractual arrangements for the non-exclusive distribution of the journal's published version of the work (e.g., post it to an institutional repository or publish it in a book), with an acknowledgement of its initial publication in this journal.
Authors are permitted and encouraged to post their work online (e.g., in institutional repositories or on their website) prior to and during the submission process, as it can lead to productive exchanges, as well as earlier and greater citation of published work (See

The Effect of Open Access

).