Daucosterol derived from Cordyceps (a Traditional Chinese Medicine) as a possible lead compound for allergic transfusion reactions
Jian Yang

Yantai Blood Center, Yantai, Shandong 264000

Ji-Xia Li

Department of Clinical Laboratory, Yantaishan Hospital, Yantai, Shandong 264000

Zhe Song

Department of Quality Control, Yantai Blood Center, Yantai, Shandong 264000

Xi-Yan Xia

Jinan Nursing Vocational College, Jinan Shandong 250000
Keywords:
Allergic Transfusion Reactions, Traditional Chinese Medicine, Anti Histamine, Histidine decarboxylase, Molecular Dynamics Simulation
Abstract
Allergic transfusion reaction is an anomaly that develops within several hours of transfusion which is usually treated by antihistamine. In the present study, we are looking into daucosterol, an extract of Traditional Chinese Medicine (TCM) Cordyceps, as a potential inhibitor of histidine decarboxylase. The approach of molecular docking and Molecular Dynamics Simulation (MDS) on a traditional anti-inflammatory Chinese medicine gave an atomic insight of the inhibition. The daucosterol was binding with a ?G of -3.17 Kcal/mol, to inhibit histamine synthesis by binding to histidine decarboxylase, possibly via the flexible catalytic loop. Such inhibitors that were designed to block the flexibility of the catalytic loop are potential candidates for further drug development program.
Downloads
Download data is not yet available.
Abstract
1917
Download
564 Read
616
References
Banerji A, Long AA, Camargo CA Jr. Diphenhydramine versus nonsedating antihistamines for acute allergic reactions: A literature review. Allergy Asthma Proc. 2007; 28: 41826.
Berendsen HJC, Grigera JR, Straatsma TP. The missing term in effective pair potentials. J Phys Chem. 1997; 91: 626971.
Berendsen HJC, van der Spoel D, van Drunen R. GROMACS: A message-passing parallel molecular dynamics implementation. Comp Phys Comm. 1995; 91: 4356.
Brunton LL, Parker KL, Blumenthal D, Buxton I. Manual of pharmacology and therapeutics. 11th ed. New York, McGraw Hill, 2008, pp 1-25.
Chikan NA, Bhavaniprasad V, Anbarasu K, Shabir N, Patel TN. From natural products to drugs for epimutation computer-aided drug design. Appl Biochem Biotechnol. 2013; 170: 164-75.
DeLano WL. Pymol. Schrodinger LLC, Portland, OR. 2009.
Ezidiegwu CN, Lauenstein KJ, Rosales LG, Kelly KC, Henry JB. Febrile nonhemolytic transfusion reactions. Management by premedication and cost implications in adult patients. Arch Pathol Lab Med. 2004; 128: 991-95.
Geiger TL, Howard SC. Acetaminophen and diphenhydramine premedication for allergic and febrile nonhemolytic transfusion reactions: Good prophylaxis or bad practice? Transfus Med Rev. 2007; 21: 112.
Heddle NM. Pathophysiology of febrile nonhemolytic transfusion reactions. Curr Opin Hematol. 1999; 6: 42026.
Hess B, Bekker H, Berendsen HJC, Fraaije J. LINCS: A linear constraint solver for molecular simulations. J Comp Chem. 1996; 18: 146372.
Humphrey W, Dalke A, Schulten K. VMD: Visual molecular dynamics. J Mol Graphics 1996; 14: 3338.
Jiang H, Liu K, Meng S, Chu Z. Chemical constituents of the dry sorophore of Cordyceps militarys. Acta Pharma Sin. 2000; 35: 66368.
Kirchmair J, Distinto S, Schuster D. Enhancing drug discovery through in silico screening: Strategies to increase true positives retrieval rates. Curr Med Chem. 2008; 15: 2040-53.
Komori H, Nitta Y, Ueno H, Higuchi Y. Structural study reveals that Ser-354 determines substrate specificity on human histidine decarboxylase. J Biol Chem. 2012; 287: 29175-83.
Li JX, Li J, Xu LZ, Yang SL, Zou ZM. Studies on chemical constituents of Cordyceps sinensis (Berk) Sacc. Chin Pharm J. 2003; 38: 499501.
Martí-Carvajal AJ, Solà I, González LE, Leon de Gonzalez G, Rodriguez-Malagon N. Pharmacological interventions for the prevention of allergic and febrile non-haemolytic transfusion reactions. Cochrane Database Syst Rev. 2010; 6: CD007539.
Morris GM, Goodsell DS, Halliday RS, Ruth Huey, William EH, Richard KB, Arthur JO. Automated Docking using a lamarckian genetic algorithm and empirical binding free energy function. J Computational Chem. 1998; 19: 1639-62.
Patterson BJ, Freedman J, Blanchette V, Sher G, Pinkerton P, Hannach B, Meharchand J, Lau W, Boyce N, Pinchefsky E, Tasev T, Pinchefsky J, Poon S, Shulman L, MacK P, Thomas K, Blanchette N, Greenspan D, Panzarella T. Effect of premedication guidelines and leukoreduction on the rate of febrile nonhaemolytic platelet transfusion reactions. Transfus Med. 2000; 10: 199206.
Tobian AA, King KE, Ness PM. Transfusion premedications: A growing practice not based on evidence. Transfusion. 2007; 47: 108996.
van Gunsteren WF, Billeter SR, Eising AA, Hünenberger PH, Krüger P, Mark AE, Scott WRP, Tironi IG. Bimolecular simulation: GROMOS96 manual and user guide. BIOMOS, Zurich, Groningen. 1996, pp 1-1042.
Xu L. Chinese materia medica: Combinations and applications. 2002.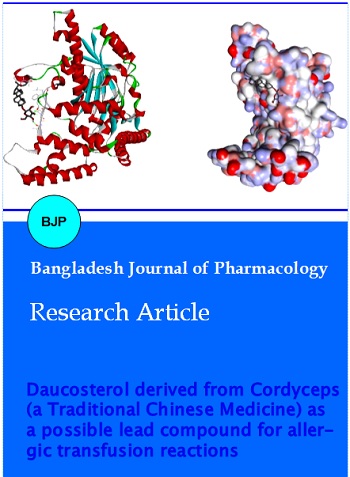 How to Cite
Yang, J., J.-X. Li, Z. Song, and X.-Y. Xia. "Daucosterol Derived from Cordyceps (a Traditional Chinese Medicine) As a Possible Lead Compound for Allergic Transfusion Reactions". Bangladesh Journal of Pharmacology, Vol. 10, no. 1, Jan. 2015, pp. 35-39, doi:10.3329/bjp.v10i1.20498.
Section
Research Articles
Copyright (c) 2015 Jian Yang, Ji-Xia Li, Zhe Song, Xi-Yan Xia
This work is licensed under a Creative Commons Attribution 4.0 International License.
Authors who publish with this journal agree to the following terms:
Authors retain copyright and grant the journal right of first publication with the work simultaneously licensed under a

Creative Commons Attribution License

that allows others to share the work with an acknowledgement of the work's authorship and initial publication in this journal.
Authors are able to enter into separate, additional contractual arrangements for the non-exclusive distribution of the journal's published version of the work (e.g., post it to an institutional repository or publish it in a book), with an acknowledgement of its initial publication in this journal.
Authors are permitted and encouraged to post their work online (e.g., in institutional repositories or on their website) prior to and during the submission process, as it can lead to productive exchanges, as well as earlier and greater citation of published work (See

The Effect of Open Access

).